Our hair goes through chemical exposures every day, leaving hair with a lot of buildup on the scalp and hair strands.
Detox, clarify whatever you call it; your hair needs it periodically to remove dirt, product buildup, dead skin cells, flakes, oil and other impurities that regular shampoos cannot remove.
And if you are a silver sister, it becomes crucial as grey hair attracts dirt more often and can lose its shine and lustre due to these nasty chemicals and pollutants.
Two popular ways to clarify impurities from grey hair are using a clarifying shampoo or natural cleansers.
In this post, I will discuss the best natural ways to gently cleanse and bring back the natural shine and volume in the hair.
"This page contains affiliate links. If you click one of the product links, I'll receive a commission. No additional charges for you!"
Why Natural Ways to Detoxify Hair and Scalp?
1. Natural ingredients are best in bringing back the pH balance of hair and scalp that gets disturbed by the use of chemicals in our day-to-day life.
2. Natural grey hair lacks shine naturally. Buildup and excess oils make hair look limp and flat. Detoxifying grey hair naturally can bring back the shine and volume to hair by gently cleansing hair.
3. Strong surfactants in clarifying shampoos can damage hair in the long run by stripping off natural oils from the scalp and hair, making hair dry, dull and frizzy.
On the other hand, natural ingredients are gentler on hair and scalp, reduce hair loss and remove dandruff by balancing excessive oils naturally.
4. Deep cleanses that natural ingredients give to hair result in better absorption of hair care products, further paving the way for better hair growth.
5. If you want a more sustainable way to clarify your hair, natural ingredients are the best.
Natural Ways to Brighten Silver Hair: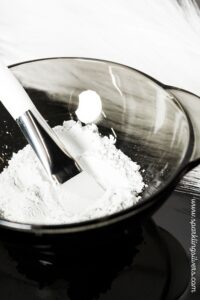 Kaolin clay, also known as white clay or china clay, is a gentle detoxifier or exfoliator widely used in skin and hair care products.
It has a neutral pH of 6, which is similar to the pH of hair, i.e., 5.5. It is safe to be used on hair.
It's excellent in exfoliating, cleansing and removing excess oils from grey hair and scalp without disturbing the natural pH of hair which gives natural shine, bounce, smoothness to hair and brightens grey hair gently.
It is great for making hair straight and smooth too. So if your grey hair is unruly and has a different texture, this clay can change the texture of hair over time, making it smooth and relaxed.
How to Use Kaolin Clay to Brighten Gray Hair:
It's very easy to use.
Just take 2-3 tablespoons of clay in a glass bowl and mix water and 2 teaspoons of aloe vera gel in it. You can add a teaspoon of any hair oil if you have very dry hair.
Make a creamy consistency mixture. It must not be thick. Else it becomes difficult to apply and wash it off from the hair.
Wet your hair first.
Apply the mixture evenly to the hair, leave it for about 15 minutes and wash it thoroughly. Use a mild shampoo if required. Make sure the clay is washed out thoroughly.
After the clay cleanses, use a deep conditioner or apply hot oil to your hair.
Use this cleanser once a week.
2. Apple Cider Vinegar Rinse to Brighten Gray Hair: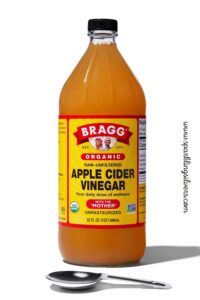 Using various hair products regularly may create a layer of chemicals on hair follicles, making hair brittle and lifeless.
ACV hair rinse has been used for years to detoxify hair and scalp due to its excellent cleansing properties and is effective in fighting bacteria and fungi that cause scalp infections.
Also, it is a miraculous way to balance the disturbed pH of hair and scalp, which further ensures better health and growth of hair.
Grey hair is naturally dry and wiry textured. ACV makes grey hair smooth and shiny.
Please read this post to learn more about Apple Cider Vinegar Rinse and its use on natural grey hair.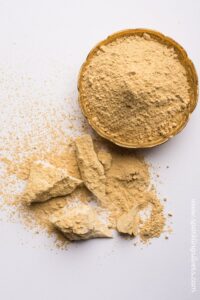 Fuller's earth has been considered the best alternative for chemical shampoo due to its cleansing properties.
It is widely used on skin and hair for its antiseptic properties too.
Also known as Multani mitti or whitening clay is effective in removing oils, dirt and impurities from skin and hair.
Fuller's earth is excellent for hydrating and conditioning dry and frizzy hair and keeping the scalp clean and healthy by absorbing oils from the scalp.
It naturally straightens the hair too.
How to Use Fuller's Earth to Brighten Grey Hair:
Take 2-3 tablespoons of fuller's earth powder in a glass bowl.
Add 2 teaspoons of aloe vera gel to it.
Add 2 teaspoons of honey.
Add water and mix everything well to make a creamy paste that is not too thick.
Wet hair and apply it to the scalp and hair strands.
Keep it on for about 15 minutes and wash it with water—no need to use shampoo after this hair cleanser.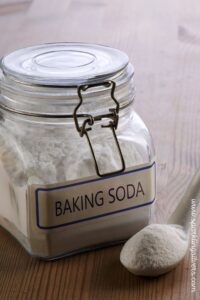 What does Baking Soda do to Gray Hair?
Ingredients with high pH are considered effective in removing buildups.
Baking soda has a pH level of 9, which is much higher than the average pH level of the scalp and hair, which ranges between 3.6-5.5.
Baking soda is abrasive and can dry out hair and scalp. This is the reason that baking soda can be harsh on gray hair and it must be used cautiously. Regular use of baking soda on gray hair can be damaging in the long term, but it can be used once in a while.
A few silver sisters had some great experiences getting the brassiness or yellowness out of their grey hair with the help of baking soda.
How to Use Baking Soda to Brighten Gray Hair?
Method 1. Mix one tablespoon of baking soda into a mug of water, pour the mixture on the hair, leave it on for about two minutes, and then rinse it with water. Deep condition or use a good conditioner after the rinse.
Method 2. Mix one tablespoon of baking soda to two tablespoons of any regular mild shampoo and add some water to it. Wash your hair with this concoction and condition the hair as usual.
Method 3. Mix one tablespoon of baking soda with two tablespoons of any regular conditioner and apply it to the hair strands. Leave it for about two minutes on your hair and rinse it off. This will clarify and condition hair as well.
Baking Soda and Grey Hair
Baking soda is used as a natural cleaning agent and can help remove buildup from hair.
Its alkaline pH level can help neutralize the acid that gets accumulated on the scalp and hair due to the use of products and hard water.
However, if used excessively or improperly it can cause damage to the hair cuticle, leading to breakage and dryness.
Don't forget gray hair is fragile and dry and baking soda can worsen the condition of gray hair if used as a regular part of your hair care routine.
If used, it's important to rinse baking soda thoroughly and follow up with a conditioner to restore moisture to the hair.
If you are looking to care for your grey hair, it is generally best to use products specifically designed for gray hair, such as shampoos and conditioners that are formulated to meet the unique needs of grey hair.
Note: Never skip a deep conditioner or a conditioner after the rinse to avoid dryness in the hair.
Here one thing is to be cleared. Not all yellowness on gray hair is a buildup. Several other several reasons can make grey hair look dull and brassy.

Like heat damage, sun damage, medications etc. In such cases, the use of a good purple shampoo specifically designed according to gray hair needs can help in counteracting brassy tones and brightening gray hair.
Here is a list of non-drying and hydrating purple shampoos for gray hair.
5. Hydrogen Peroxide and Gray Hair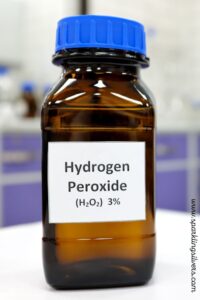 Hydrogen peroxide is used to lighten hair and also for bleaching hair.
I included this product in this post not to share any DIY recipe for grey hair but to educate you.
"Please, please, please don't use Hydrogen Peroxide on your silvers."
It has already done a lot of harm to your hair for years by being a major ingredient in your hair dye. Don't let it worsen the condition of your silvers. I have discussed several other trustworthy and harmless ways in this post to get rid of discolouration from silvers.
Hydrogen Peroxide can be harsh and damaging on silvers if used repeatedly—also, it is a bleach that can further cause more discolouration and damage to hair and scalp.
Tips on using natural remedies on grey hair:
The best time to go for natural remedies is the weekends, as you get ample time to carry on with these natural packs. In addition, your hair may get enough time to soak and absorb the benefits of natural treatments.
The above hair remedies must always be applied to damp hair only.
Always use a glass bowl to make the concoction.
Natural remedies are a great break from chemicals for hair to restore its strength.
While using clay masks, make sure to rinse them off before it dries out.
While applying any masks, if it feels like your hair is not clean after rinsing, go for a mild shampoo and conditioner.
Applying any natural remedies on hair for the first time, keep it for the time suggested or 5 mins less. Of course, you can always increase the time according to your hair needs.
Using products like Apple Cider Vinegar or baking soda, do a patch/strand test before checking for any allergies.
Natural remedies need patience and may take a few weeks to show results for some people.
Using any of the above treatments once a week is sufficient and must not be done more than that because although the remedies are natural, 'Excess of Everything is Bad'.
Gray hair is colourless and can absorb dirt and pollutants easily from the environment. So keep them safe from these exposures and drink plenty of water to keep them hydrated.
Protect your natural silvers from harmful UV rays. Also, keep the temperature of your hot tools low.
Know when your gray hair needs a purple/blue shampoo to neutralize undertones from time to time while detoxifying them from the above natural remedies weekly.
I hope the information shared in this post helps.
Feel free to share your hair discoveries in the comments. Start a conversation; maybe you can help somebody out. We are all on this hair journey together. We can do it!