I started going grey when I was 13. First, I covered my silver roots with henna, then shifted to hair colour as my stubborn hair refused to take colour from henna after a few years.
But colouring my hair for about 13 years, I never realized that though my hair was coloured still, it was 'Grey', and the nature of natural grey hair is different from pigmented hair which has to be treated differently.
You have to give your greys extra nourishment and care as it is dryer, frizzier, coarser in some cases and have a different texture than pigmented hair; hence it needs special attention to tame them.
After I came across Amazing Greys products, I realized that you have to switch your products from the regular ones to those specially formulated for natural grey hair, whether you colour your hair or keep it sparkling silver.
Amazing greys sent me their Art of Amazing Greys Kit to try a few months back. The kit contained products which had three daily grey hair care products:
Daily Restoration Shampoo

Intense Hydration Conditioner

Daily UV Shield Serum
I have been using all three products for about the last five months.
I thought I must share my experience and my reviews on the products. So here it goes:
Let me introduce you to the Brand first.
Amazing Greys is India's first grey hair care brand that launched a range of hair care products specially formulated for grey hair. The products are 100% vegan and cruelty-free.
"Amazing Greys celebrates age and all that comes with it, with personal care and beauty products made for those who believe one can look stylish, stunning and sexy at any age."
I was really impressed and was excited to try products made in India for grey hair. So let me tell you about my experience with each product one by one:
Amazing Greys Daily Restoration Shampoo.
As I have natural grey hair and have tried several products, my main concern was that the shampoo must be colourless, as pigmented shampoos give a tint to grey hair.
Secondly, the shampoo must be hydrating as the scalp produces less oil, which is the cause of dryness/frizziness in hair.
And also, it must be free from harmful chemicals that deposit on the hair shaft, making them heavy and dull.
Amazing Greys Daily Restoration Shampoo passes all the above standards.
Let me tell you what all extras it provides.
Amazing Greys Daily Restoration Shampoo claims to clarify/remove buildup from hair and repair the damage caused by colouring hair restoring natural oils and moisture balance of hair.
It is packed with natural actives like Olive, Soybean and Black Spruce.
I checked the list of ingredients and found no harmful chemicals and safe to be used on sensitive scalps too.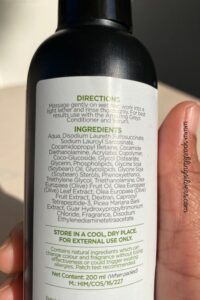 If you are colouring your hair, it won't strip off the colour as it's colour-safe too.
Cons:
It lathers less than the sulfate shampoos.
It claims to show results after 6 washes which seems to be a long time for people like me who washes their hair once/twice a week.
Amazing Greys Intense Hydration Conditioner
As the name suggests, the Intense Hydration Conditioner is super hydrating and packed with natural actives like Olive, Black Spruce and Shea Butter.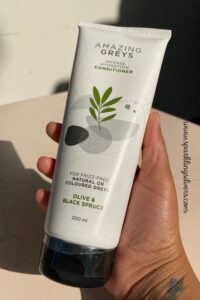 The conditioner claims to:
Fight frizz
Prevent dryness
Smoothens hair
Prevent breakage
Reduce split-ends
My concern for a conditioner for grey hair was that it must not contain silicones, as silicones keep depositing on hair shafts, creating a layer of buildup.
Buildups are the most significant problem for women with natural grey hair as it makes hair look brassy and less shiny.
This product is a silicone-free product.
The conditioner is highly moisturizing and hydrating, so great for extremely dry, frizzy, brittle and kinky hair.
Ingredients in the conditioner are safe to be used on grey hair, whether coloured or non-coloured.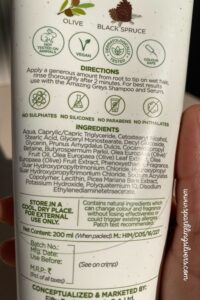 Cons:
The conditioner is highly moisturizing, which can be heavy on thin and fine hair. As I have wavy and fine hair, I didn't like the conditioner in my first few washes but gradually learned that my hair needed less product.
The product doesn't give a smooth and silky feel after the application as it is silicone-free.
Again, the product claims to show results after 6 washes, which is a long time.
Amazing Greys Daily UV Shield Serum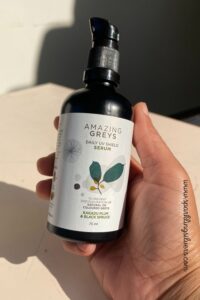 Most of the serums available in the market are silicone-based. But this serum is water-based and silicone-free.
It can be used daily on hair after washing and conditioning for protection from harmful UV rays, which protects hair from fading colour and yellow/brassy tones that develop on hair due to exposure to the sun.
The active ingredients in the serum are Kakadu Plum, Black Spruce, and Polynesian Kopara.
The ingredients in the serum are safe to be used on natural grey hair. In addition, the serum is silicone-free, so it doesn't make hair greasy, even with daily use.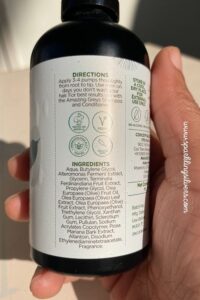 Cons:
The serum is not formulated to protect hair from heat styling.
Pricier but excellent to buy for what it claims.
How I use this 3-in-1 Hair Care regimen:
I wash my hair twice a week. I use the Amazing Greys shampoo and my regular shampoo alternately in a week, which works great for my hair.
I use the Intense Hydration Conditioner only when my hair feels dull, dry or frizzy.
The serum I use once after my hair is washed and a bit damp. Though it can be used daily, I prefer to use it when I have to go out or my hair is about to be exposed to sunlight.
As a final and honest review, I would say that all three products are very well formulated for ageing hair. Moreover, the products don't disappoint if used as instructed.
All the products are Colour-safe, with no Sulphates, Parabens, Phthalates, Silicones, Vegan and the best thing is not tested on Animals.
Give them a try!
Where to buy Amazing Greys products:
You can buy the Amazing Greys products from their website: https://amazinggreys.in/collections/shop
Use promo code SPARKLINGSILVERS to get an additional 10% off on your purchase.
You can also buy Amazing Greys products on Amazon, but you wouldn't be able to use my discount code there.
(Currently, Amazing Greys Products are available only in India.)