As our hair starts turning white, it loses its natural pigmentation. At the same time, the sebaceous glands begin to secrete less oil than before, which makes gray hair dry. 
Hair that starts turning grey has a different texture than naturally pigmented hair.
It's a natural process. Something that nature has decided for you. Every biological process is manageable as we don't need to add extra effort to carry on the process.
Natural frizz in gray hair is manageable naturally. However, if the dryness seems unruly, it indicates that we are in the wrong hair practices that worsen the condition.
Have you ever tried to know the possible reasons for that ADDED dryness in your grey hair?
Let us uncover the significant mistakes that worsen gray hair frizz:
Also, take note of the little tips and tricks to keep the natural silvers hydrated and healthy. Who doesn't want soft, smooth and healthy silvers?
"This page contains affiliate links. I'll receive a commission if you click one of the product links. No additional charges for you!" 
For the overall health of the hair, it's necessary to maintain the pH value of the hair and the scalp. The pH of a healthy scalp is 5.5, and the hair shaft is 3.67.
Some of the hair products we use can interrupt the hair's natural pH, causing dryness in the hair.
Products with a pH value between 4-7 are considered beneficial for hair health. 
It is advisable to check the product labels for the pH value of the product. Any of the products out of the range must be STOPPED using.
A miraculous way of bringing back hair pH is ACV (Apple Cider Vinegar) rinse for all hair types. To know how to use it, read this article.
Hard water can also disturb the natural pH of hair. Using distilled or filtered water can bring back the pH balance.
There are three simple things to consider before going to bed for frizz-free, healthier hair.
First, comb hair gently before sleep to ensure tangle-free hair at night. Using a boar bristle brush is very good for taming frizzy hair.
Secondly, sleeping with a night hair wrap on the hair can be a significant game-changer in protecting hair ends from damage while sleeping. A silk or satin scarf can be used as well.
Third, a satin or silk pillowcase. Silk is a gentler fabric than cotton and can reduce hair frizz and breakage.
3. Lack of water intake:-
As we know, a body lacking water can be home to several diseases and deficiencies. It is valid for hair too.
Water is the best moisture for hair to keep it hydrated and healthy scalp. In addition, it keeps away hair problems like itchy scalp, dandruff and dryness.
It even boosts hair growth by providing essential nutrients and minerals to the body. 
AGREED!? So, check your water intake. Are you drinking a sufficient quantity of water every day?
This was an internal check. But one thing to be noted here is that our hair is porous, and holding moisture by itself is difficult and impossible unless it's sealed in.
Now the question is HOW to seal the moisture? It's Simple! Just rub a fistful of your favourite oil on your combed DAMP hair to seal moisture. You can also use a spray bottle for this.
Tip:   Don't apply any sealant on dry hair. It will make hair more dry. It must always be used on damp hair.
When we are thirsty, we drink water. What about hair? What do we do to quench the thirst for hair? 
You might not have needed to apply hair oil to your natural pigmented hair, but your gray hair needs it.
Give your hair a hot oil massage at least once a week. It's the best way to tame the frizz in a natural way.
Applying hot oil can benefit anybody, no matter their hair type.
I love this technique. While growing out my silver pixie after the transition, I was surprised to see the shine and smoothness on my hair without frizz. I used virgin olive oil. 
Tip:  Oiling and massage should always be done on clean, washed hair.
If you want to add more magic, add a few drops of essential oils to whatever carrier oil you use. If you need instructions on how to do hot oil massage, read this article from wikiHow.
This is my hair oiling massage technique:
How to choose best oil for gray hair?
Each oil has its unique properties. So choose the one that best suits your hair.
Oils considered a wonder to fight frizz are Argan oil, coconut oil, almond oil, jojoba oil, and olive oil.
Though all the above oils tame frizz very well, Argan oil, also known as Moroccan oil, proved the best. HOW? 
It is two times more powerful than vitamin E.
It helps in mending split ends and deep conditioning.
Accelerates growth of hair cells.
Works pretty well as a hair moisturizer, softener and conditioner.
Fights dandruff and dry scalp.
It even repairs damage caused by earlier use of chemicals, hair products and dyes.
Tip:   Do a patch test before applying any essential oils to ensure you are not allergic to them.
5. Overuse of harmful chemicals:-
If your hair repeatedly looks dull or lifeless even after hair wash, the reason must be product build-up.
It can cause severe damage by choking the cuticles resisting them from absorbing moisture to keep them hydrated. The result is DRYNESS!
YES. And why not?
90% of products we use on our hair are designed to coat a layer of harmful chemicals like silicone, paraben and waxes, which help us achieve our dream tresses. In an earlier post, we've already discussed these toxic chemicals and their effect on hair.
Tip:   Apple Cider Vinegar is considered best natural way to eliminate product build-up on hair and scalp for all hair types.
Product build-up signifies that you are treating your newly born hair just the same as your previous coloured or naturally pigmented hair.
If you use the same old products you used before the transition, PLEASE STOP!
Start using gray hair-friendly products.
Tip:   Use Think Dirty App to learn about the toxic ingredients in your products.
6. Overuse of hot tools and products:-
If you frequently style your hair with heat, you know the risks and have probably uttered the words "Aah! Not Again." It's time to take control and find safer ways to achieve the same look.
Because here we are talking about NATURAL GRAY HAIR. So read this carefully, as you must be missing out on some facts. 
Let us know how heat styling affects our hair. 
Using any heat styling tools breaks down the hydrogen bonds in hair, stripping off natural oils and protein from the hair.
This breakdown of bonds changes the HAIR TEXTURE. So that's how you get smooth, straight hair with these tools! 
So, more heat styling means more dryness and damaged hair. 
Now, the question is how to stop the damage.
Well, the best way is PREVENTION. I know it's challenging to eliminate heat stylers, but the usage can be limited to special occasions.
Tip:   Switch to Ionic Thermal tools. They restore moisture balance by neutralizing positive and negative ions and rehydrating hair.
Using heat protectants,  protein-rich shampoos and conditioners, hydrating hair masks, and deep conditioning can make a big difference.
Simply BECAUSE it's not the same old hair you owned before going gray, your silvers can be thinner depending on your age when you started graying. The more your age, the silvers will be thinner. 
Secondly, because it is naturally porous, gray hair needs more care from sun rays, hard water, certain chemicals, and heat styling.
Thirdly, it lacks natural oil secretion, which makes it coarse, dry and brittle. And as the skin changes its texture with ageing, so does hair.
Aren't the above reasons enough to understand that gray hair needs an entirely different care regime?
Each of us has unique hair. Therefore, products that may work for me might not work for you.
Here are links to some product pages with a particular range of products to select from. TO BE NOTED THESE ARE THE BEST PICKS FOR GRAY HAIR with no or very less harmful chemicals, according to this post. So go ahead and pick the appropriate products for your hair to let the silver crown shine.
Tip: Look for the products that are labelled- moisturizing, smoothing and that tame frizz.
Hydrating Shampoos for Gray Hair
Clarifying Shampoo for Gray Hair
Heat Protectants for Grey Hair
Ionic Thermal Tools for Gray Hair
I hope this post helps you. I want to share one more thing: In this world of products, choosing the best out of them is exhausting. Sometimes, things don't work, which causes frustration. So here I'd say, "Embrace your natural hair."
I would end the post with a sweet message from one of our silver sisters, Elizabeth: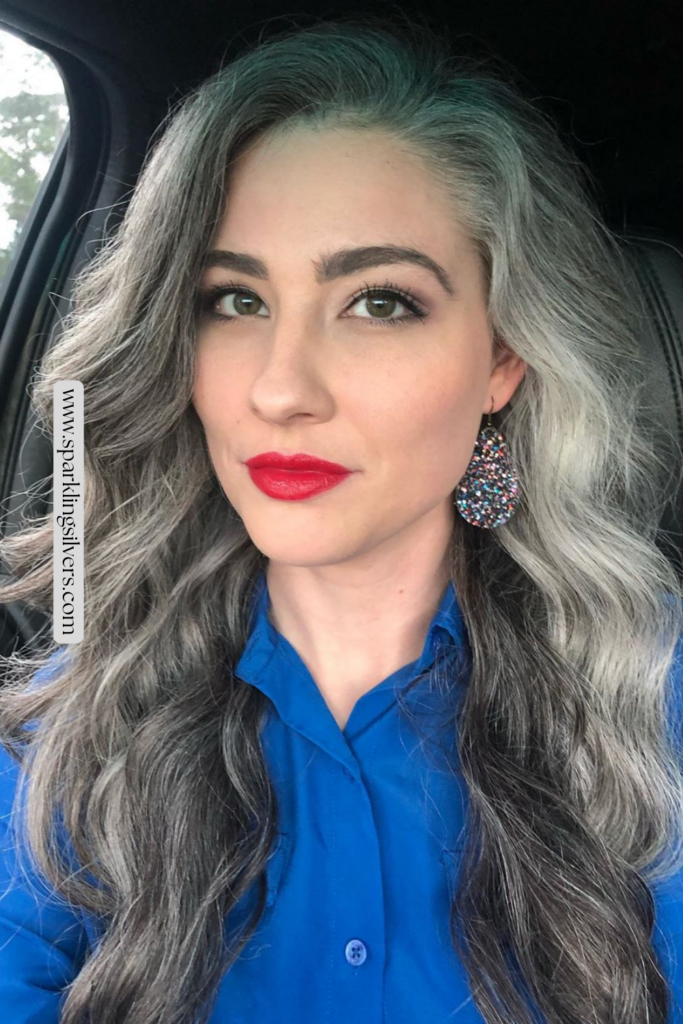 " It's so strange that we live in a world where we constantly fight what our natural hair (and other things) looks like instead of seeing its uniqueness and beauty."
Please share this post if you find it helpful! Also, let me know how you deal with hair frizz in the comment box.