I am very selective and particular when choosing products for my skin or hair. I ensure they must be safe to use and, most importantly, cruelty-free. This is a sentiment that is shared by many of my fellow silver sisters too.
As more and more women are coming forward to embrace their natural silvers. Consequently, the beauty industry has responded by developing a wider range of gray hair care products.
As advocates for natural beauty, silver sisters actively seek out and experiment with the latest products on the market. Our commitment to sharing feedback on the best options for natural gray hair has created a community of empowered and informed consumers.
With this in mind, I have compiled a comprehensive list of the most popular and trustworthy products endorsed by our silver sisterhood.
Take a look and discover the products that could elevate your natural grey hair care routine.
"This page contains affiliate links. If you click one of the product links, I'll receive a commission. No additional charges for you!"
Remove Hair Build-up and Residue from Grey Hair: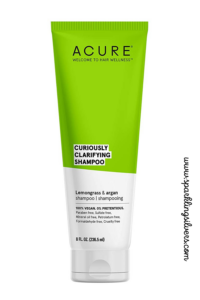 We like bright and shining silvers. Right? So why let the dirt and other factors dull their shine.
Out of several clarifying shampoos, Acure clarifying shampoo has been liked and suggested by silver sisters. So let us ponder a few points about why 'Acure' for Gray hair:
It's a gentle cleansing formula suitable for all hair types and can be used daily.
Removes product buildup without stripping hair; boosts shine and replenishes moisture with refreshing lemongrass.
Free of parabens, sulfates, petroleum, mineral oil, formaldehyde, and animal products.
Argan oil moisturizes and boosts shine.
Certified cruelty-free.
CGM friendly.
Serum for Frizzy Grey Hair:
Having grey hair means we also have to deal with frizz due to a lack of sebum. Hair serums can protect dehydrated hair strands making them manageable and lustrous.
John Frieda's Frizz Ease Serum is one of the silver sisters' highly rated frizz control serums.
It contains silk proteins and algae extract that smoothes hair and boosts shine.
It is formulated for medium-thick and wavy-curly hair types, suitable for all levels of frizz.
It contains a heat protectant to protect hair from damage during heat styling.
It is unscented.
It is a paraben-free, aluminium free and dye-free product.
It contains a few good silicones and mineral oil, so it requires clarifying. If used frequently, washing hair with a clarifying shampoo every week is recommended.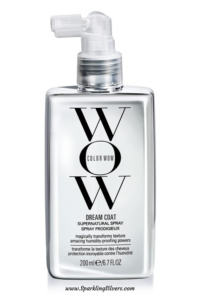 A highly rated product with a lightweight formula that eliminates frizz and provides long-lasting protection against humidity, keeps gray hair smooth all day long.
Makes gray hair feeling soft and touchable, while still maintaining the desired style and hold.
Let us see what all goodies it holds:
Perfect spray for straight, wavy, or curly hair that gives silky, glassy, and frizz-free hair for days.
Blocks humidity to prevent frizz.
Lasts up to three to four shampoos.
Free of parabens, formaldehydes, formaldehyde-releasing agents, phthalates, mineral oil, retinyl palmitate, oxybenzone, coal tar, hydroquinone, sulfates SLS & SLES, triclocarban, triclosan, and contains less than one percent synthetic fragrance.
Humidity-proof, prevents frizz, adds shine, and provides heat protection.
Hard Water Treatment for Grey Hair: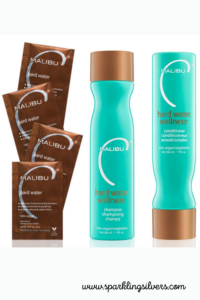 Hard water can damage gray hair in various ways. Minerals like chlorine, calcium, and magnesium can not only damage gray hair by making them frizzier but also can discolour gray hair by depositing on the hair strands.
Let us see how this product can be helpful for gray hair against hard water:
Great in removing surface mineral buildup from hair and scalp.
It helps in eliminating and preventing discolouration in hair.
A gentle and natural formula that can be used daily.
100% vegan and cruelty-free.
Ultra-hydrating for dry and damaged hair, leaving hair soft and manageable.
Protect Gray Hair from Sun Damage and Salt Water: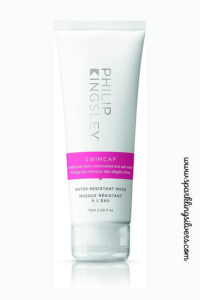 Gray hair needs much protection from the harmful UV rays and the chlorine/salt present in the pool/sea water as gray hair is non-pigmented and can be damaged easily.
A high chlorine level in pool water can tinge the blonde and gray hair green.
Philips Kingsley's water-resistant mask can help give protection against harmful UV and chlorinated/salt water. Let us see how:
A water-resistant, protective hair cream that effectively shields against the damaging effects of chlorine, salt water and UV rays.
Prevent the dreaded green hair from chlorine.
The Sulphate and Paraben-Free formula contains Hydrolyzed Elastin which adds strength, body and elasticity to reduce breakage.
Castor Oil, Olive Oil and essential fatty acids help lock in moisture, and boost shine.
Water-resistant, nourishing formula.
Shine Serum for Gray Hair
Here is another fantastic product that you won't regret using. It's pricey, but it's worth its price—super product for giving incredible shine to natural grey hair. I have read many reviews about this serum, and our silver sisters highly recommend it. Let's see what all goodies this bottle has:
Infused with natural silk, this product is super light on hair, which means it won't weigh down your hair. Instead, it's a leave-in silk replenishing and reconstructing treatment to repair, smoothen and protect all hair types.
Hair feels soft, non-greasy and full of life even on the second day after application.
Mildly scented.
A little goes along! (Not a pricy deal!)
Protects hair from thermal damage even at very high temperatures.
CGM friendly.
Best Yet Affordable Flyaway Hair Treatment
This hair finishing product works excellent in taming flyaways without leaving them greasy, hard, or sticky. This fast-drying and residue-free serum help style the baby hair and frizzy hair strands making them smooth and giving a sleek look. Here are a few more things to know:
Packed with natural organic ingredients, it's a clean formula without parabens, silicone, sulfate, and sodium chloride.
Animal Cruelty-Free.
For all hair types.
It is a clear colour and lightweight product. It isn't visible on the hair and has a lightly sweet vanilla scent.
Best Organic Shampoo for Gray Hair:
If you are a fan of organic products, you would love this shampoo. I have been recommending this shampoo since my grey hair journey began. I had also suggested this in this post, which so many silver sisters have appreciated. Here are a few things that I always liked about this shampoo:
It's great for sensitive skin and scalp as it has no harmful chemicals (SLS, SLES, PG, PG derivatives, parabens, sulfates, dyes, synthetic fragrances or petrochemical)
It's gentle on all kinds of hair: oily, dry, normal.
It nourishes hair without stripping, drying out or leaving build-up in your hair. That's what our natural silvers need!
Appropriate for our silver sisters with curls too!
To know more about this shampoo, click here (Amazon link)
Repairing Treatment for Gray Hair:
Who doesn't know about Olaplex? Olaplex 3 is an incredible repairing treatment for dull and damaged hair. Repair and restore damage caused in hair for various reasons, varying from chemical, thermal, and mechanical damage to the hair and highly recommended by silver sisters who get their hair bleached for the transition purpose. Silver sisters swear by it for its calming effect on their fried, frizzy, and dehydrated hair. The most amazing thing about this product is that it's an at-home treatment that gives professional-looking results. Here is what this tiny bottle offers:
Balances the disturbed pH of hair, bringing back life to dull, damaged and brittle hair.
Suitable for all kinds of hair.
Cruelty-free, gluten-free, nut-free vegan formula without harmful chemicals like Parabens, Phthalates, Phosphate and Sulfates.
Olaplex 4 is also a great deal! Let me know if you tried it and how your experience has been?
Leave-In Conditioner for Gray Hair:
Gray hair needs extra nourishment and care to deal with the dryness and frizz while going gray. Leave-In Conditioners serve all the gray hair needs, keeping them hydrated and shiny. Aveda Nutriplenish Leave-in Conditioner is what most of the silver sisters recommended. Let us see how it can benefit our natural gray hair:
It's a lightweight leave-in spray, so it doesn't weigh down hair.
Dual protection formula for both thermal damage and the drying effects from the sun.
Fantastic for chemically treated hair.
Hair protection from thermal styling up to 450° F.
It's free from Silicones, Sulfate Cleansers, Parabens, Gluten, Mineral Oil & Petrolatum.
A cruelty-free product vegan product.
Non-Purple Shampoo for Gray Hair:
If you are not a purple shampoo fan, this shampoo is the best alternative. It has been loved for years because it reduces dullness and brassiness from gray hair without purple stains in hair. A fantastic product widely used and recommended by so many silver sisters worldwide.
Reduces yellowing and brassiness from natural gray hair
It has no synthetic colourants, so it does not stain. Paraben-free, SLS-free, Silicone-free shampoo.
A vegan formula that makes hair soft, supple and full of volume and radiant shine.
A gentle cleansing base suitable for all hair types.
Best Heat Protectant for Gray Hair:
Heat protectants that don't weigh down hair are my favourite. But this one is much more than that. This quality product can be used before styling gray hair with blow dryers, flat irons and curling wands. I recommended it in my previous post too. So let us see how it is beneficial:
It's a color-safe, sulfate-free, phosphate-free and paraben-free, cruelty-free product.
It can protect hair from heat exposure up to 450°F, which is very crucial for the safety of hair.
It can also be used as a leave-in conditioning serum for smooth, frizz-free hair.
Boosts shine and hydrates hair.
There are so many thermal protectors lower in quality and price available out there in the market, but I would suggest you to choose the best product as the damage caused by the use of hot tools is irreversible.
Moroccan-Oil-Treatment is a good deal too.
A fantastic list of all gray hair friendly shampoos is already shared on the blog. Thanks for your love and also the shares of the post. I am glad that you found it helpful. I keep updating the post as per recommendations and the popularity of the shampoo in the silver sisters community. Check it out here.
Best Hair Brush for Gray Hair:
This being the favourite hair brush of our silver sisters, no wonder my eight years daughter and I love this brush—such a fantastic product designed to glide through tangles with ease. My daughter has thin and fine hair, and detangling it is a task for me and pain for her. So the presence of this little detangling weapon in my home makes us happy. I have short hair, but I use it as a massager after applying hair oil to my silvers. To be concluded:
Anybody can use it; men, women, children, both with short or long hair.
Works for all types of hair. It also works perfectly with straight, curly, textured, thick and wavy hair! They also work excellent on both wet and dry hair.
It has flexible bristles that minimize pain, split ends and hair breakage.
It is available in various colours and designs too. I have the retro orange! 🙂
I hope you find this post helpful. Let me know in the comment box if I am missing out on something. Also, feel free to share your hair discoveries in the comments. Start a conversation; maybe you can help somebody out. We are all on this hair journey together. We can do it!
I'm sure you understand that it requires a lot of effort to collect data and create a post which can help. It will be a great help to me if you share this post on social media if you like it.
We are also available on various social media platforms. Please join the tribe: