Going Gray?
Now you are kind of worried.
Will I be able to heat style my natural grey hair? And how?
Do I need to switch to different heat styling products?
Don't worry; even I was surrounded by these questions. And I came up with some surprising facts that I never knew.
I am sure you want to know them all. So keep on reading, girl!
"This page contains affiliate links. If you click one of the product links, I'll receive a commission. No additional charges for you!"
So first thing first!
Gray Hair is prone to heat damage as it is porous and doesn't have its own colour. So the chances of showing heat damage on grey hair are higher than pigmented or coloured hair.
So shall I give up using hot tools on my grey hair?
"NO"
It's just we need to be a bit more careful while applying heat on our natural gray hair so that we may not lose/damage our hard-earned silvers.
Consequences of using heat tools on gray hair:
Above are the only points of concern when using hot tools on grey hair.
So let us see how we can continue heat styling our natural silvers to reduce the damage.
The most common symptom of damage from using a flat iron or a curling iron on natural gray hair is hair turning either green or yellow.
The colour green is a sign of mineral deposits on hair that can be due to the presence of calcium in the water that turns green due to the application of heat on gray hair.
To get the green out, use a mineral/hard water shampoo. It works well on hard water.
If gray hair turns yellow/brassy after heat styling, it can be due to the burning of residue or the products we have applied to it, or it indicates that the heat is burning the hair.
So this is the difference between using hot tools on pigmented/coloured hair and natural gray hair.
To avoid the discolouration and the damage to our natural mane we need to invest in good heat tools and products.
So let's start with heat styling products and learn more about them.
If you have used a very good quality heat protectant on your hair before going gray, carry on with it.
Else it's time for you to switch to a trustworthy product that may provide insulation for high temperatures.
It's merely impossible to imagine using heat on our hair without a guard to minimize the possible damage.
This makes use of heat protectants vital before heat-styling gray hair.
Before buying a heat protectant for gray hair:
Always check the label before purchasing!
Generally, quality heat protectants contain humectants( like propylene glycol), amino acids( keratin), natural oils and extracts. Also, silicones ( like Cyclomethicone) to provide insulation for high temperatures.
For gray hair, we need to be extra careful before purchasing any product, as gray hair is naturally dry, brittle and coarser in some cases than pigmented hair.
The product must not contain harsh chemicals that may harm our fragile hair, like sulfates and alcohol that may lead to moisture loss and increase frizz and dryness.
Best suitable heat protectant for gray hair:
Different heat protectants include sprays, serums, oils, lotions and creams.
Women with thin and fine hair mostly prefer to go for a spray as it doesn't weigh down their hair.
Others who have thick or coarse hair prefer to use serums, oils, creams, leave-in-conditioners, and sprays.
Heat protectants are both silicone-based and non-silicone-based.
Silicone-Based Heat Protectants:
It is suggested not to use silicone-based products on natural gray hair as they tend to coat the hair cuticles. It may result in looking gray hair lifeless and dull.
But the truth is that no other ingredient can protect our hair from heat to a maximum temperature of 400℃.
Silicone rubber is generally non-reactive, stable, and resistant to extreme environments and temperatures from −55 to 300 °C (−67 to 572 °F) while maintaining its useful properties. (Wikipedia)
Silicone does not have a melting point and remains solid until combustion occurs.
Silicone-based heat protectants are generally resilient to mild shampoos.
It can be a deal breaker for us with natural gray hair, where we avoid build-ups.
To get rid of the residue, a good clarifying shampoo wash is a must in a week or two, depending on the frequency of use of heat on hair.
The temporary solution to disguise the yellowness is, of course, a purple shampoo/conditioner. But to get rid of the residue from hair is clarification.
Using a clarifying shampoo every time is unnecessary to remove impurities from your hair. There are other methods too, like ACV rinse or a kaolin clay mask.
Best Heat Protectants for Gray Hair:
Silicone-Free Heat Protectants:
If you have switched to sulfate and silicone-free products, these are the heat protectants for your grey hair.
Silicones have the property of weighing down hair if used frequently.
So if you have thin hair or don't have much volume in your hair, go for silicone-free heat protectants.
Or, if you have oily hair, silicones can add some extra burden to your hair. So silicone-free heat protector can keep your hair and scalp lighter.
If gray hair is fragile and can be damaged by heat, do I need to invest in new hot tools?
The answer is NO!!!!!
Until and unless your hair doesn't need very high heat to be styled.
High heat is the only concern with hot tools as the chances of damage are most heightened.
Flat irons or straighteners made from high-quality materials like titanium, ceramic and tourmaline are good for gray hair as they can serve hair shafts better by even heat distribution.
Our second point of concern is strengthening and restoring the lost moisture and elasticity to help prevent breakage and dryness on grey hair.
Switching to protein-rich shampoo and conditioners is vital. But to maximize the strengthening results, Here are a few ways to get life back-
Pre-Shampoo Conditioning:
Once a week, take time to apply a deep conditioning treatment.
Pre-shampoo masks contain hydrating ingredients like argan and jojoba oils that restores lost moisture into the cuticles.
Tame your natural silvers with non-greasy shine products. These products add moisture to the hair and maintain glossy shine throughout the day.
What if my grey hair gets damaged due to the use of hot tools?
The only way to protect grey hair from heat damage is to avoid it.
But if hot tools are your addiction keep the temperature low or the high heat may damage your grey hair over a period of time.
Here it is important to know that heat damage is irreversible. The only way to get rid of the damage is to cut off the damaged section of hair.
Or if you don't wish to cut your hair, disguise the burn with the help of temporary fun colours on the tips or the damaged part of your hair or even apply them all over.
It's a fantastic way of hiding the damage without compromising hair length.
Something like these-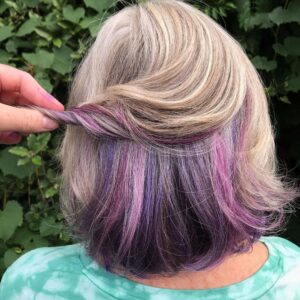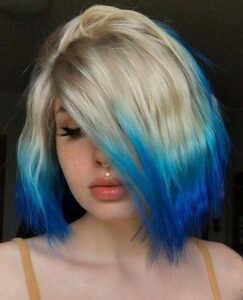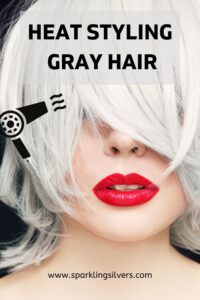 The best way to prevent damage caused by heat tools is to avoid it. If you are a heat styling addict, learn to take care of your naturally gray hair with strengthening products.
It's better to invest and pay a high price on branded tools rather than wasting money on cheap low quality tools that may damage your silvers.
It's good to take a break from heat styling every once in a while.
Trim dead/split ends from time to time to get rid of the damaged part of the hair.
Turn down the temperature. Most hair can be styled using a temperature between 300 to 380 degrees.
Have a safe styling!