Temporary and Semi-Permanent Hair Colours:
There are four types of hair dyes: Permanent dye, Demi-permanent, Semi-permanent, and Temporary hair dyes.
Permanent and Demi-permanent hair colours penetrate the cuticles to give hair a long-term colour. As we embrace our natural gray hair, they are useless to us.
For a short-term hair makeover instantly, without causing any harm to virgin grey hair, semi-permanent and temporary hair dyes can be used.
The difference between these two types of colours is as below:
"This page contains affiliate links. If you click one of the product links, I'll receive a commission. No additional charges for you!"
Semi-Permanent Hair Colours
About: Semi-Permanent hair colours are ammonia and bleach-free formulas that create a layer of colour over the hair without penetrating the cuticle.
How long it lasts: It stays on hair for about 4 to 12 shampoos depending on the hair's porosity, texture, and condition.
Types: Semi-permanent hair colours are available in the form of shampoos, conditioners, masks, gels, etc.
Effect on gray hair: Semi-permanent colours add shine and moisturize gray hair without changing its structure.
About: Temporary hair colours just stain or deposit colour on the hair's surface, giving an instant colour to hair.
How long it lasts: Temporary hair colours are like makeup. You can apply it and wash it off with a single hair wash.
Types: Temporary hair colours can be in the form of liquids, powders, sprays, mascara root touch-up wands, or chalks.
The difference Semi-Permanent colors make on Gray Hair:
Blend the Demarcation Line:
It's an excellent way to camouflage the harsh line of demarcation, most prominent during the initial few months of growing out gray hair.
Here are a few inspirational pictures of the silver sisters who applied semi-permanent colours on their hair in a creative way to deal with the skunk line.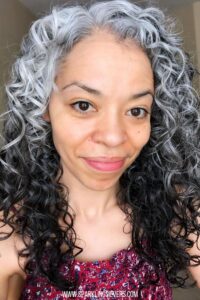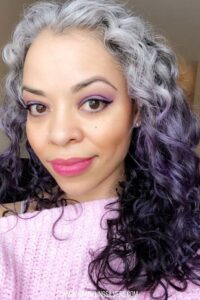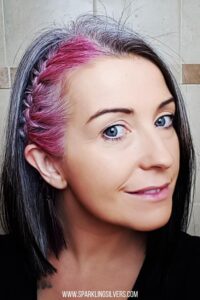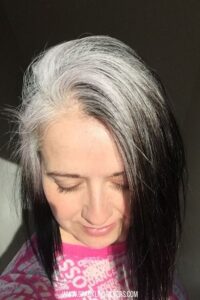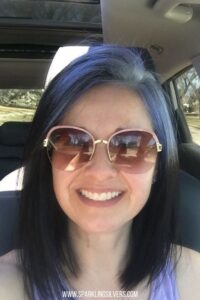 It's common to see the yellowness in the dyed part of the hair, which emerges after the dye starts fading after a few months of growing the silver roots.
Though silver shampoos are a way to tone down the brassiness, temporary colours can be a fun way to hide discolouration.
Below are pictures of some silver sisters who preferred playing with colours to deal with their brassy hair.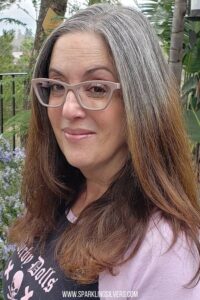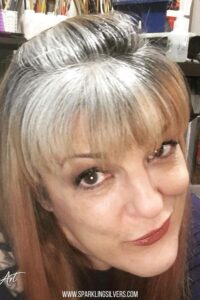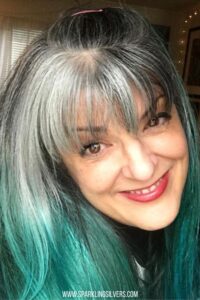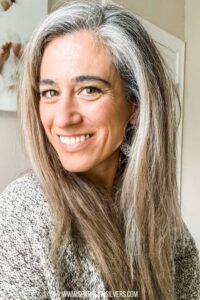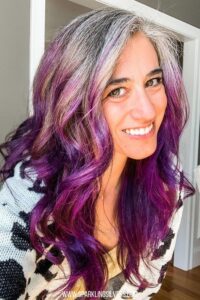 Hair colour lightening formulas generally damage the dyed part of the hair, as some of the silver sisters go through while getting highlights or blending done at home or salon.
Using hot tools at high temperatures is also one of the causes of damage that is irreversible, and many women end up getting a haircut to get rid of the damage.
Using semi-permanent colours can be an excellent idea to deal with the damage without compromising the length of the hair.
( Note: If your hair is damaged, it means you have more porous hair resulting in the chances of colour penetrating the hair shaft and staining it, making it more permanent than temporary on gray hair. I would advise you to do a porosity check before.)
Inspirational Pictures of Temporary Color on Natural Gray Hair:
Have a look at the before and after pictures of these gorgeous ladies with vibrant colours on their hair to get an idea of what difference temporary/semi-permanent hair colour makes.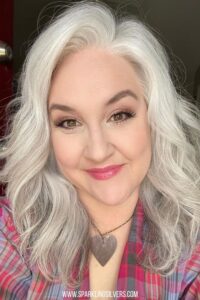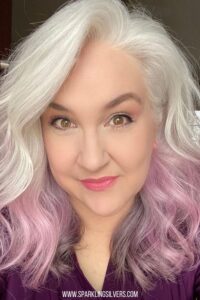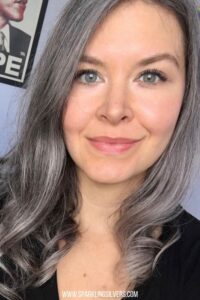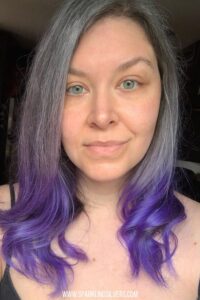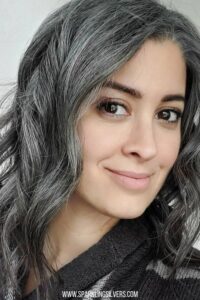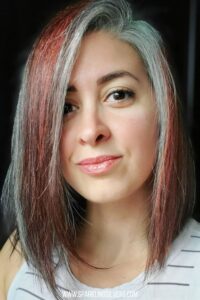 Below are a few images showing hair colours done by professionals in the salon.
A few pictures show colouring on natural gray hair, while some looks are artificially achieved in salons on pigmented hair.
Points to Consider Before Applying Temporary Colors:
Make sure to do a strand test that will give you a better idea of the end results, processing time, allergies, and the number of washes in which the colour goes away. Do a small strand test and wait weeks to ensure it completely fades.
The colour results vary from person to person, depending on the shade and texture of the hair. Like the results will be different for salt and pepper hair and a whole head of silvers.
The time the color takes to come out from hair depends on various factors like -the porosity, texture, thickness, and health of hair, the water you use and the hair care products you use on your coloured hair, and the usage of hot tools.
Leaving in colour on hair for more time than instructed may increase the intensity of the colour resulting in a more brightened colour.
There's no need for bleach. It's just about as easy as hair colouring can get.
Popular Temporary Hair Colour Products:
These products are not just popular but also have been widely used and trusted by our silver sisters.
To help you know better what colour suits you, here are a few popular apps to try different colours. As picking a colour for your hair depends on various factors like your skin tone, eyes color and also what colour of clothes you prefer to wear!
Modiface Hair Color App (Android and iOS)
Fabby Look (Android and iOS)
2. Preparation Before Application
Some of the products can be messy to use. Make sure to have a hair coloring brush, disposable gloves, an old T-shirt before the application and some newspaper to protect your room/bathroom. Use Vaseline around your hairline and your ears to avoid staining your skin.
Here's a simple trick to know your hair porosity. Place a strand of your hair in a bowl of water. If the hair strand floats for some time before sinking in the water, it indicates that your hair is less porous and may take time to absorb the color and also, the color won't stay for long.
On the contrary, if it sinks in water immediately, it means high porosity. That is, it will absorb the colour quickly and hold it for a long.
It's better to wash your hair a day before applying the colour. For best results, there must be no products on hair before the application, not even conditioner, as it helps the colour to saturate well on hair.
And last but not least though these colours are temporary, they still have chemicals that, if used regularly, may affect hair's health.
I hope the information shared in this post helps. Now you can rock those fantasy colours on your natural gray hair 🙂
Feel free to share your hair discoveries in the comments. Start a conversation; maybe you can help somebody out. We are all on this hair journey together. We can do it!