Growing out grey hair is a journey to embrace our true selves letting the world know that we are no more slaves to the hair dye.
This journey is a challenging one. Although, over time, we learn to embrace it and rock that demarcation line, the initial six months can be tough. It is when people around us are confused about what's going on with our hair, even we are trying to adapt and be comfortable with the dye-free phase. Sometimes we like it, and sometimes it isn't easy to face the mirror.
There are several ideas to hide or cover up the demarcation or the skunk line. I will be sharing ten easy and excellent ways to hide the demarcation line between your coloured and grey hair, making the initial grow-out phase a lot more manageable and comfortable.
These fantastic ideas and simple techniques will help you to overcome those tricky days and keep you going strong on this journey.
Oh, by the way, if you are not familiar with the term, "the demarcation line is that noticeable contrast between the dyed hair and the natural grey or white hair, which becomes more apparent as time passes."
So let's get started…
Scarves, Bandanas and Turbans to Hide Gray Hair:
Different types of head wraps can be a brilliant way to keep those silvers covered in those initial months, giving you time to embrace the mess.
Have a look at these inspirational pictures of my fellow silver sisters using bandanas, turbans and scarves to hide the newly grown silver roots and camouflage the demarcation line.
They look absolutely stunning and confident in these varieties of head wraps.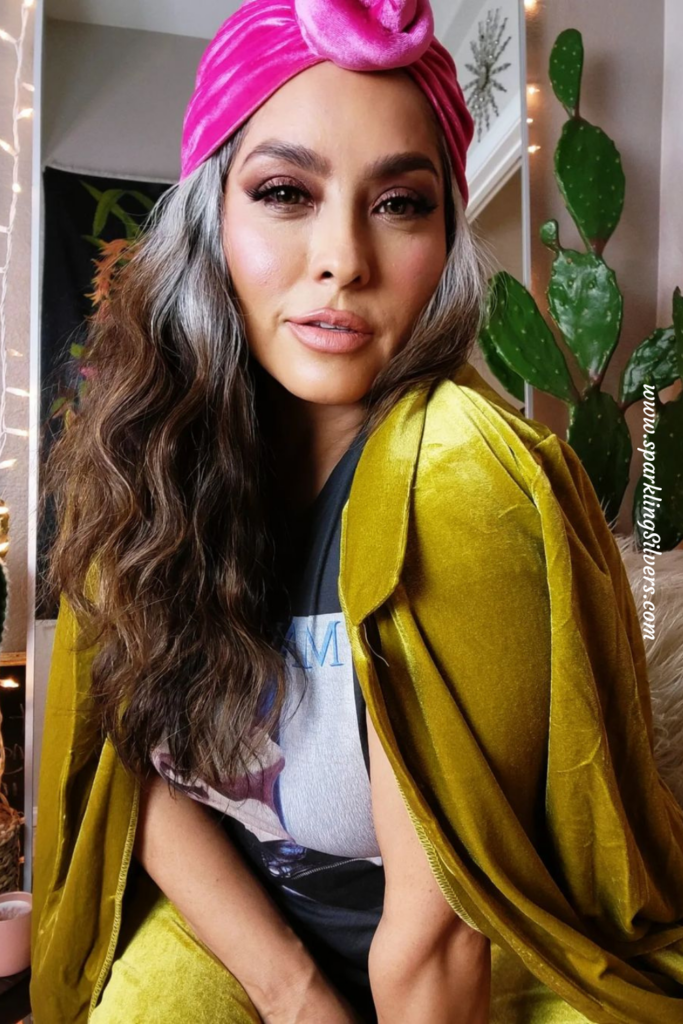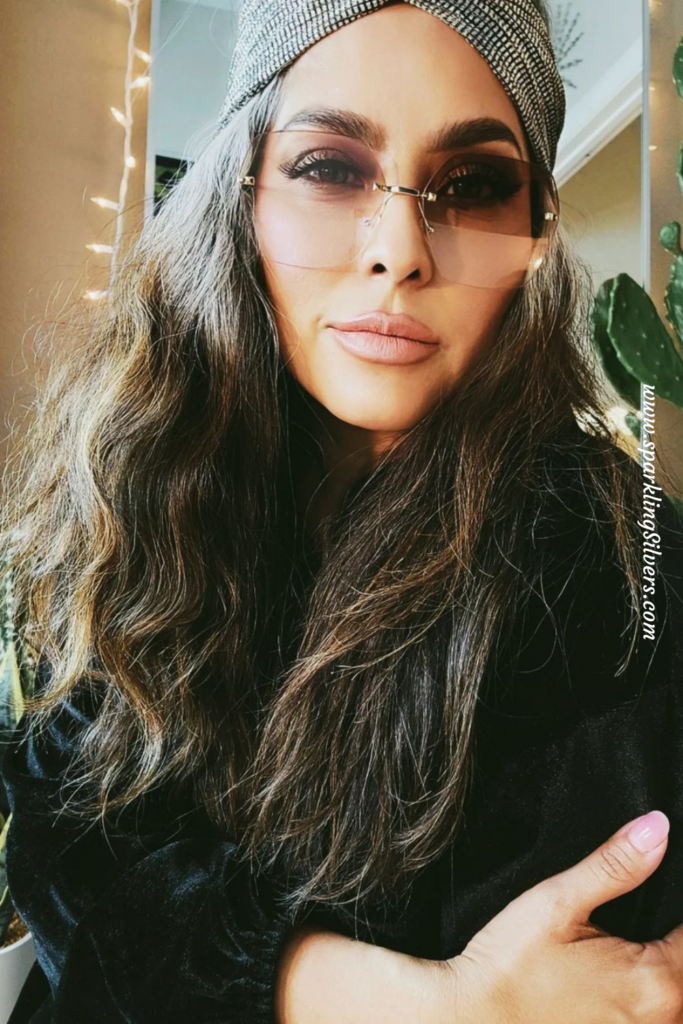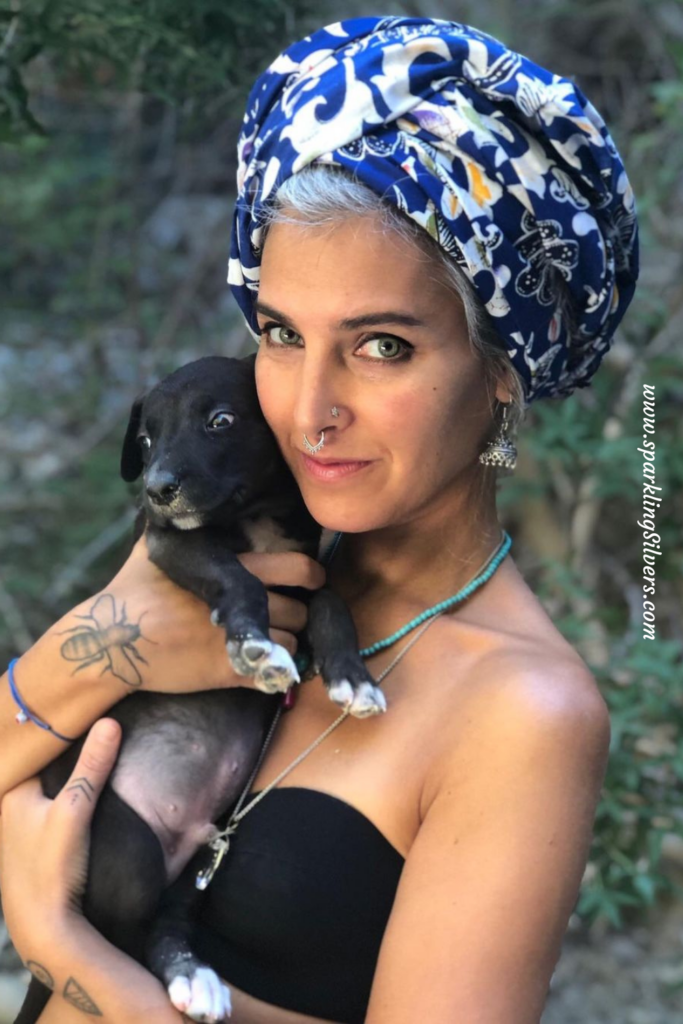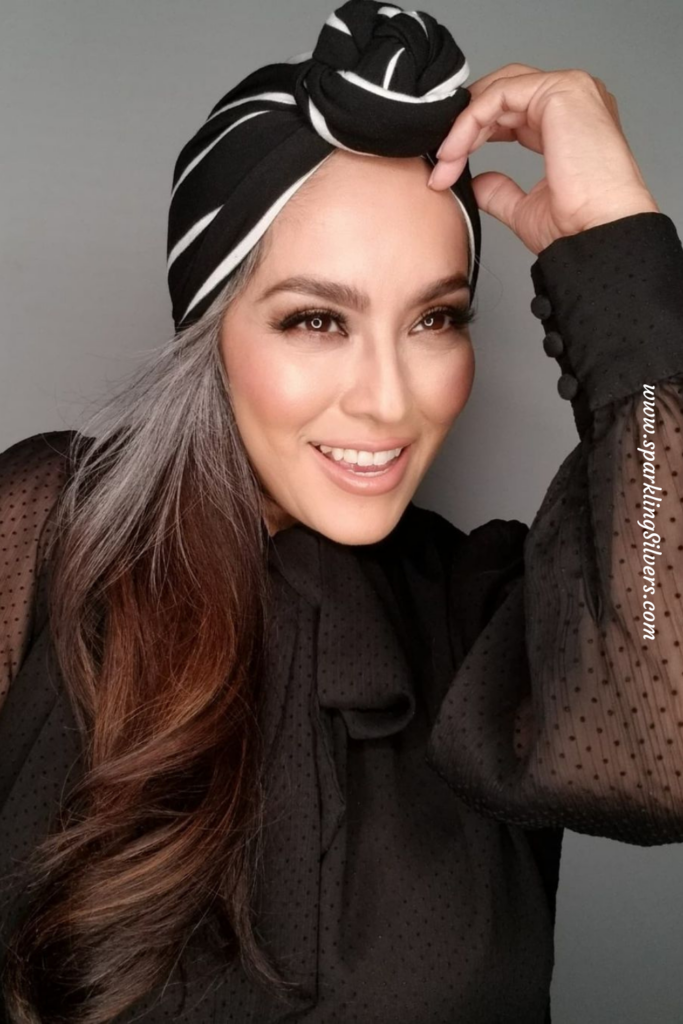 If you are not a turban person, then have a look at these bandana styles. It's such a colourful way to conceal the contrast between dyed and natural grey or white hair.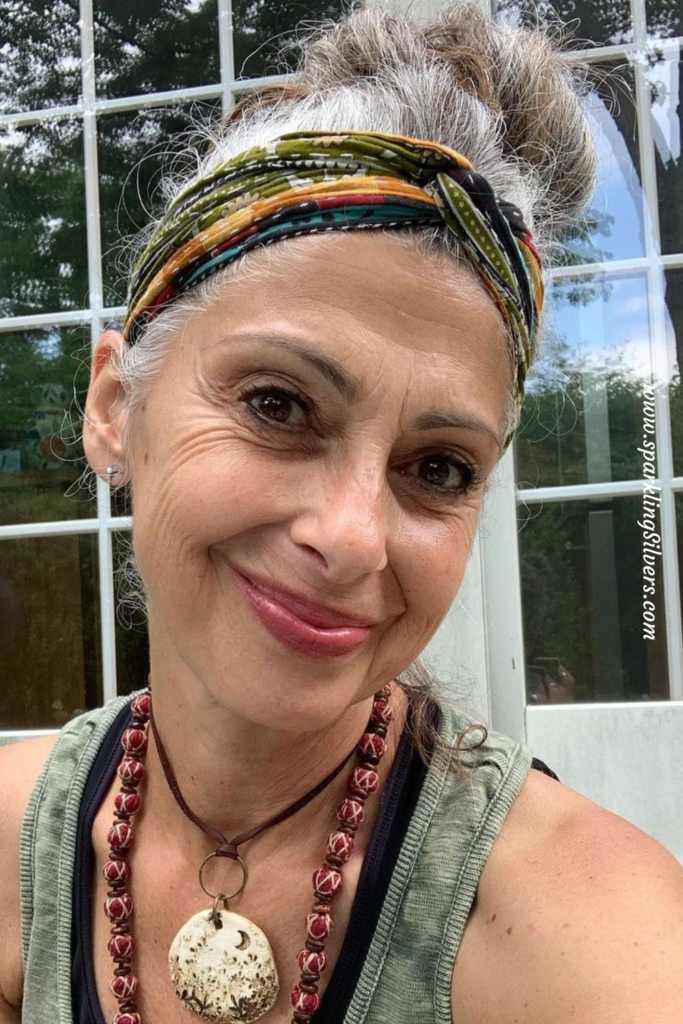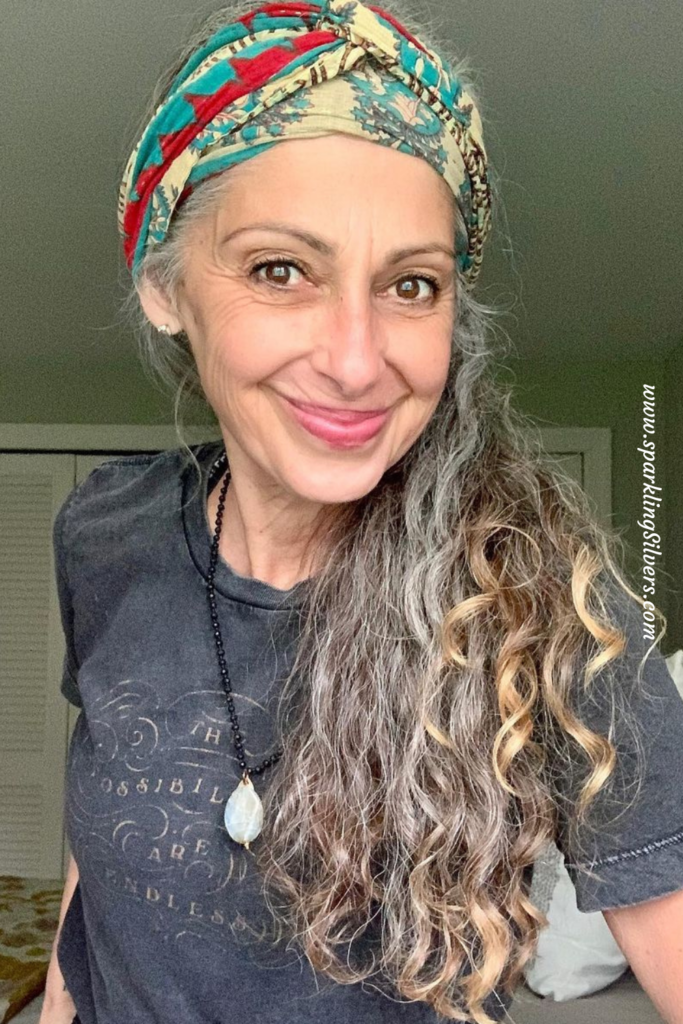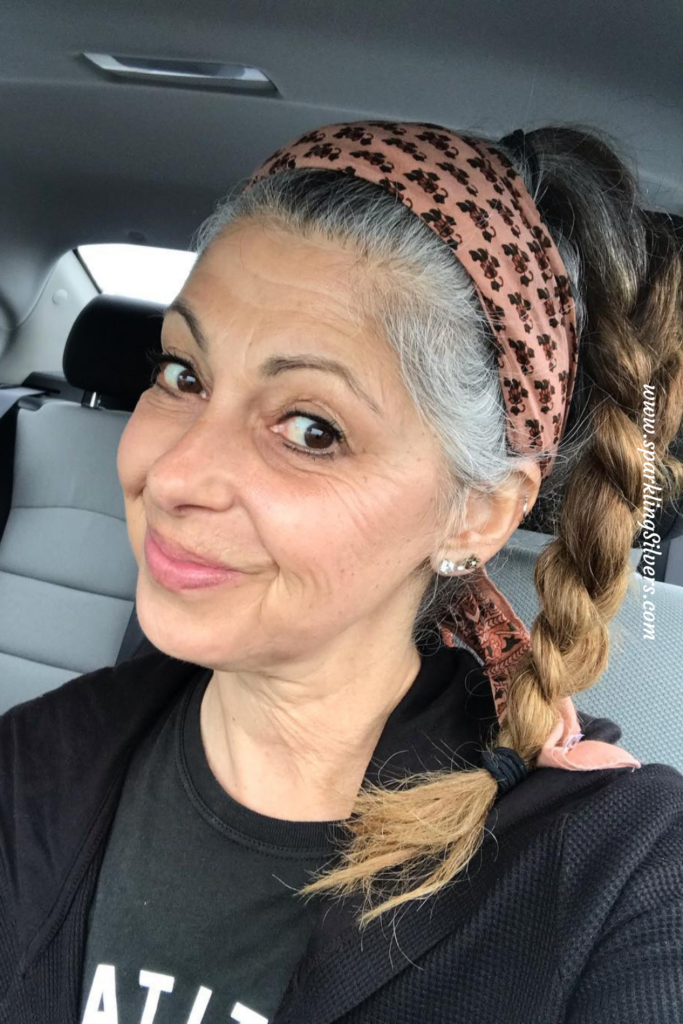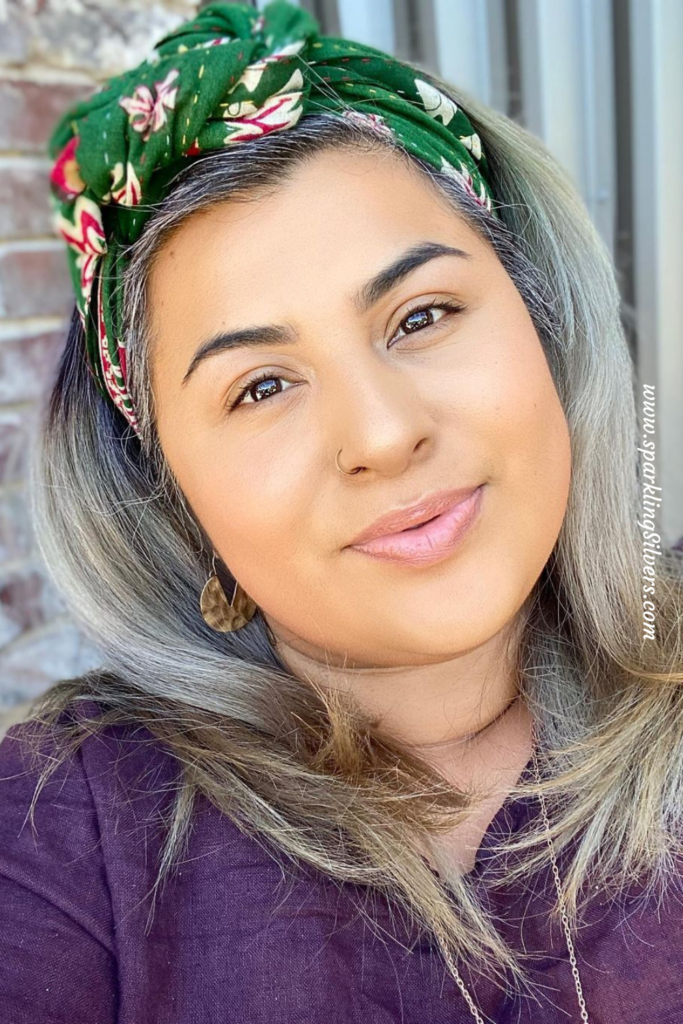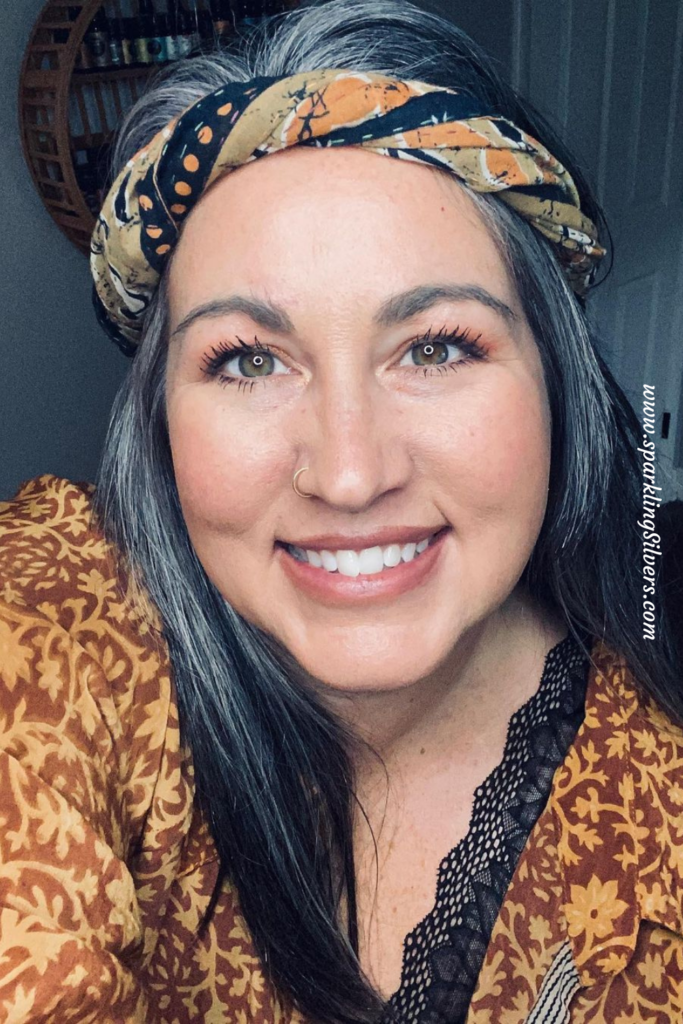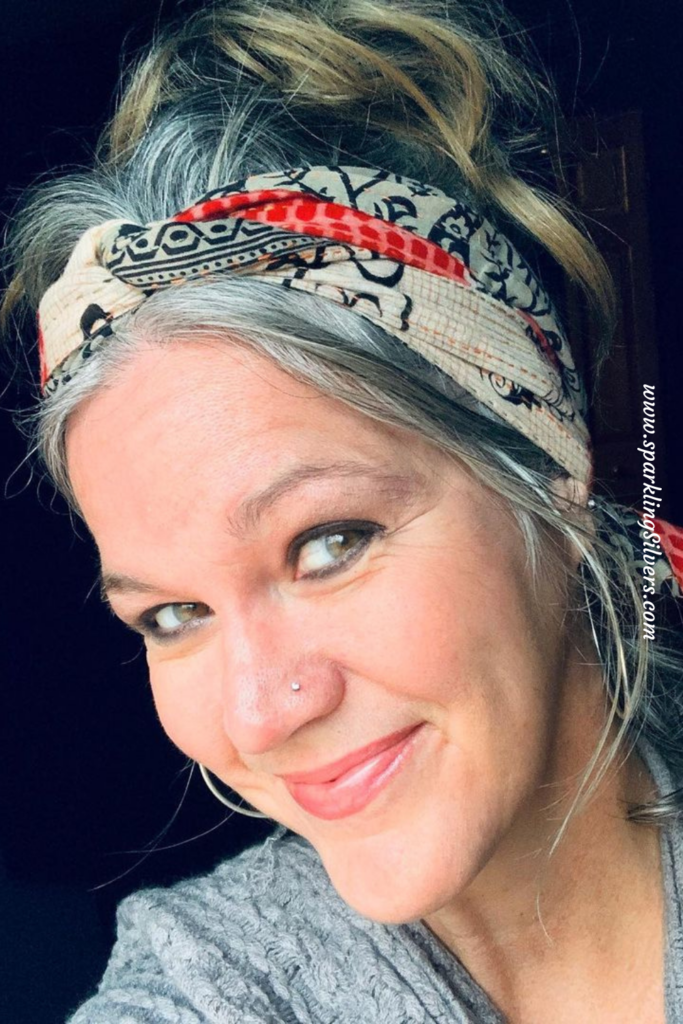 Scarves are incredibly versatile and can be worn in different styles.
Scarves can work equally well for formal events and casual outings, depending on how they are styled. The best part is scarves offer an excellent opportunity to play with colours and patterns. They can very beautifully complement grey hair and the rest of the outfits.
So, have fun experimenting with different scarf styles to find the perfect one that complements your unique fashion sense and taste.
Check out these silver sisters flaunting some beautiful scarves.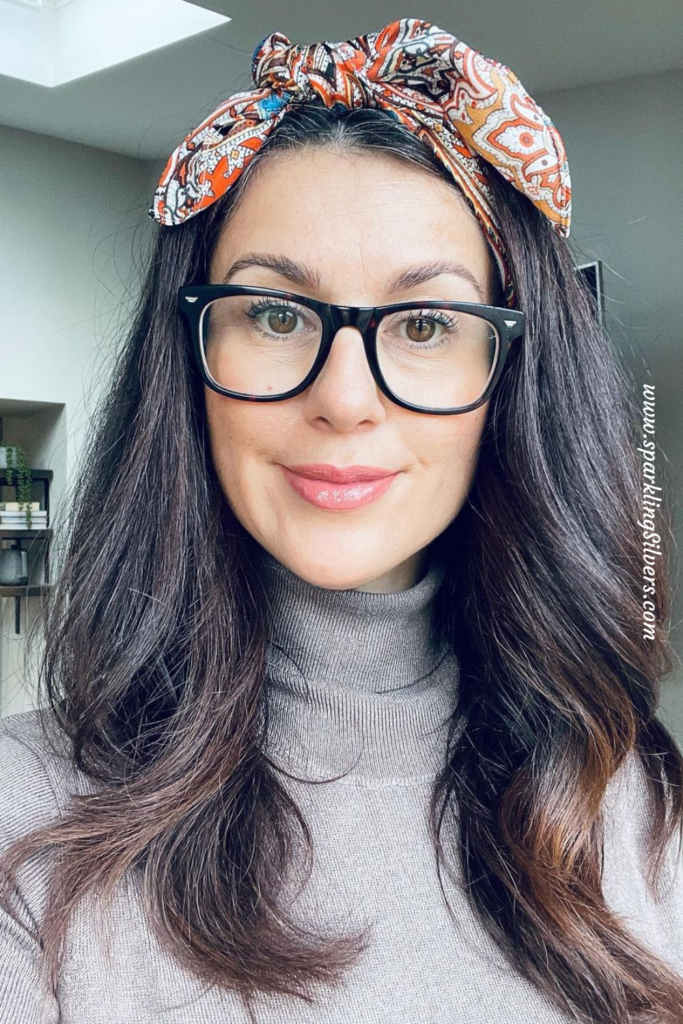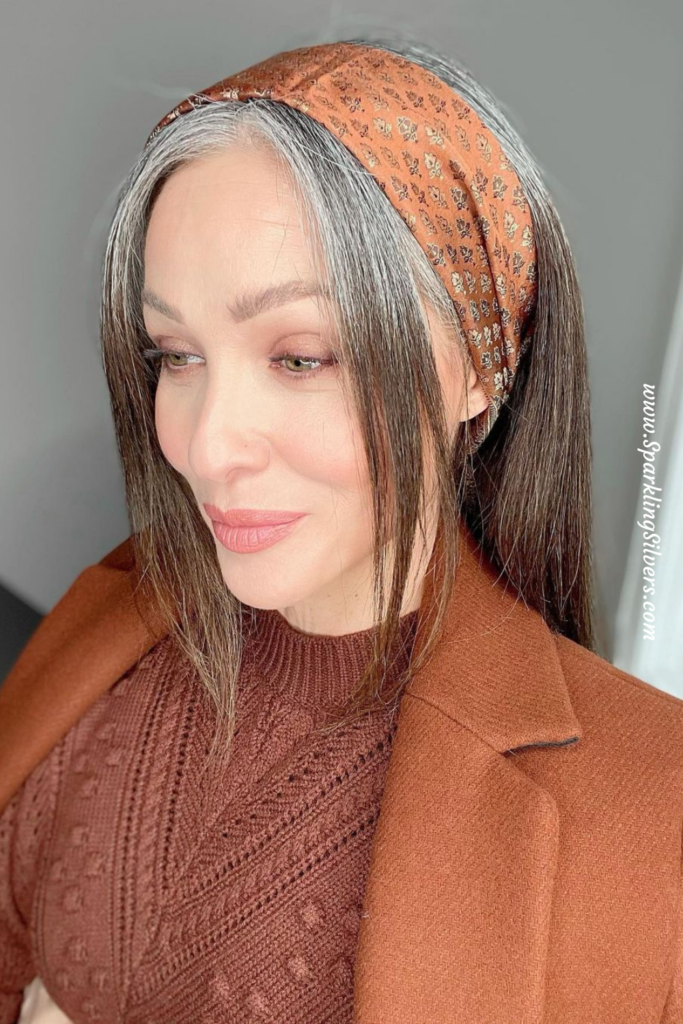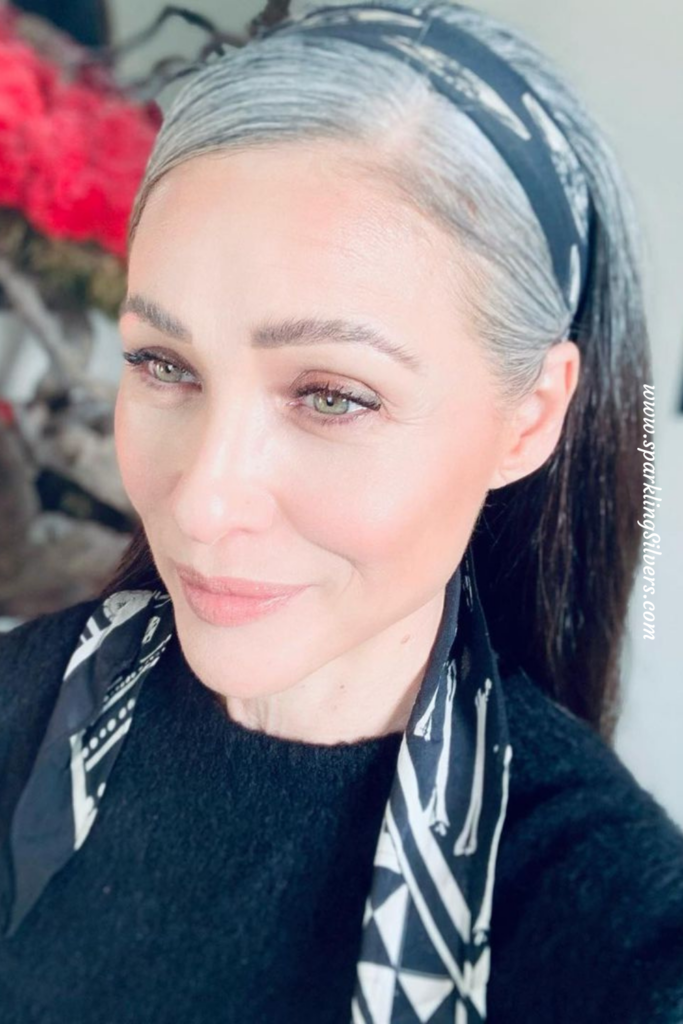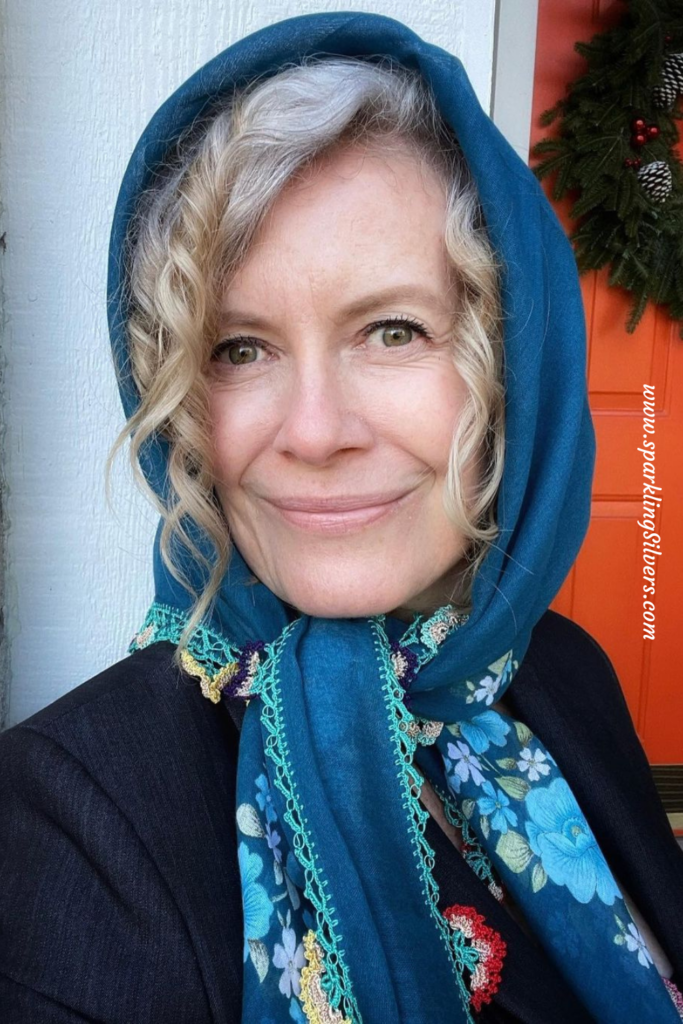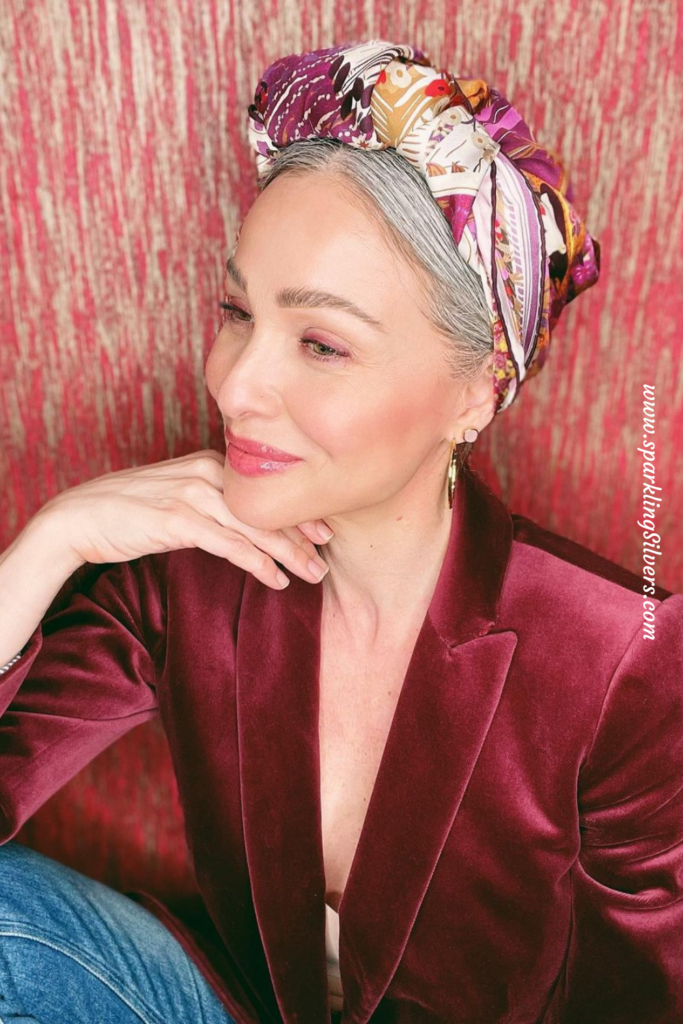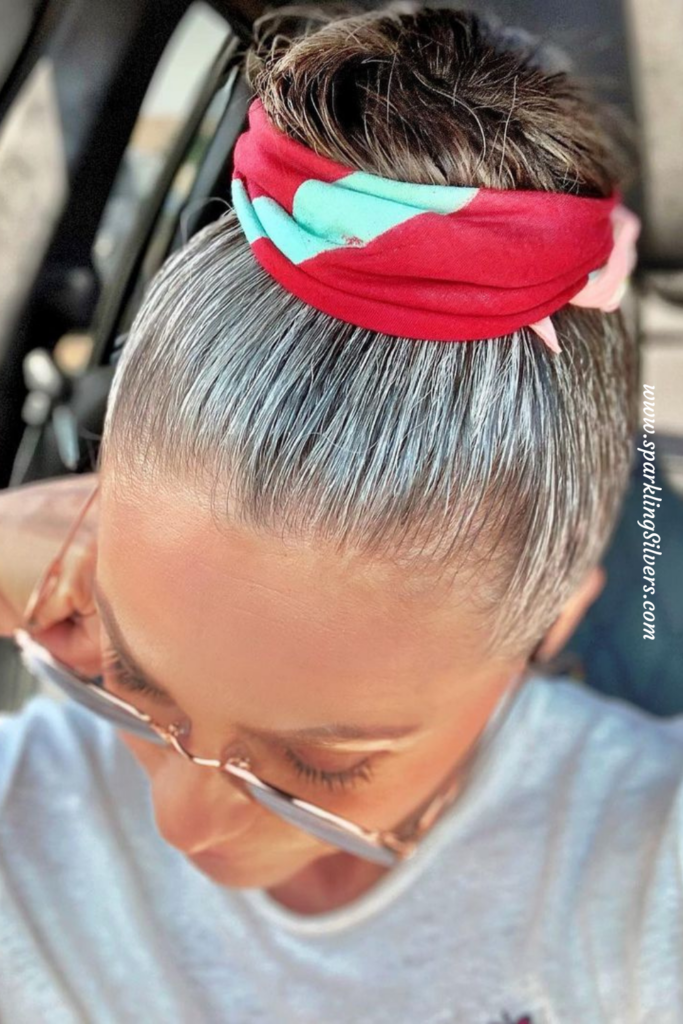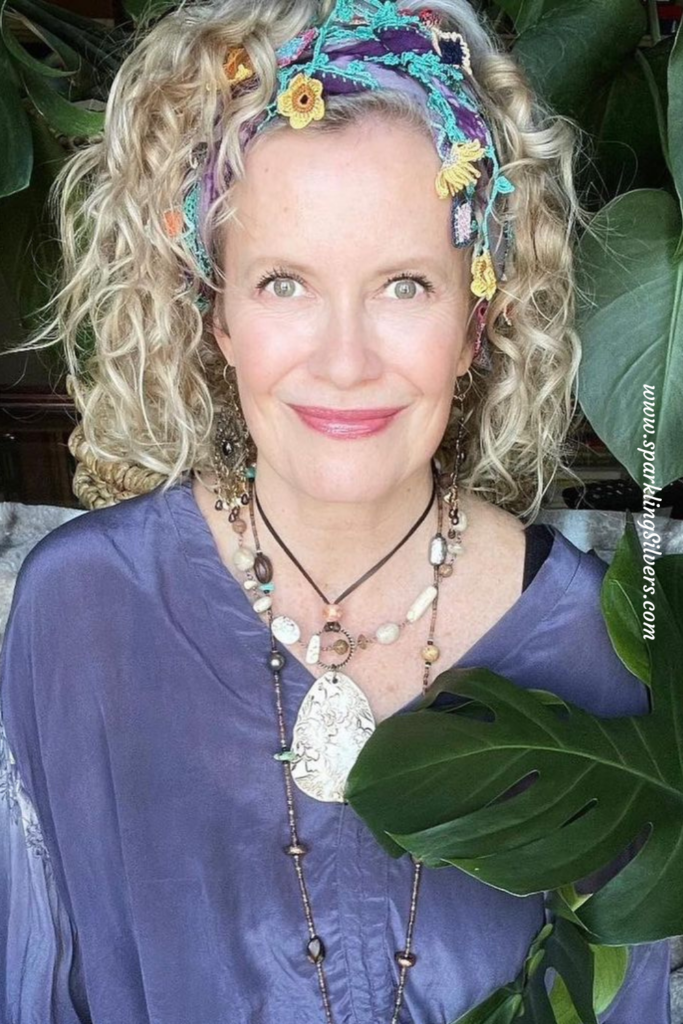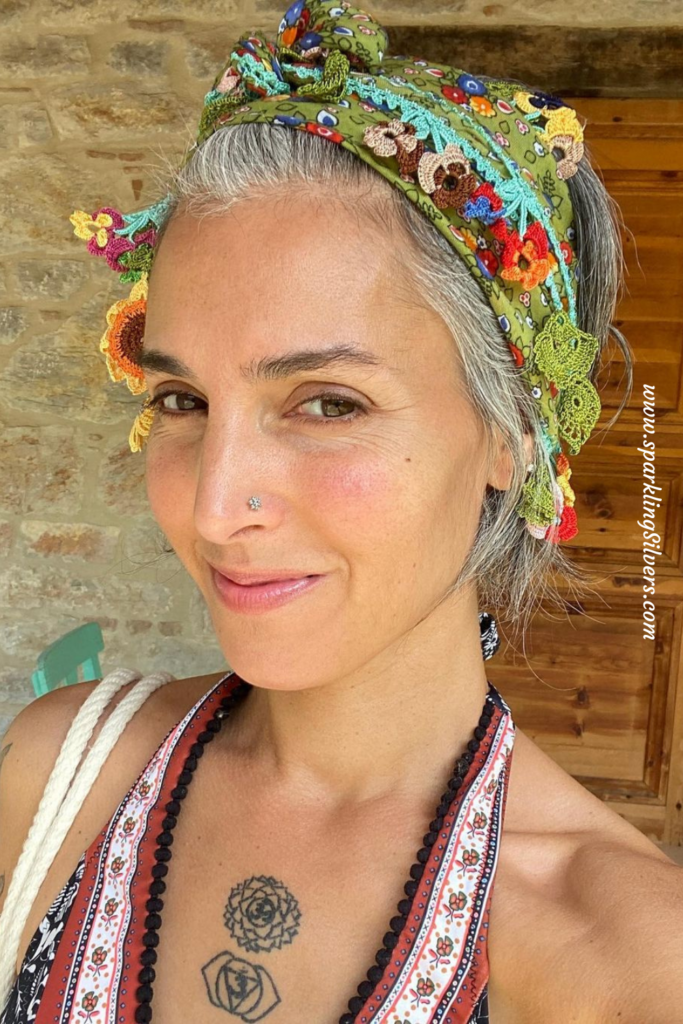 Headbands to Hide Grey Hair:
Growing out grey hair can be challenging, and headbands can be very helpful during the process.
There will be days when you will need help with how to style your hair. Headbands can provide a practical and stylish solution to look polished and confident in any situation hiding your silver roots.
Headbands can be used to accessorise different hairstyles, such as ponytails, braids, and updos.
Let us explore the two most popular types of headbands used during the grey hair growing-out process.
It's been 5 years now that I have embraced my grey hair, and I remember the struggle of styling my hair during the first two months. The white band of hair was stark against my dark brown dyed hair.
If I had any idea of getting wide headbands, I would have gone cold turkey with my shoulder-length hair😊
Wide headbands cover a larger portion of the head, including the hairline and the area where the grey roots are most noticeable. This extended coverage helps to mask the demarcation line between the dyed hair and the natural grey hair effectively.
So, it's a must accessory for the initial months of growing out and also for the later months to be styled with loose hair, ponytails, braids, or updos, adding a touch of elegance to your look while concealing the grey roots.
Aren't these silver sisters looking great with these vivid headbands: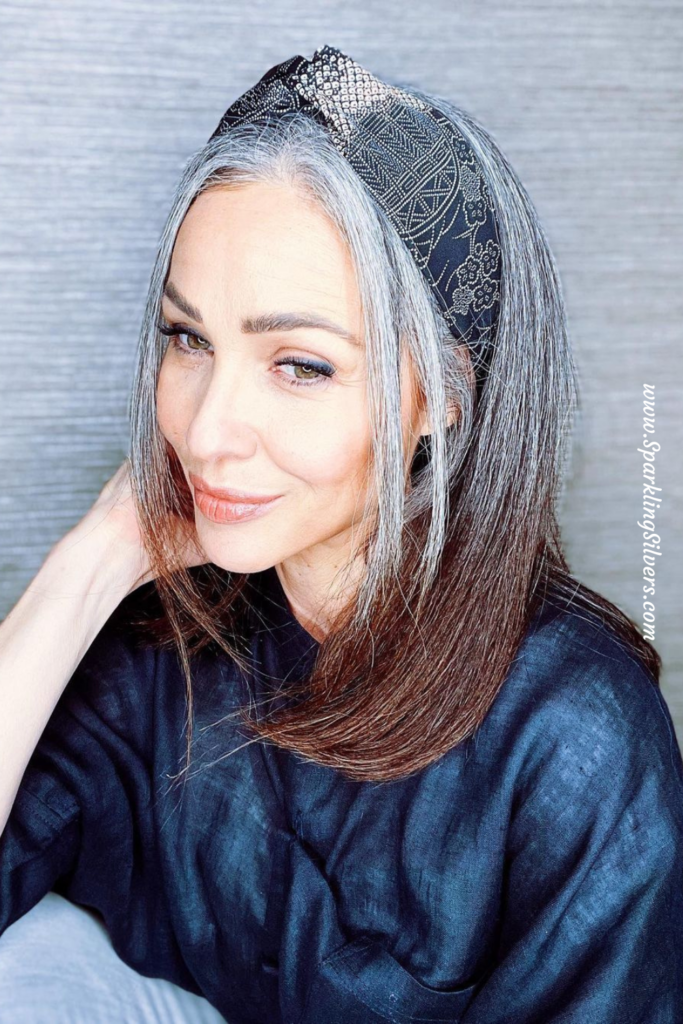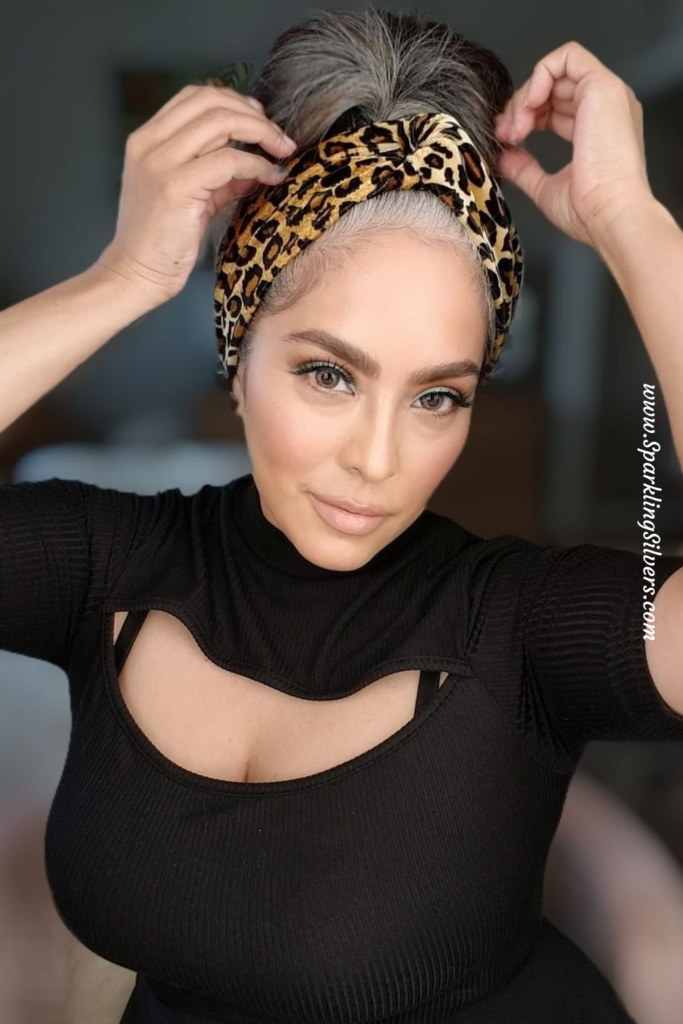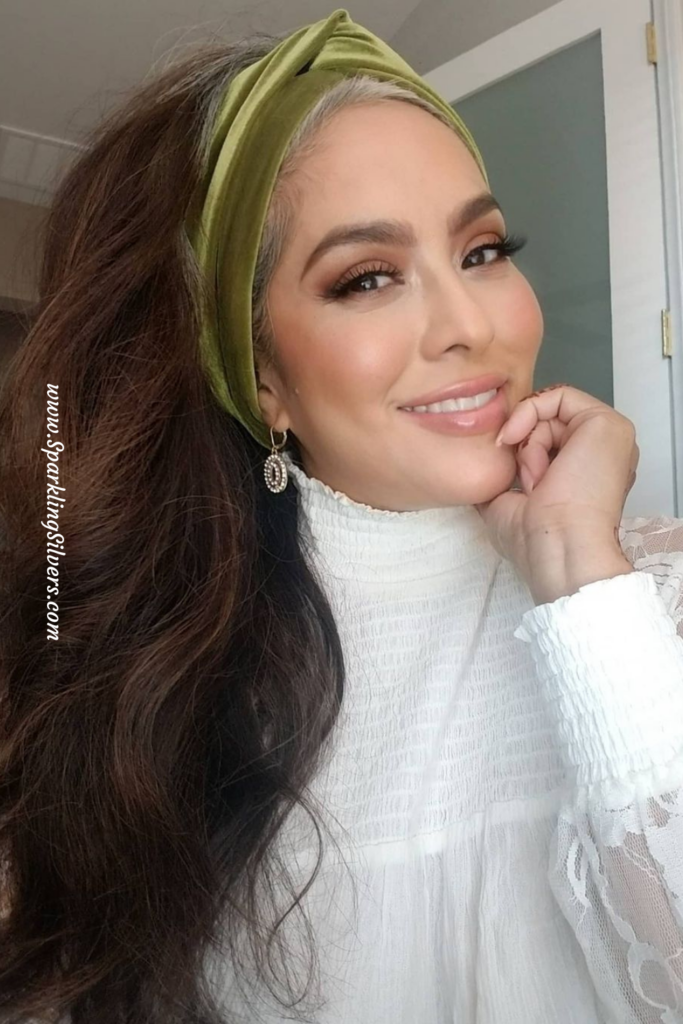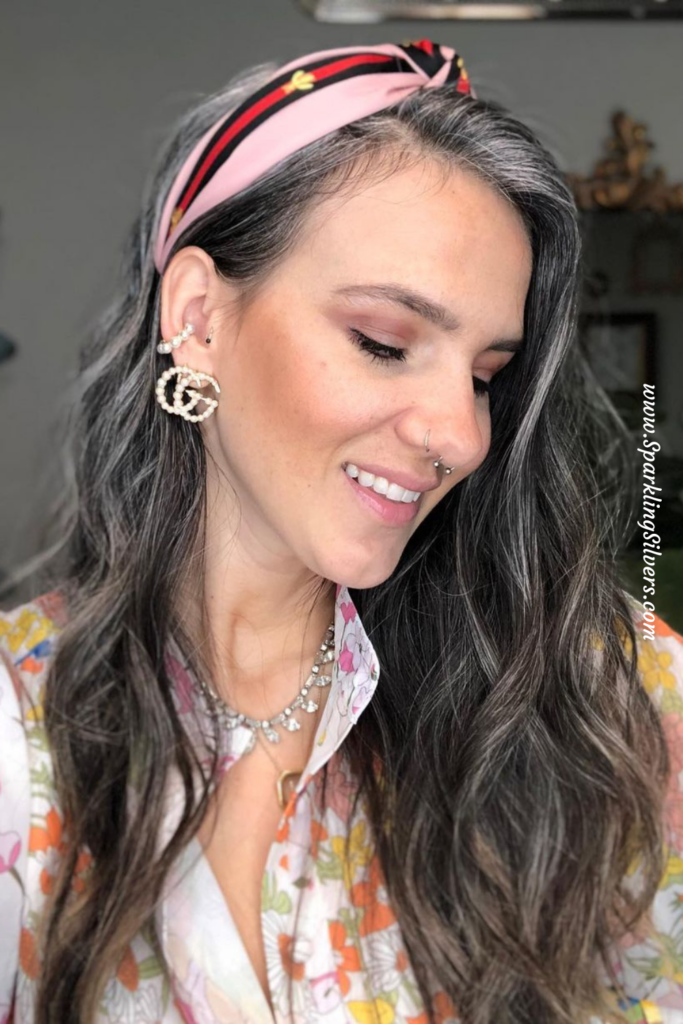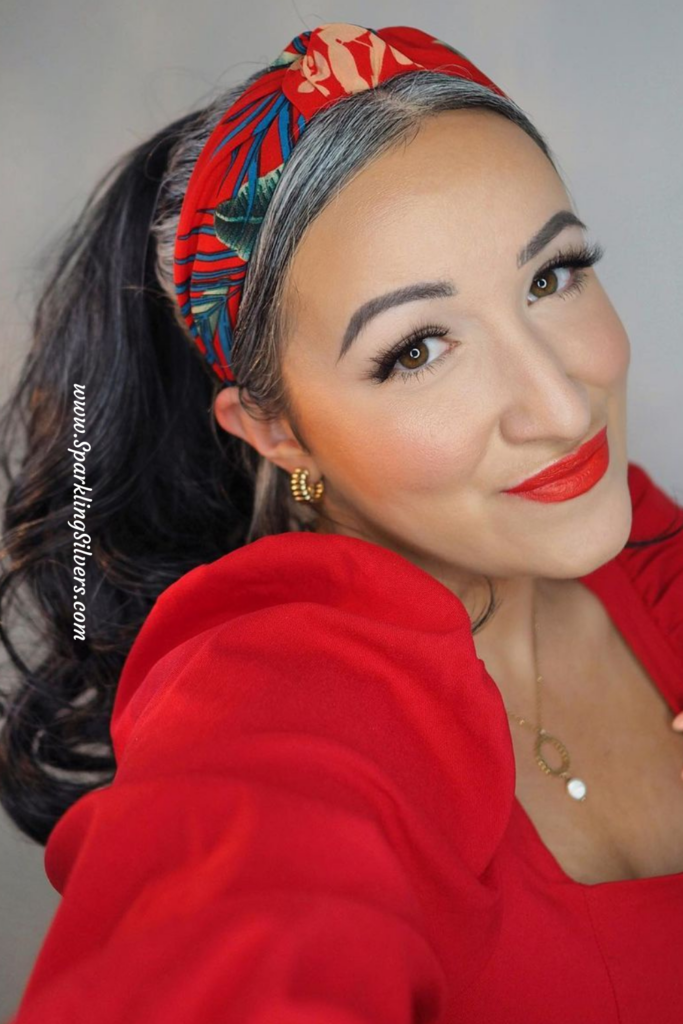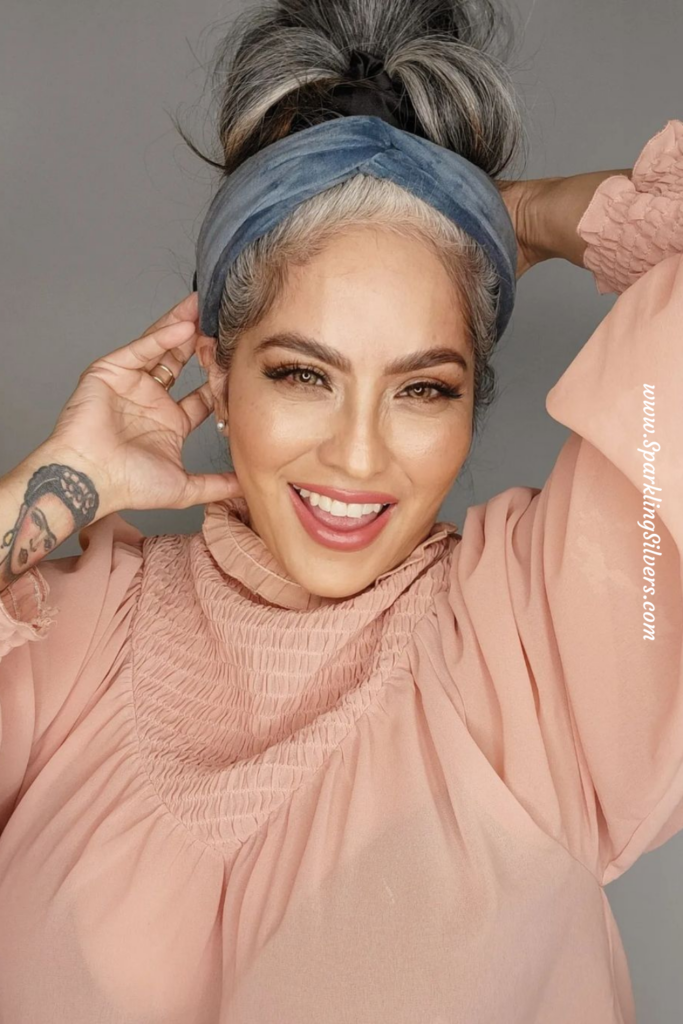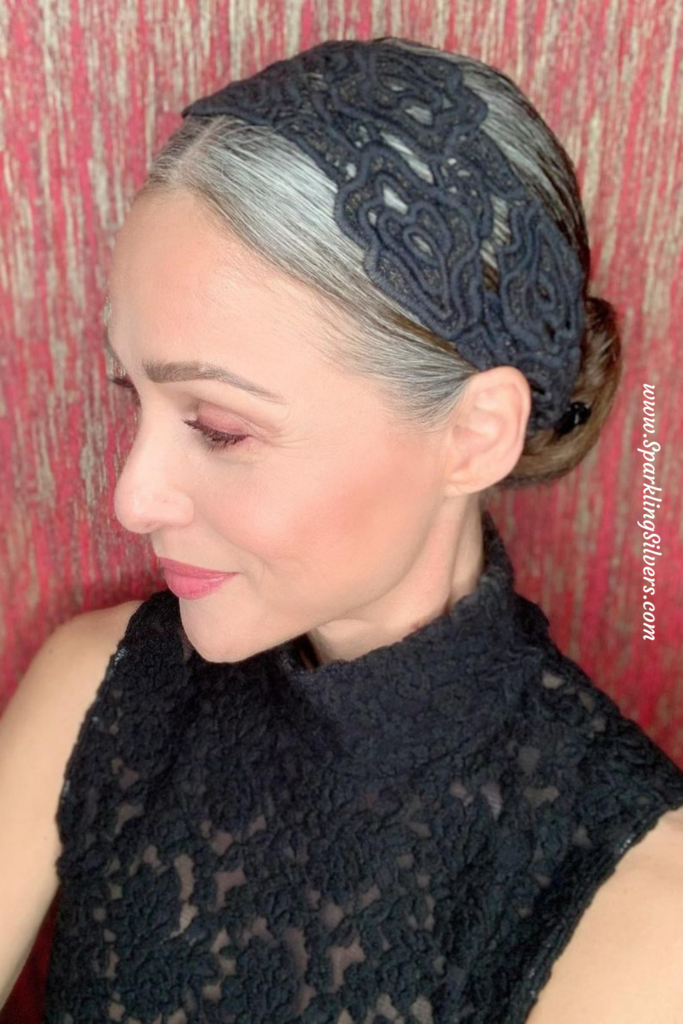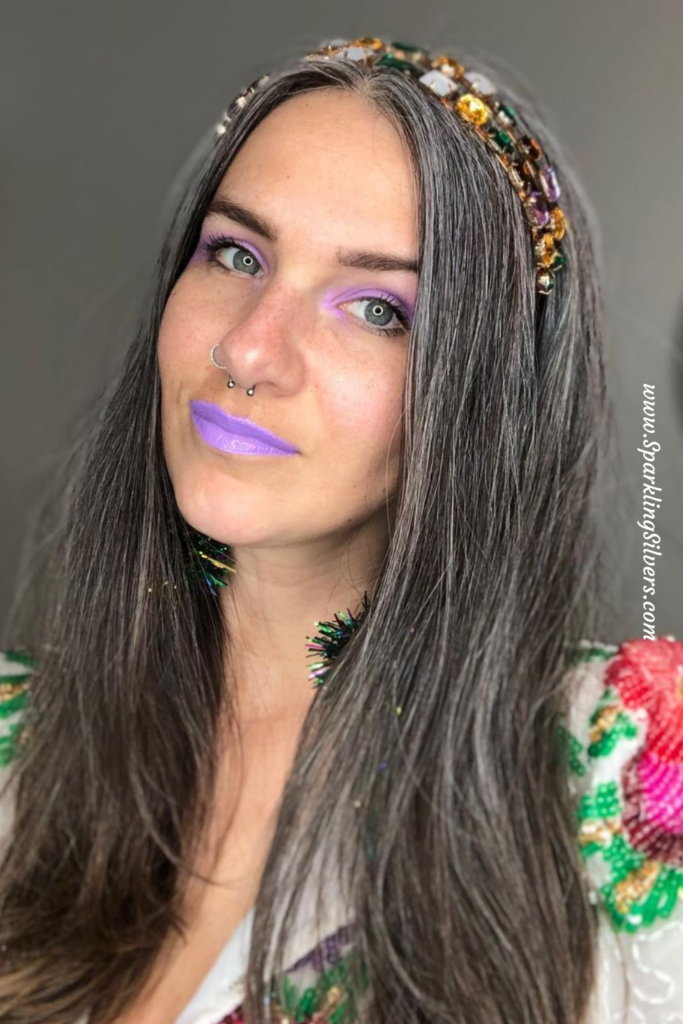 The second most popular headbands in the silver sisters community are the braided headbands.
Grey braided headbands in a similar shade to your natural grey hair can help camouflage and blend in the grey roots with the rest of your hair. The braided texture creates a soft and seamless transition, making the grey less noticeable.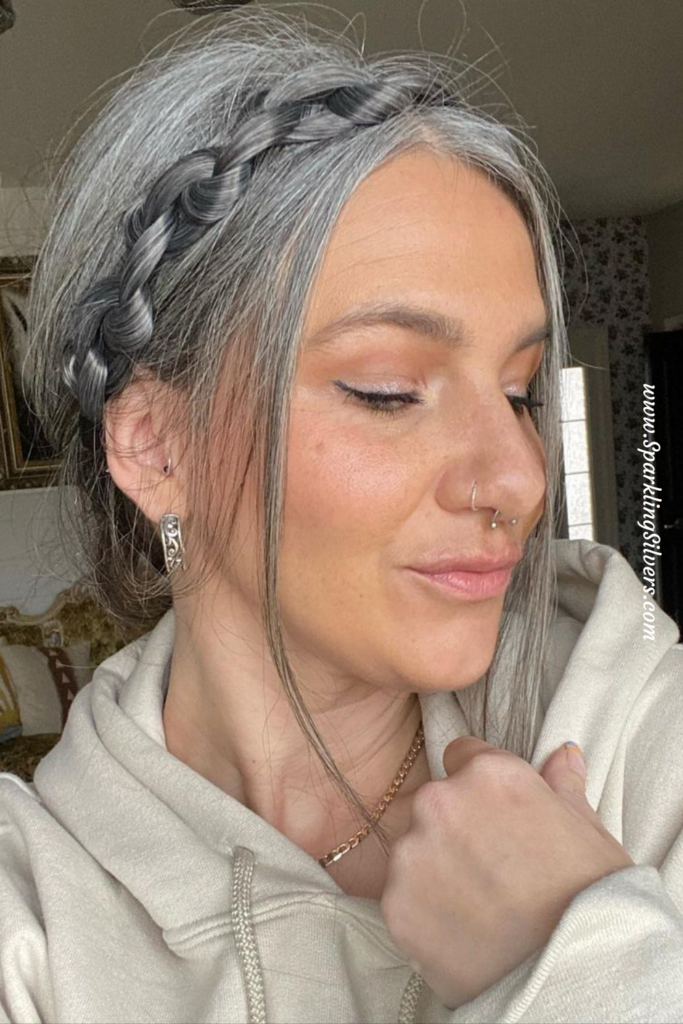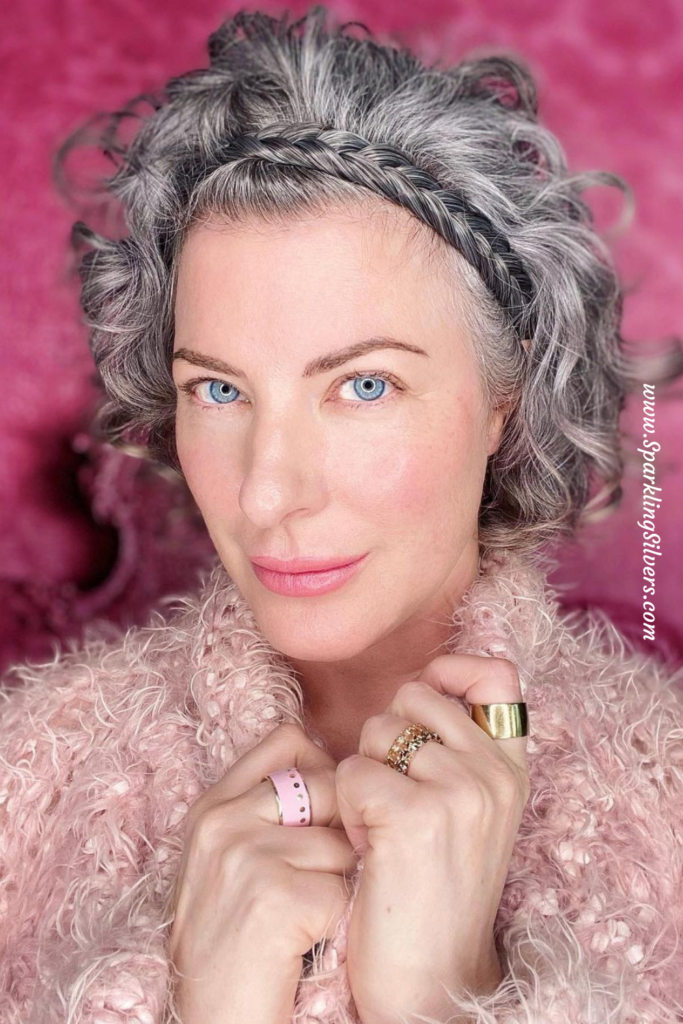 Dye Strip Technique to Hide the Gray Hair Demarcation Line:
This is a very interesting method of hiding the grey hair demarcation line for women with long hair. It is also known as 'Going Grey in Secret'.
In this technique, a small strip of hair is coloured at any one side of the crown of the head, and the rest of the hair is left uncoloured.
Regular touch up of the roots of that strip goes on, covering the natural grey hair that grows beneath the strip.
When ready to reveal your silvers, stop the root touch-up and flip your hair to the other side of the head where natural silvers grow.
That's it!
Diana, aka @silver.is.the.new.black on Instagram, documented her grey hair transition with this technique. Check out her account for more information.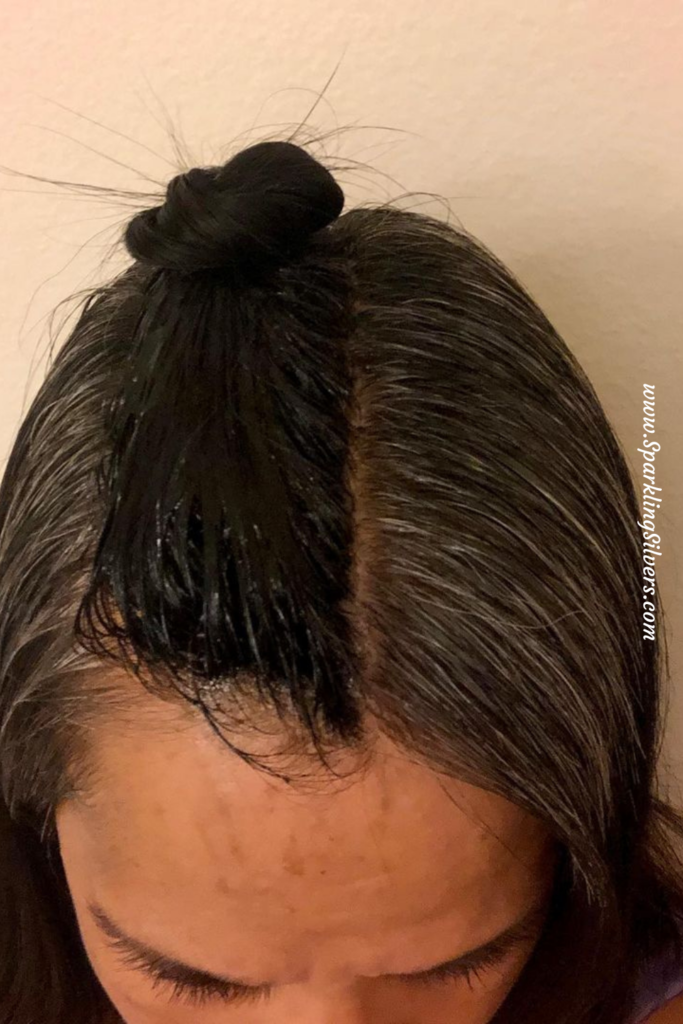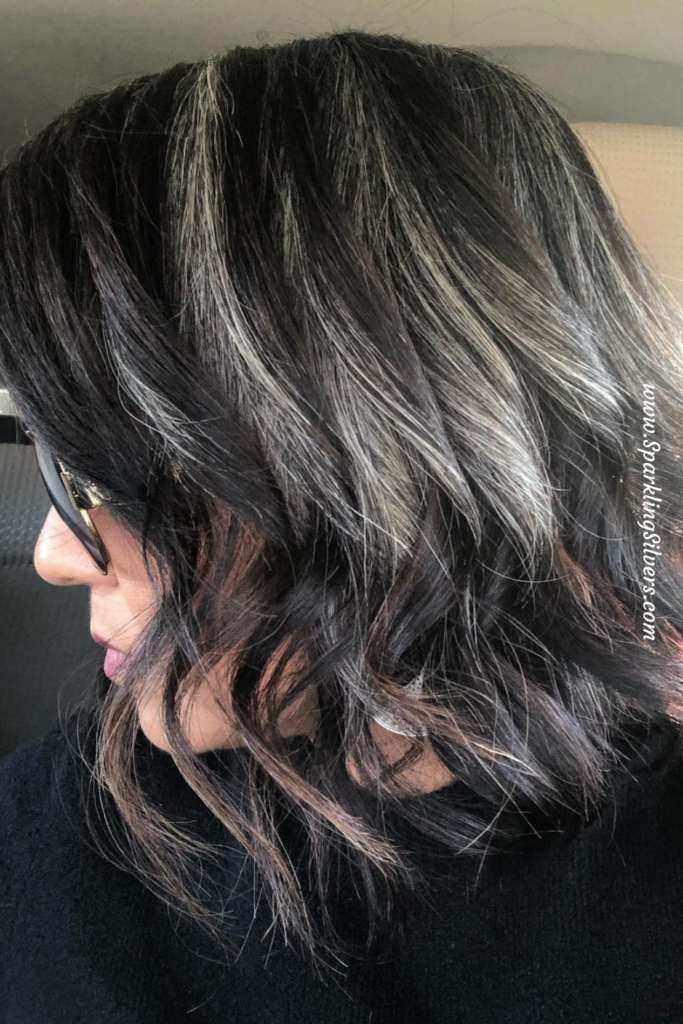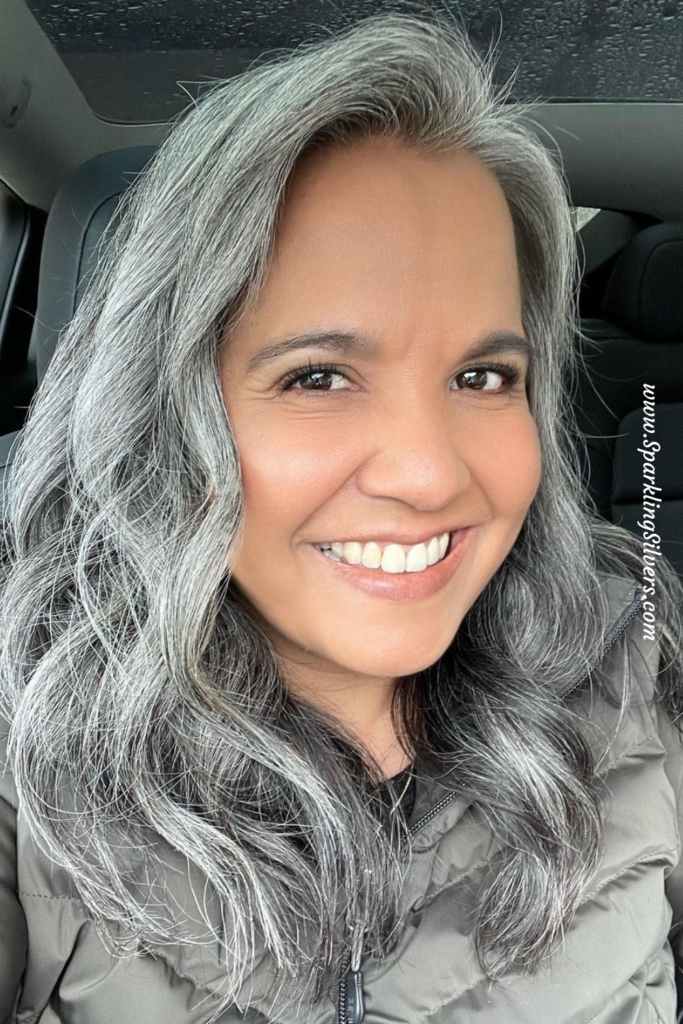 Use hair pins strategically to style your hair in a way that they conceal the demarcation line.
You can just opt for decorative hair pins that match your style and outfit. They can draw attention away from the demarcation line by adding a touch of elegance and beauty to your hair.
Have a look at these pictures to have an idea of the hairpin placements. You can always experiment with different hairstyles and hairpin placements to find the techniques that work best for you.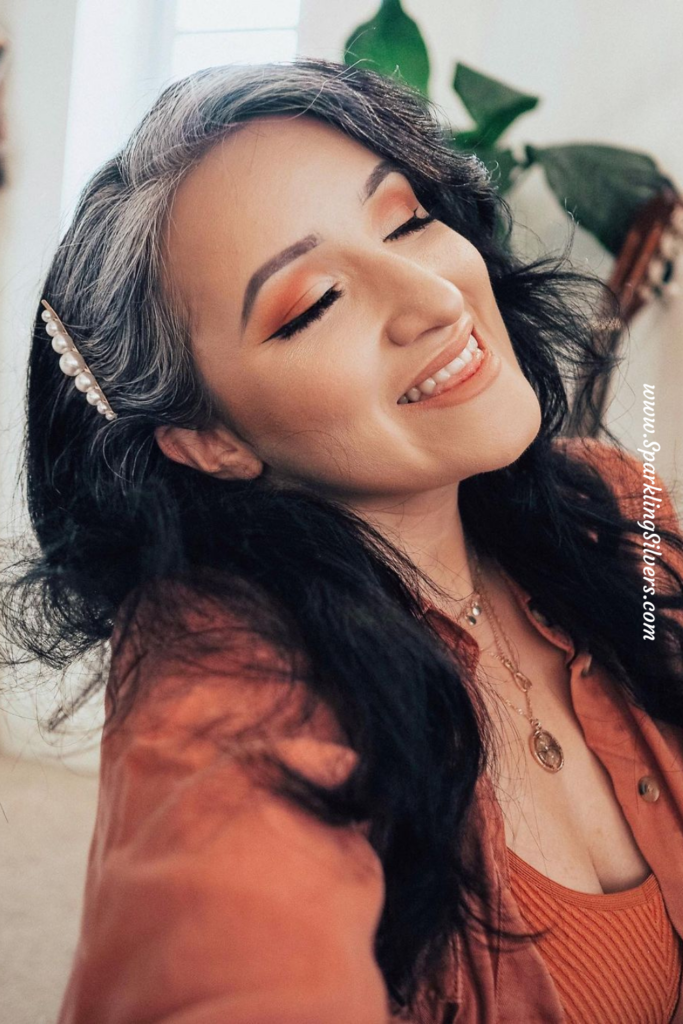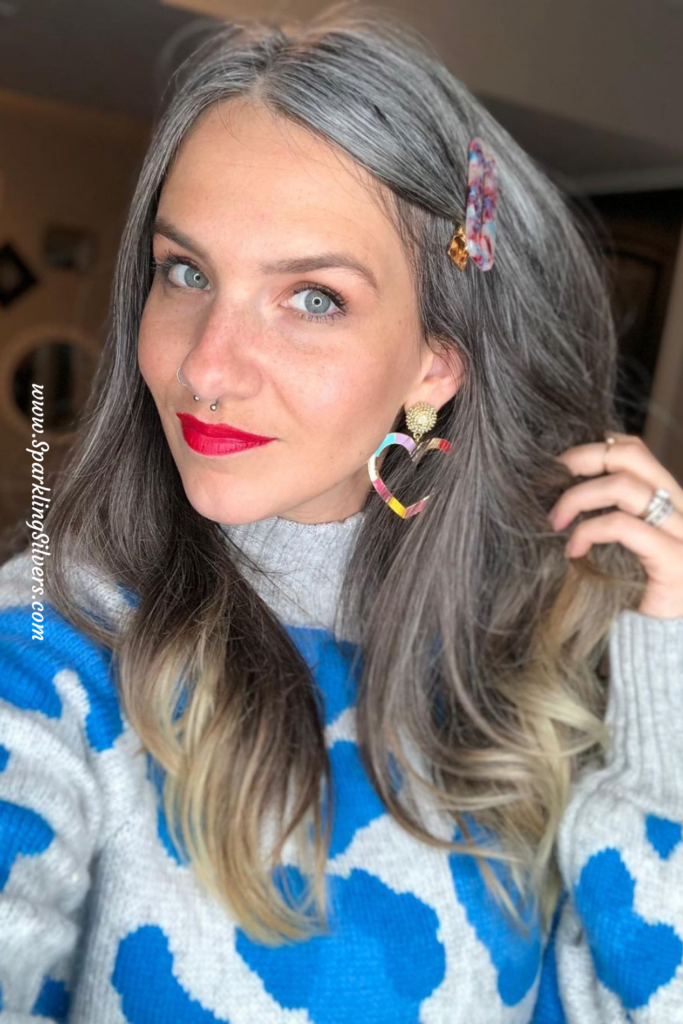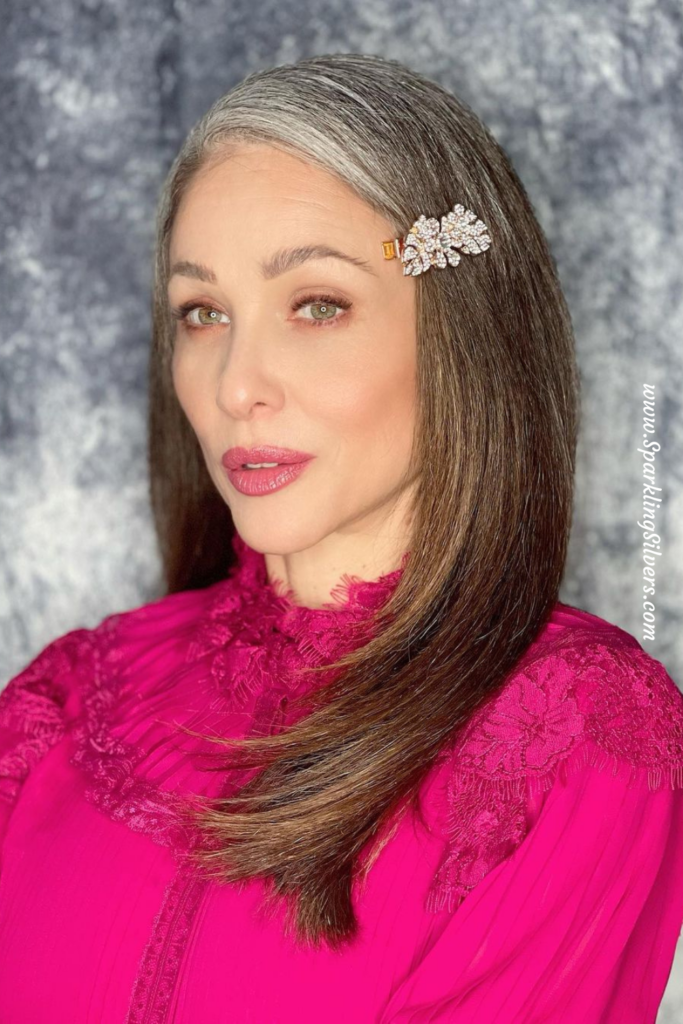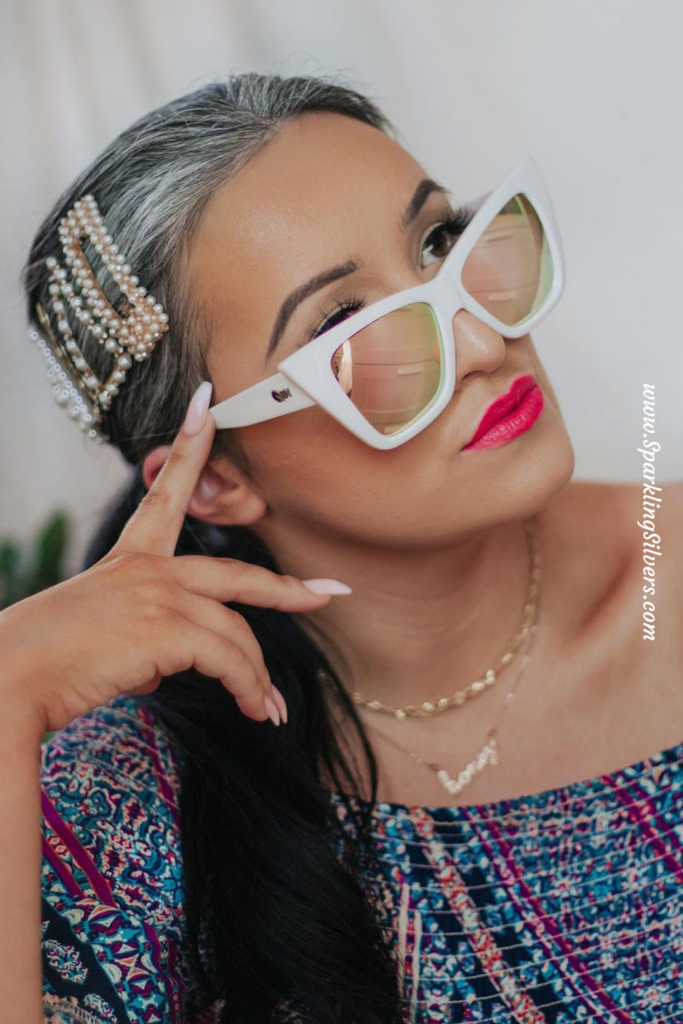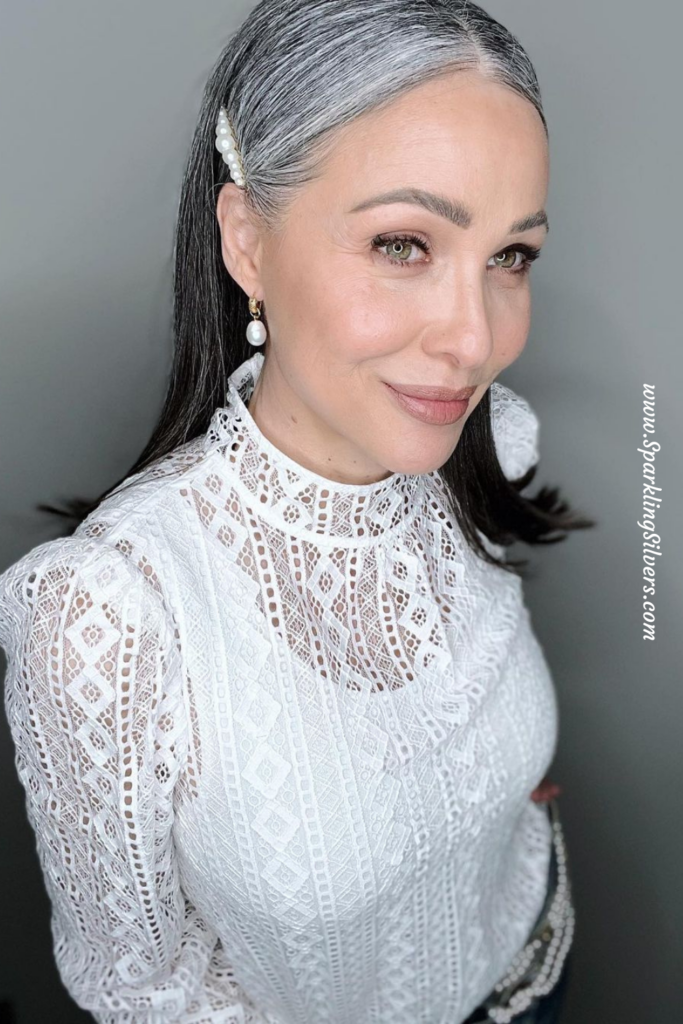 Hairpieces, such as clip-in extensions, hair toppers, wigs, ponytail extensions and many more, can be incredibly helpful in concealing the demarcation line between your dyed hair and natural grey hair.
Things to consider before buying one:
Look for hairpieces that closely match the color and texture of your dyed or natural grey hair.
Human hair extensions can be a bit costlier but are made from real human hair, closely resembling natural hair in texture and shine. As a beginner, you can get a synthetic one; it's cheaper than authentic human hair pieces.
Human hair can bear heat from heat styling tools giving freedom for more styling versatility. On the other hand, synthetic hair pieces have limitations in styling options.
Here are a few hair pieces ideas to conceal the demarcation line between the dyed hair and the grey roots.
Using silver hair extensions can incredibly camouflage the grey hair demarcation line.
Try to get the extensions exactly or closer to your silver hair.
Clip-in or tape-in extensions are ideal for beginners, as they are easy to apply and remove.
If it's difficult to get the exact shade of silver matching your hair. It's better to take the help of a professional hair stylist to tone them near the shade of your silver hair and also cut them to your desired length.
Once the demarcation line reaches the crown of the head, it becomes easier to hide the dyed hair with a fake ponytail and hair scrunchies with a colour near to your grey hair.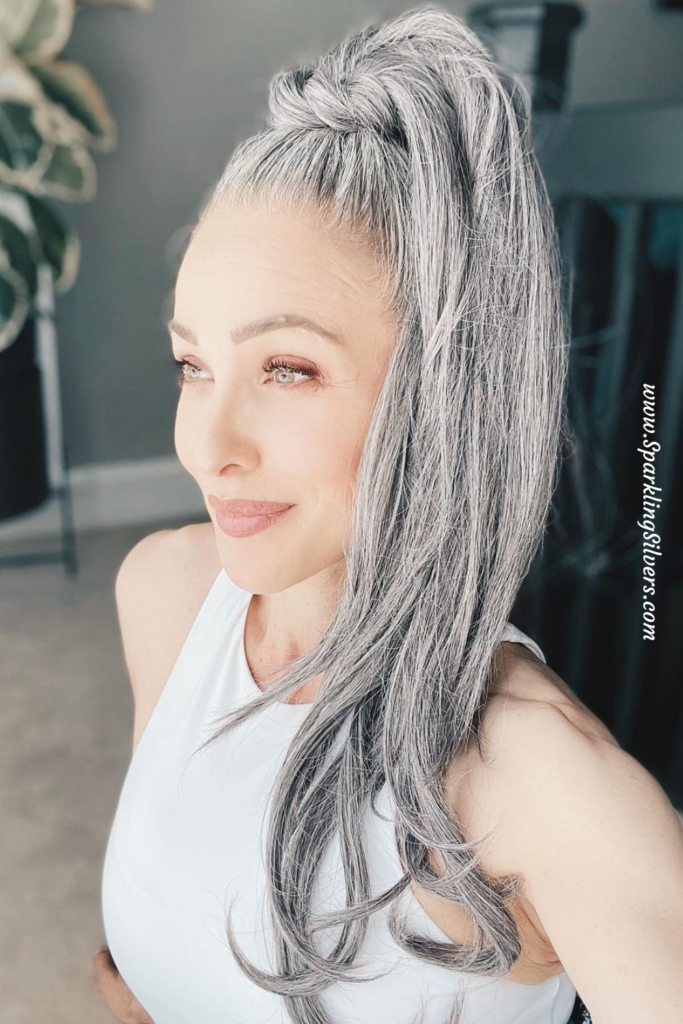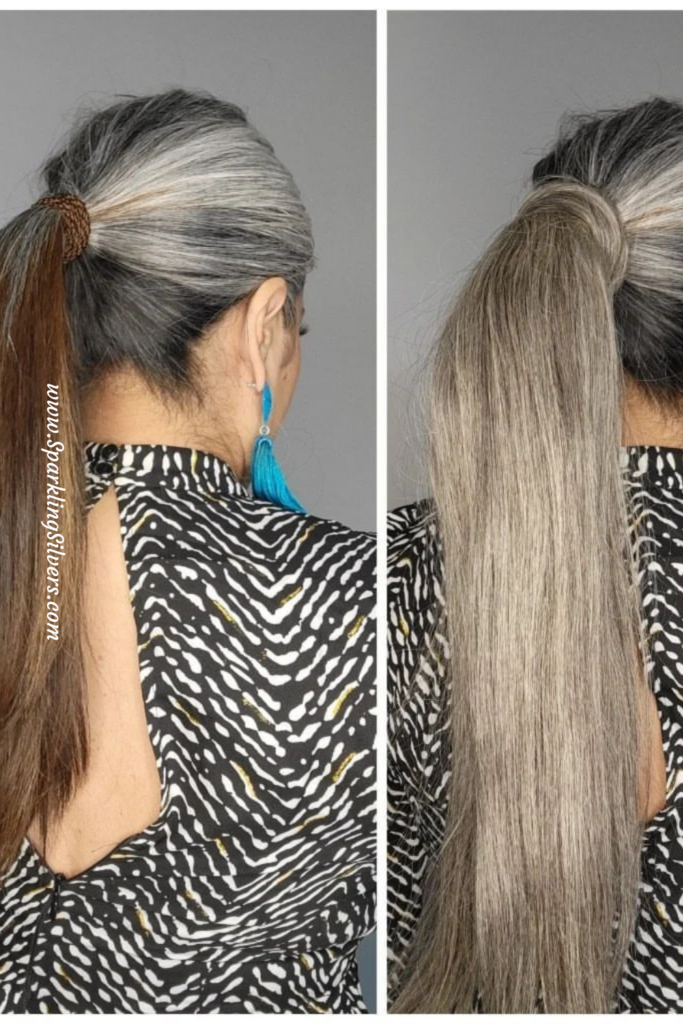 Wigs can provide full head coverage, making them a suitable option if you have more extensive hair loss or for those looking for a complete hair transformation.
Wigs can be worn until the grey hair grows to your desired length, hiding the demarcation or the skunk line, providing a seamless transition.
It can also be a temporary solution for those unsure about fully committing to grey hair or who want to test the look before making a permanent change.
To hide the demarcation line around the crown of your head, hair toppers can be an excellent solution. They can also cover the thinning areas at the top, providing a smoother and more natural look.
It's an excellent temporary solution to match the color of your dyed hair until the natural grey fully grows out.
Hair toppers are generally more lightweight and comfortable than wigs, as they only cover a specific area of the head, allowing your scalp to breathe.
Look for human hair hairpieces that closely match the color and texture of your dyed hair.
Hair accessories like hats, caps, barrettes and beanies can help distract from the demarcation line and add a touch of style to your look. They draw attention to the accessory rather than the roots.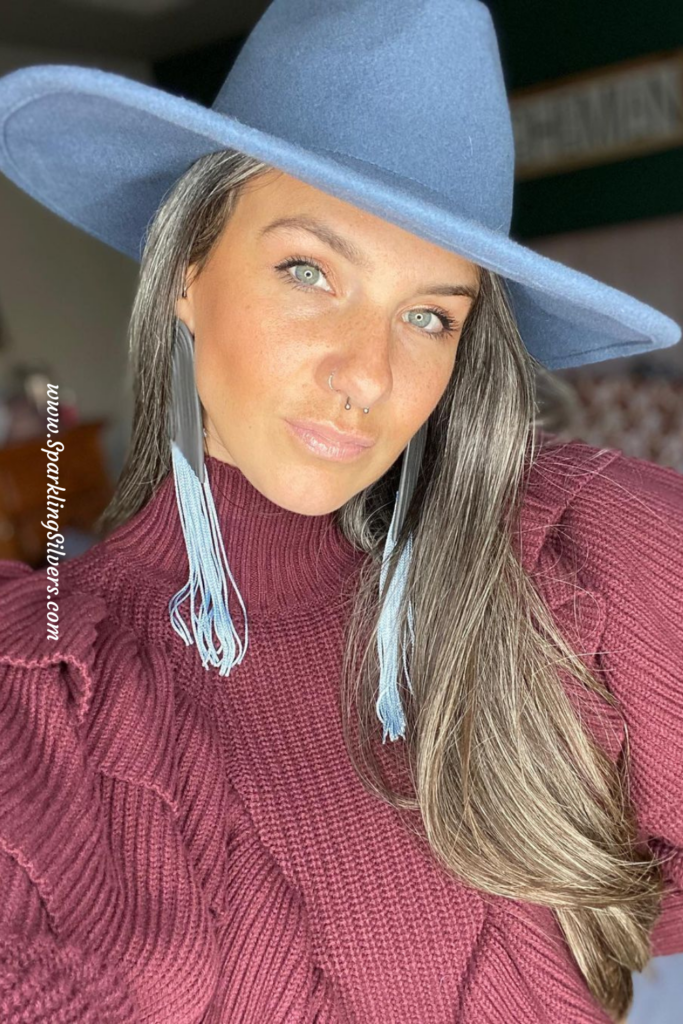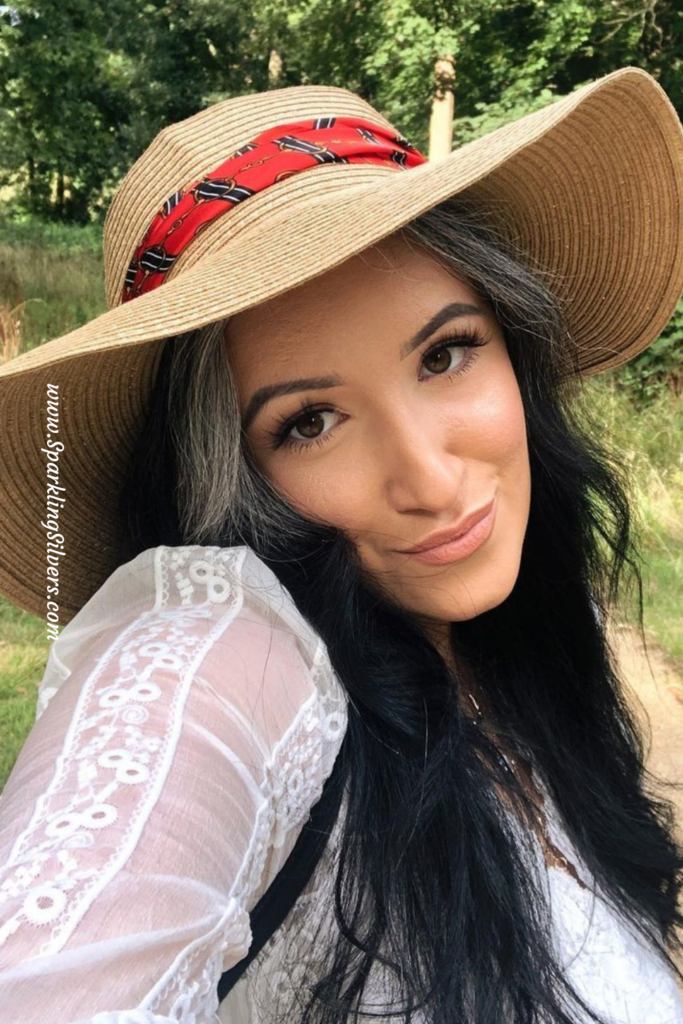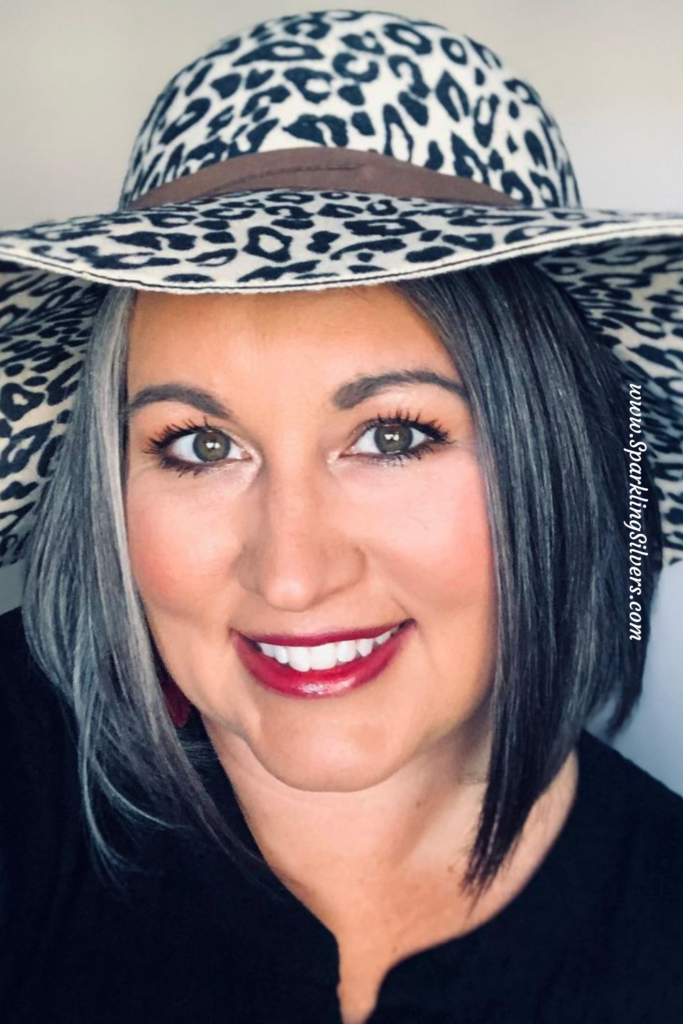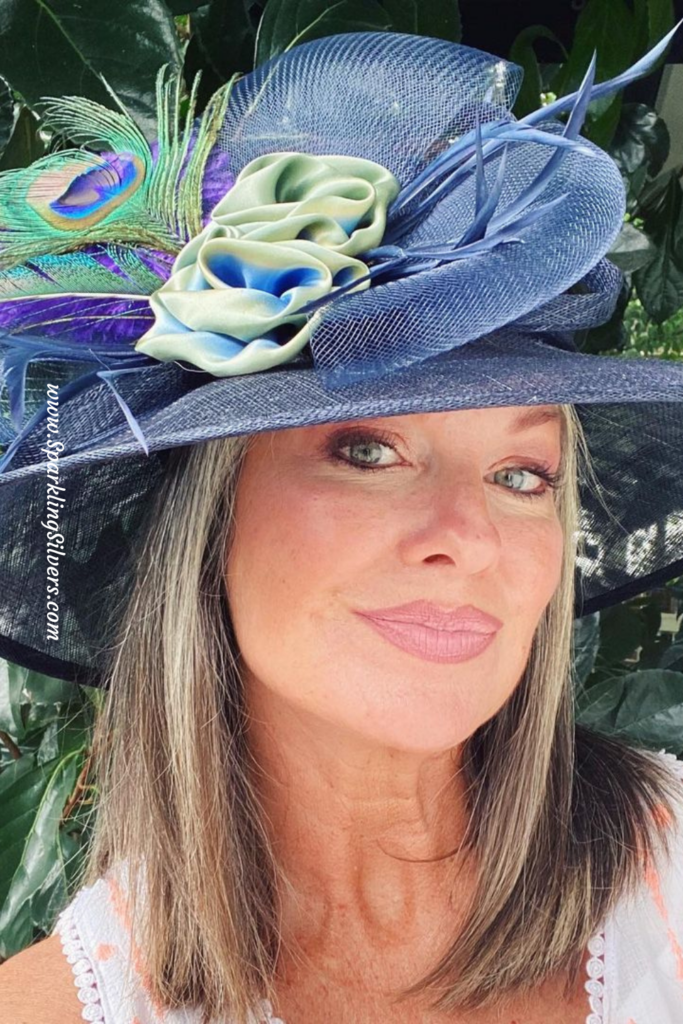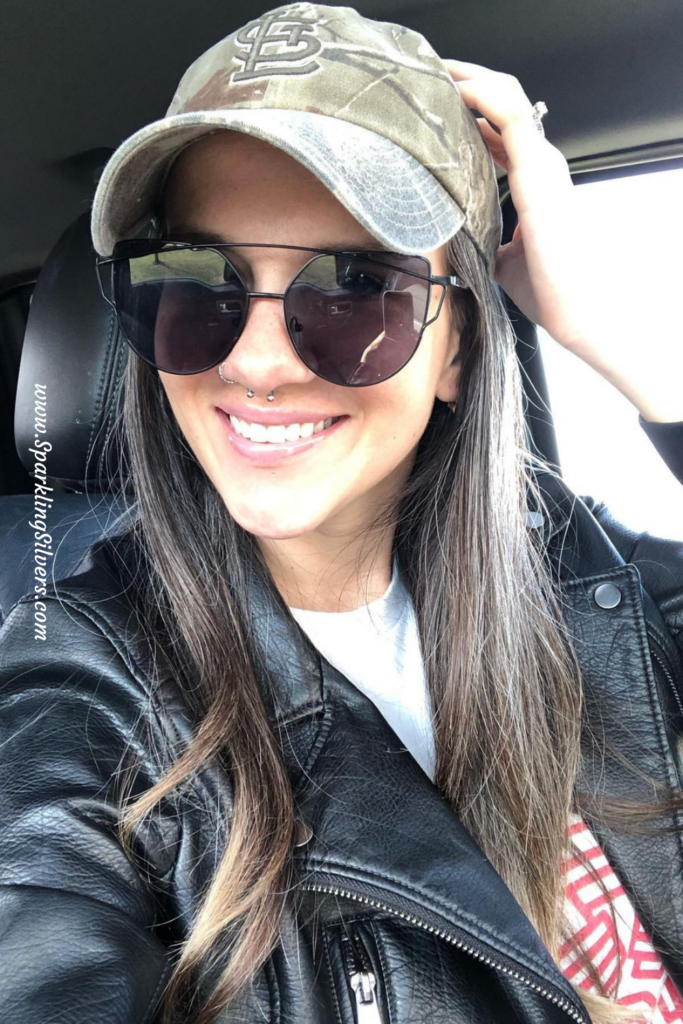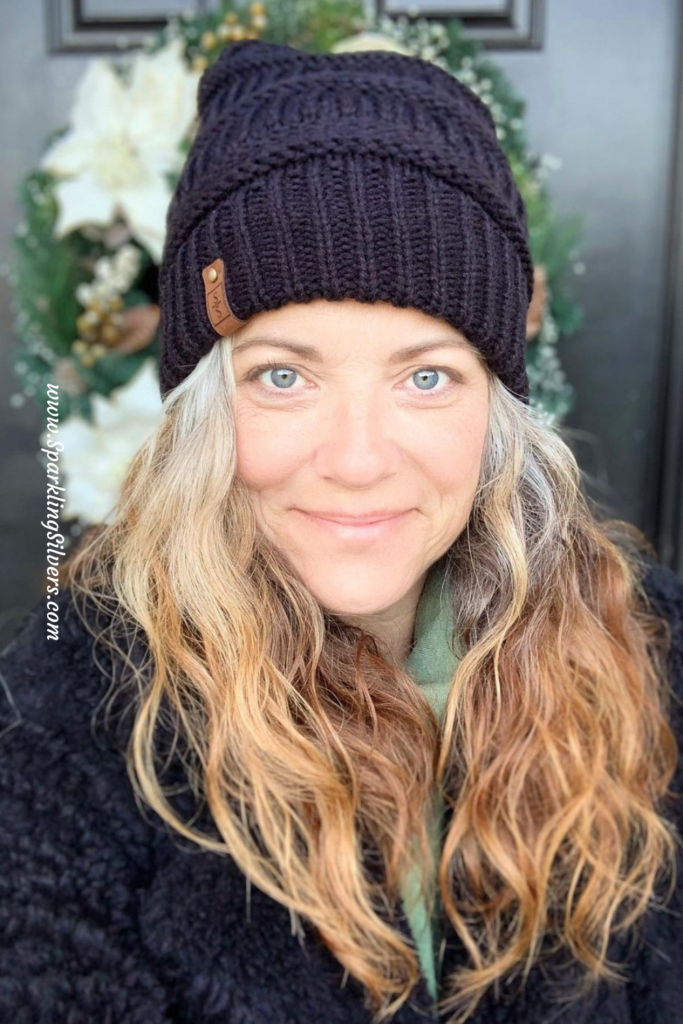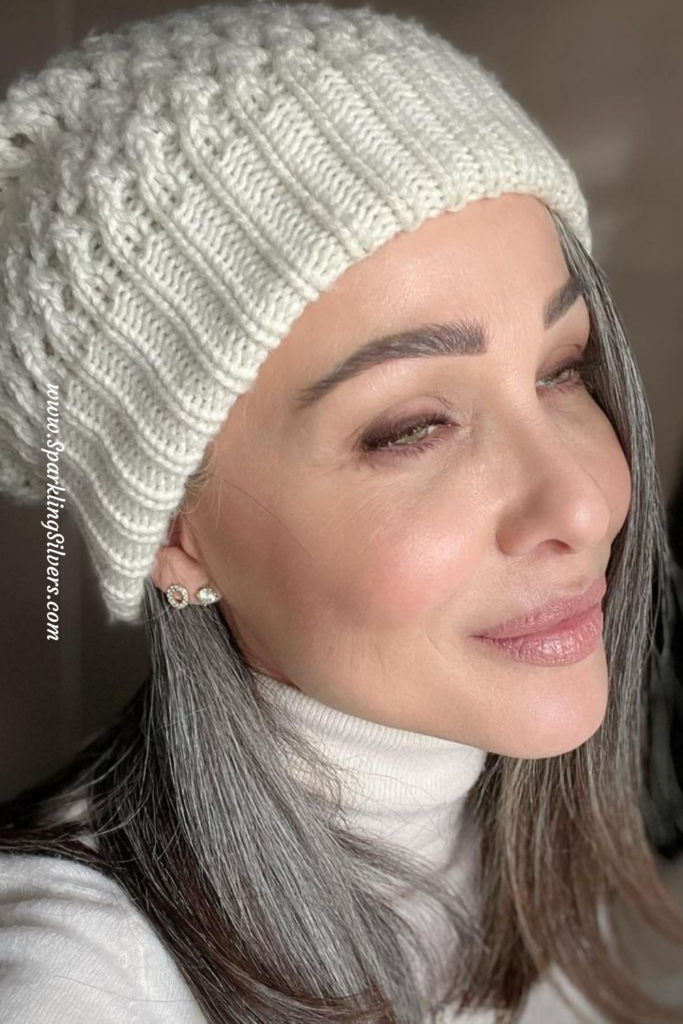 Wish to join a special occasion or event where you want to achieve a more seamless and uniform look hiding the grey hair demarcation line?
Using hair sprays can be an excellent temporary solution for concealing the demarcation line.
For hiding the grey hair roots a few inches grown, temporary root touch-up products, including colour hair sprays, work well.
L'Oreal Paris Colorista 1-Day Washable Temporary Hair Color Spray is the most trusted spray in the silver sisters community used to blend the two colors, making the demarcation line less noticeable.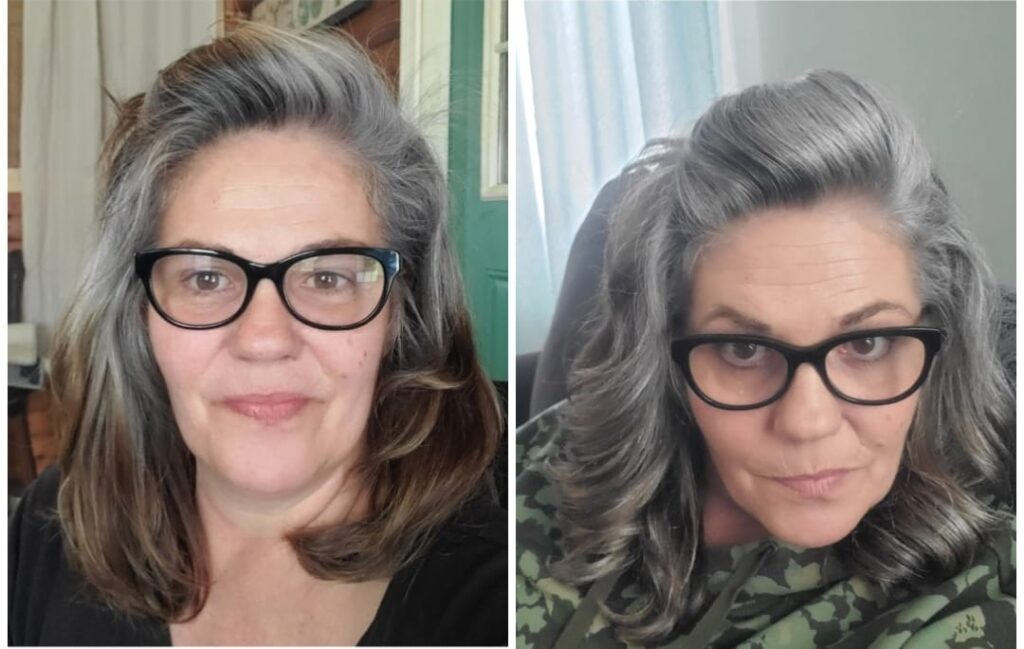 I personally think sleek hairstyles give a polished look during the initial stages of growing out grey hair.
They create a smooth texture that makes the contrast between the two colours less noticeable.
These hairstyles can be helpful for women in work or formal settings, where maintaining a polished appearance is essential.
Here are a few Inspirational pictures.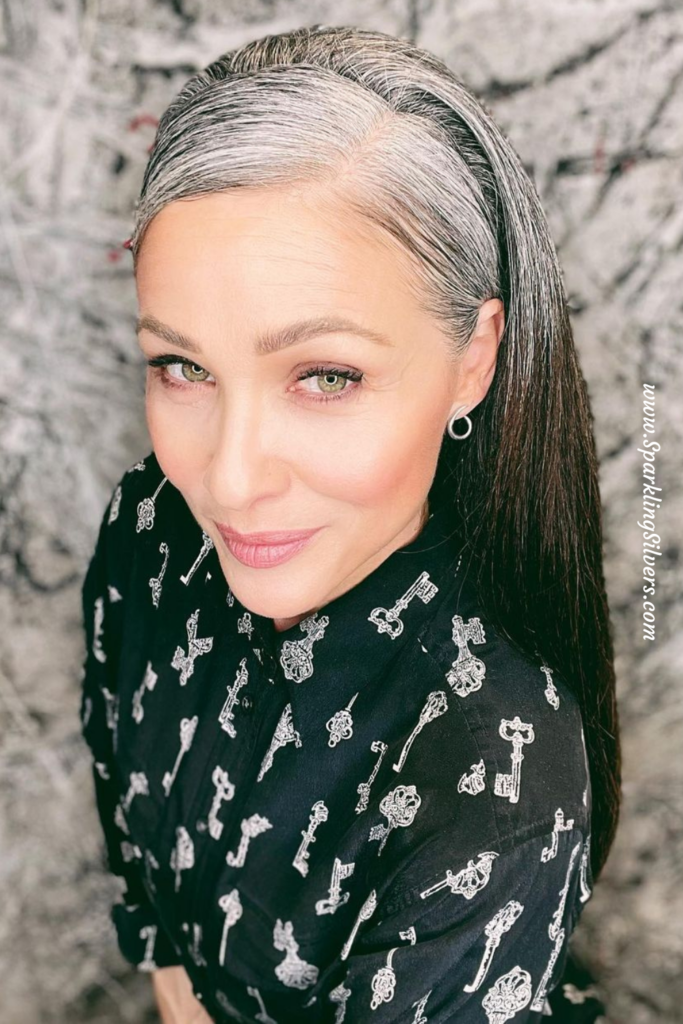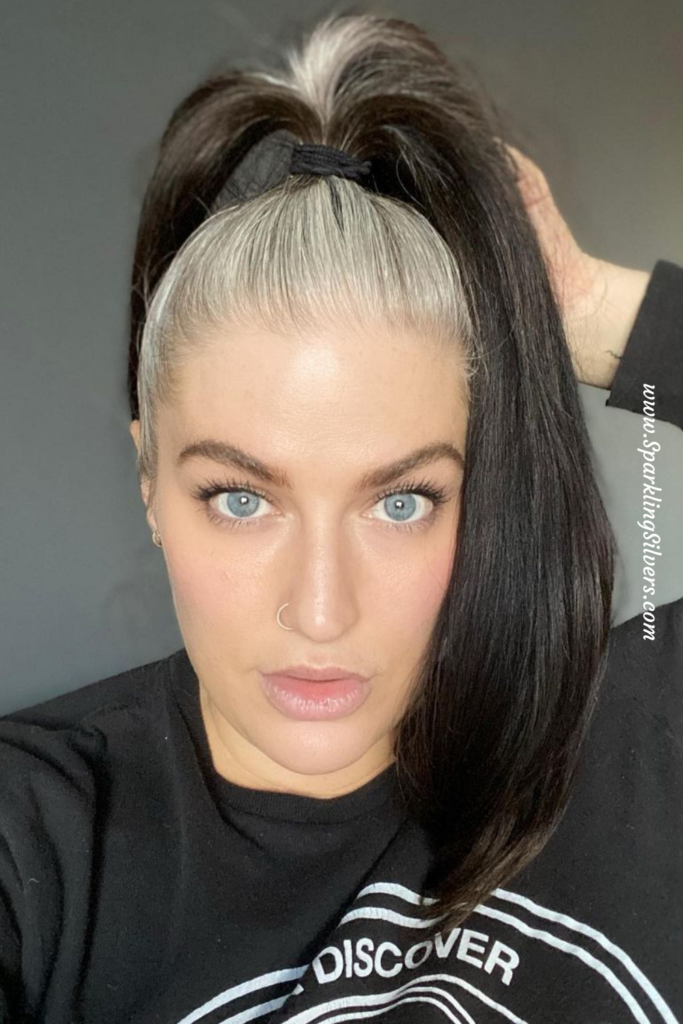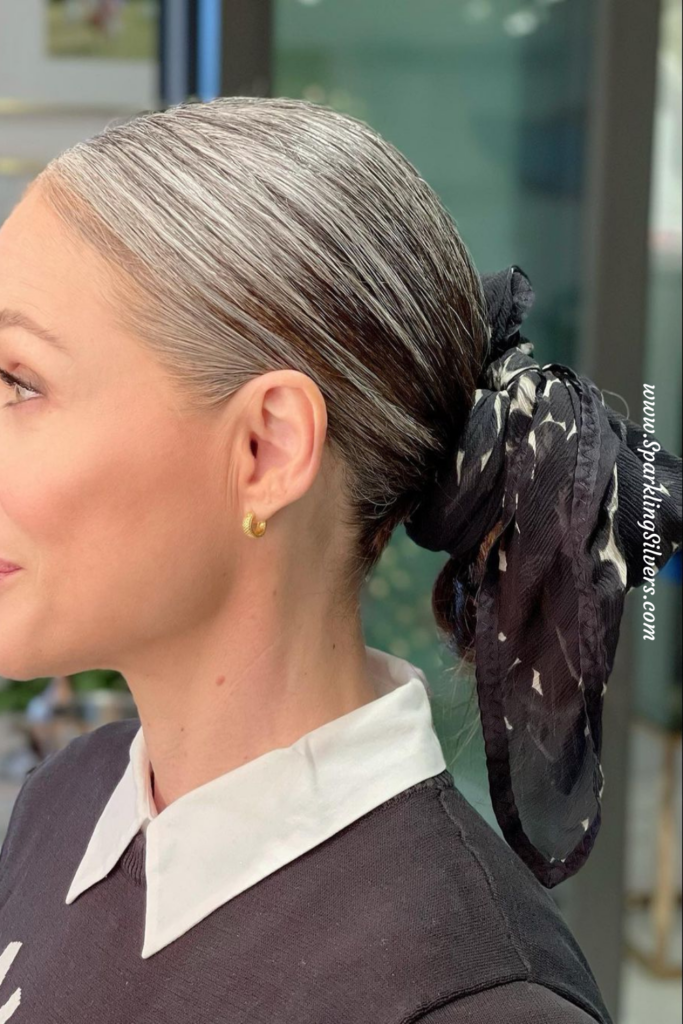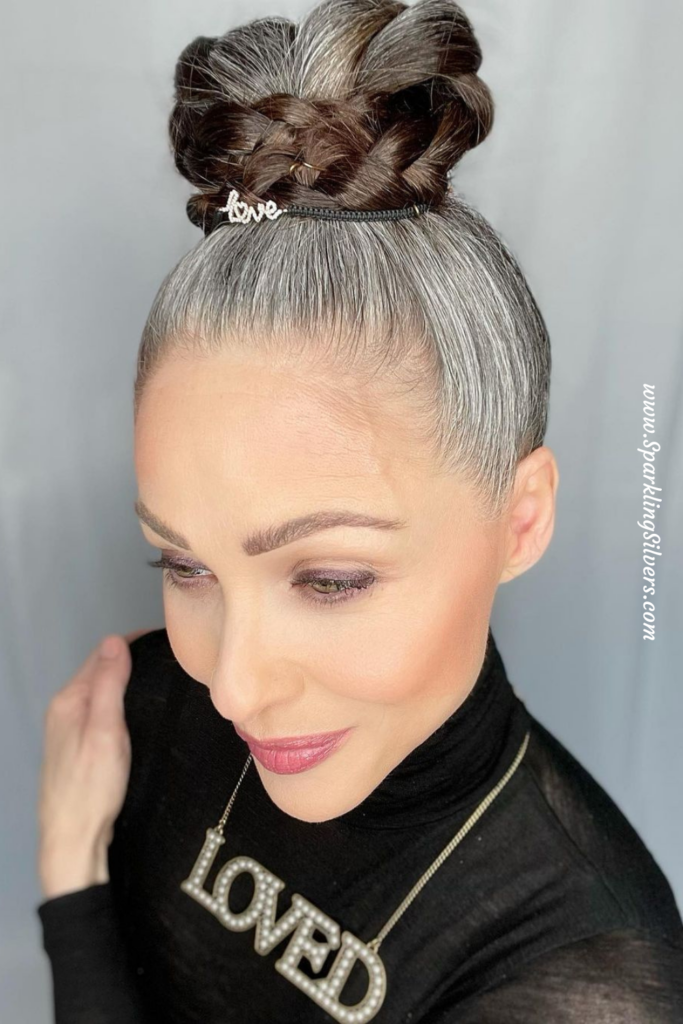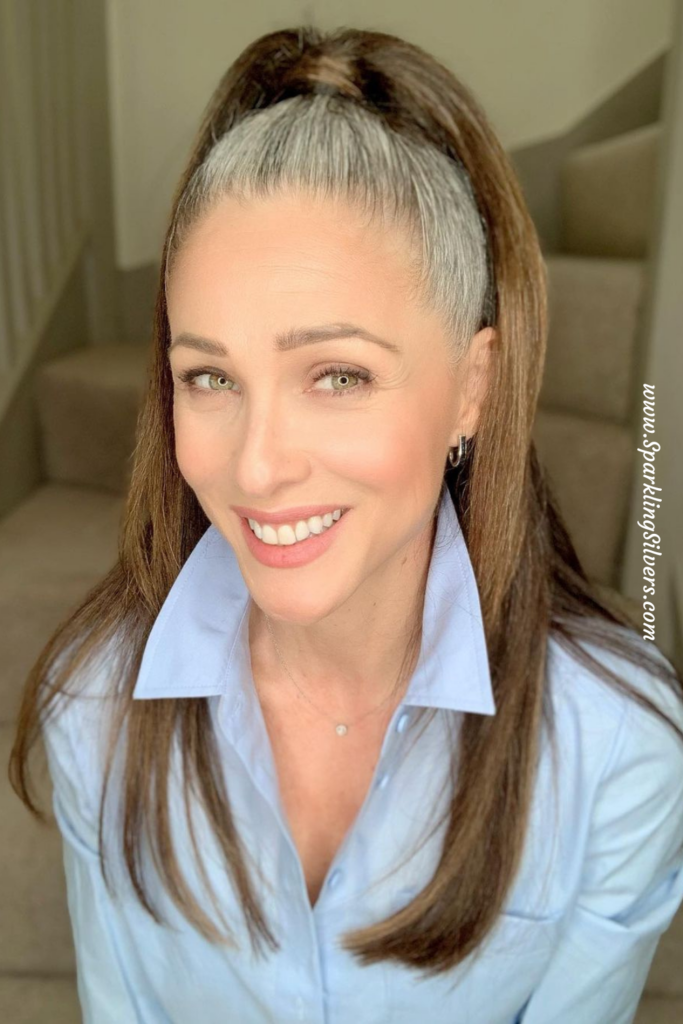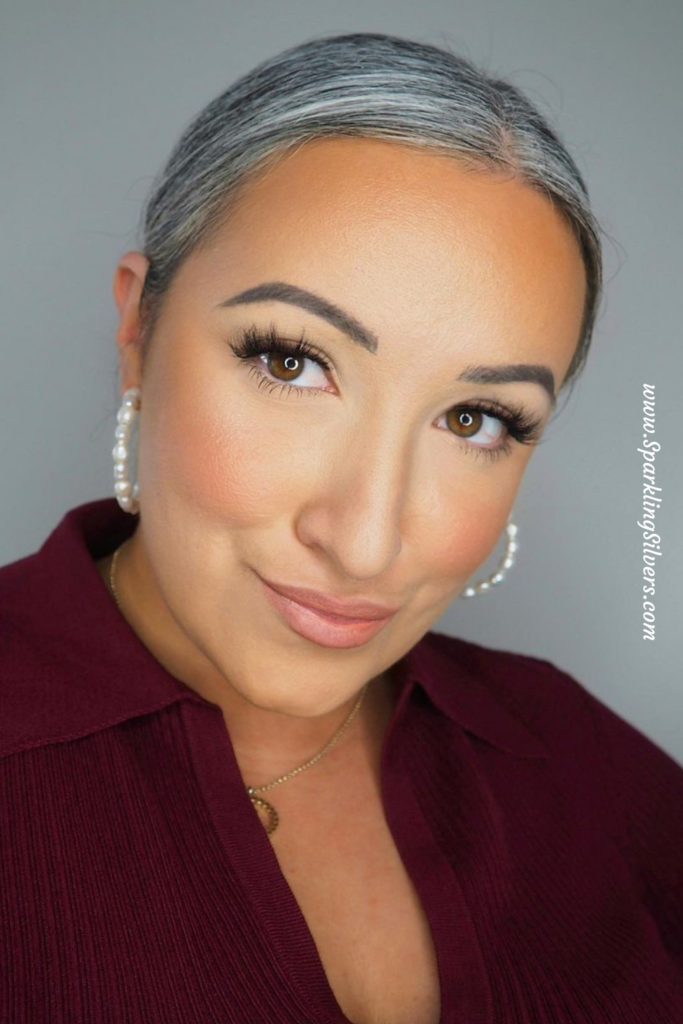 Messy Bun hairstyles often appear effortlessly elegant and are an excellent way to break that line of demarcation, allowing you to embrace your natural grey hair with poise and grace.
And as suggested above, you can also use silver hair scrunchies or buns to add some volume.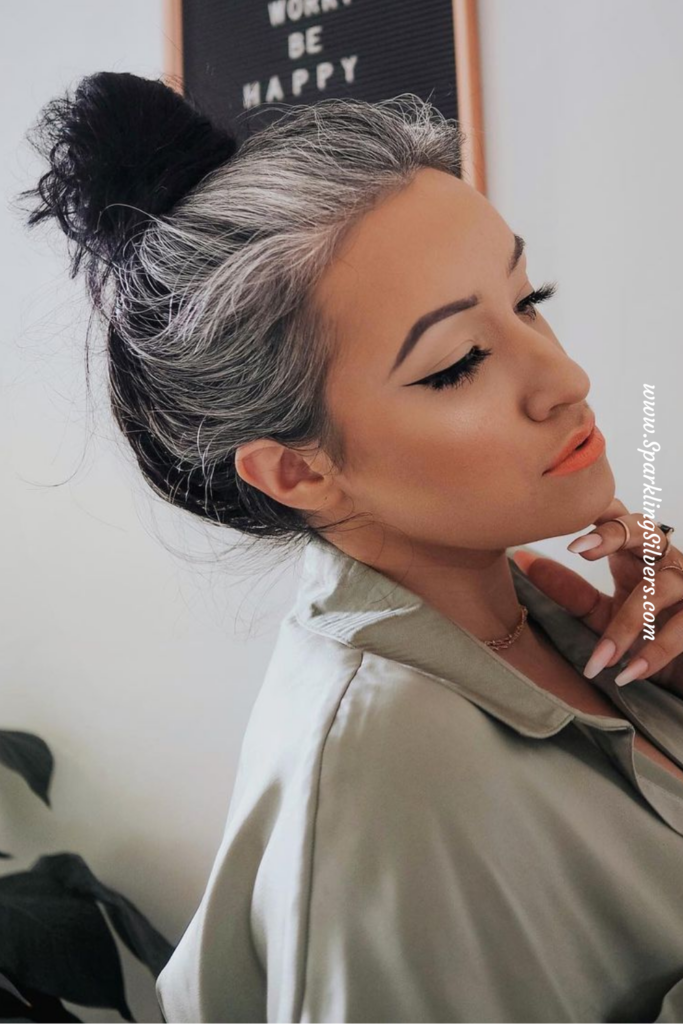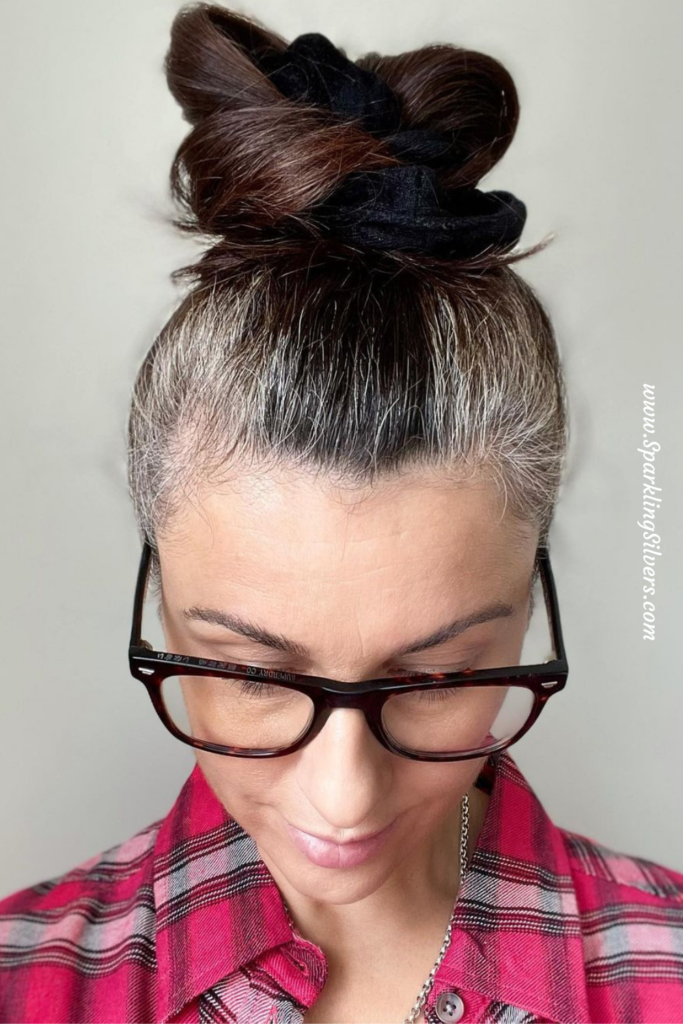 Braids are excellent hairstyles for covering the demarcation line and hiding the roots and are popular in the grey hair community for years.
Also try bubble braids, easy and equally beautiful.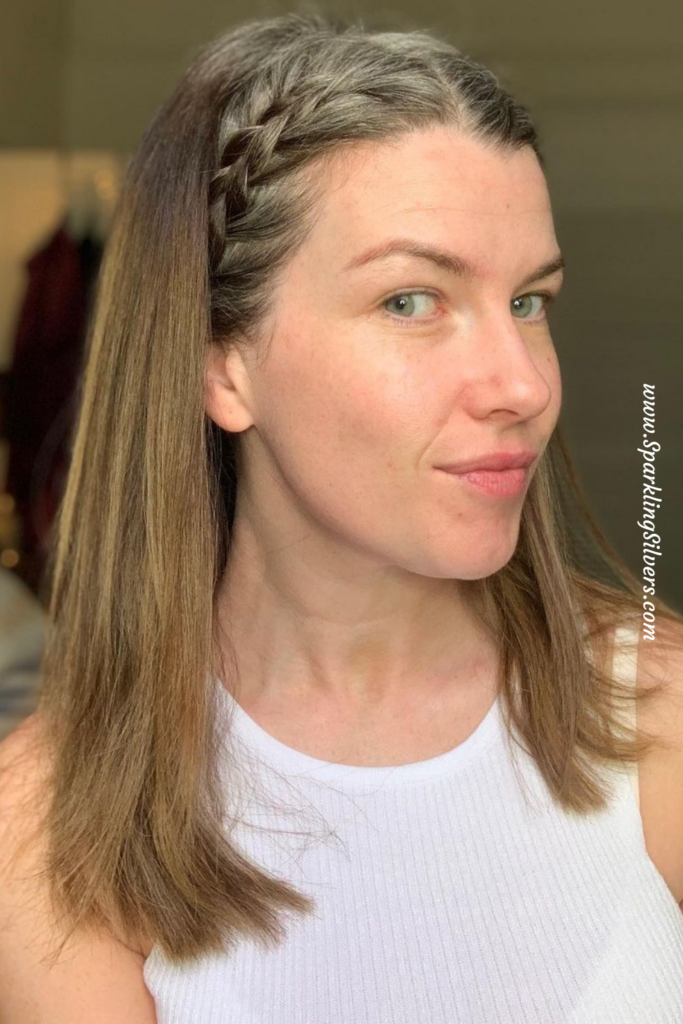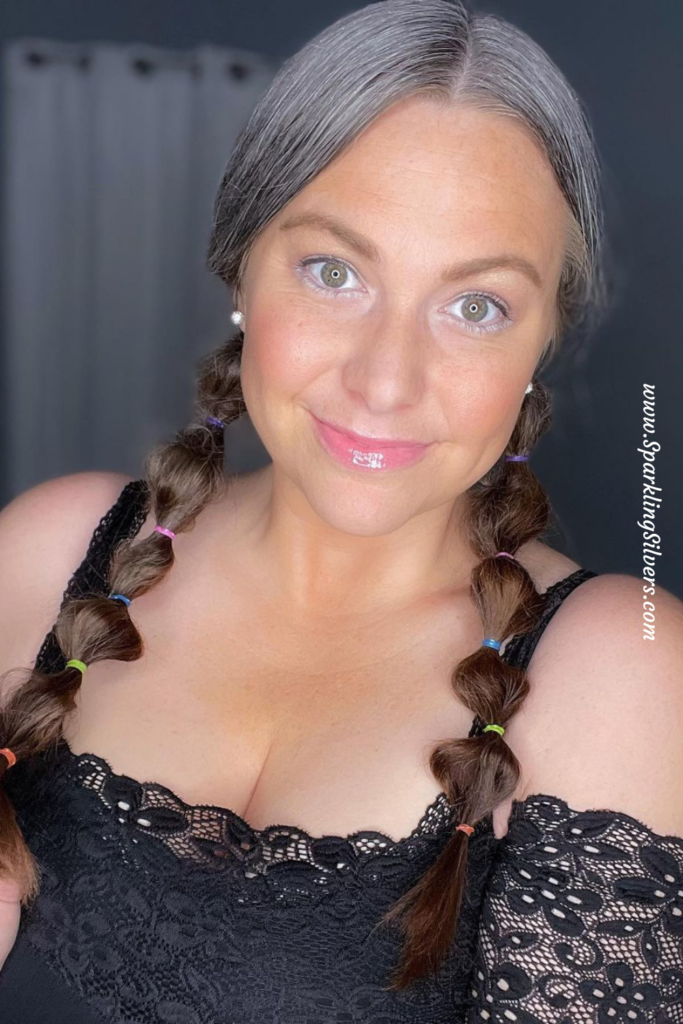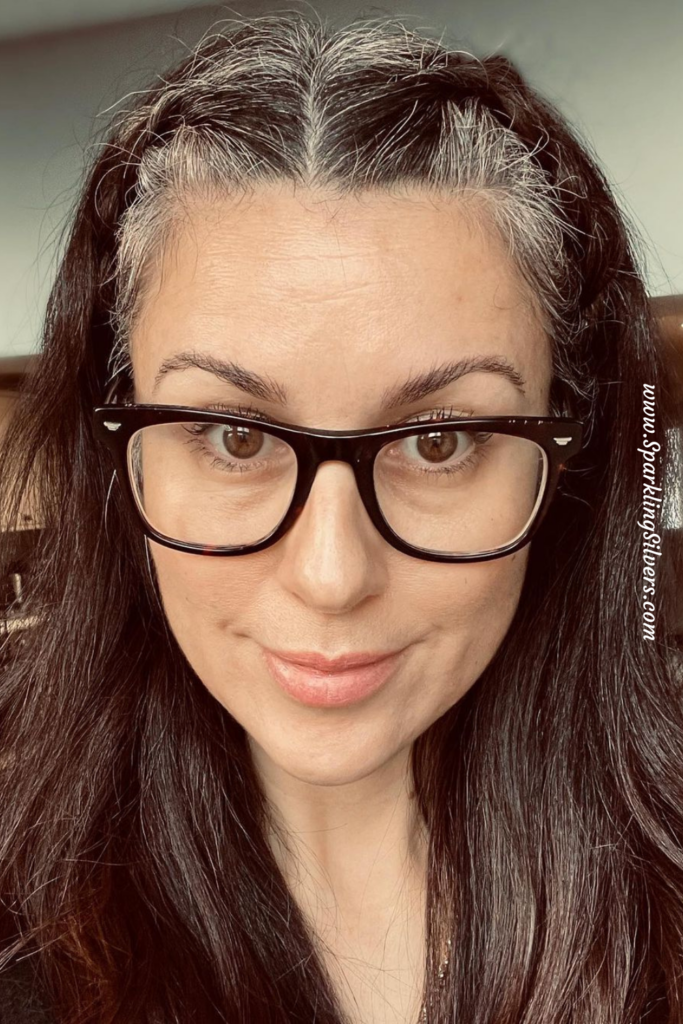 Textured hairstyles, such as messy waves or curls, can help hide the demarcation line by adding volume and movement to the hair.
These styles help in distracting away from the roots and create a more effortless and blended hair appearance.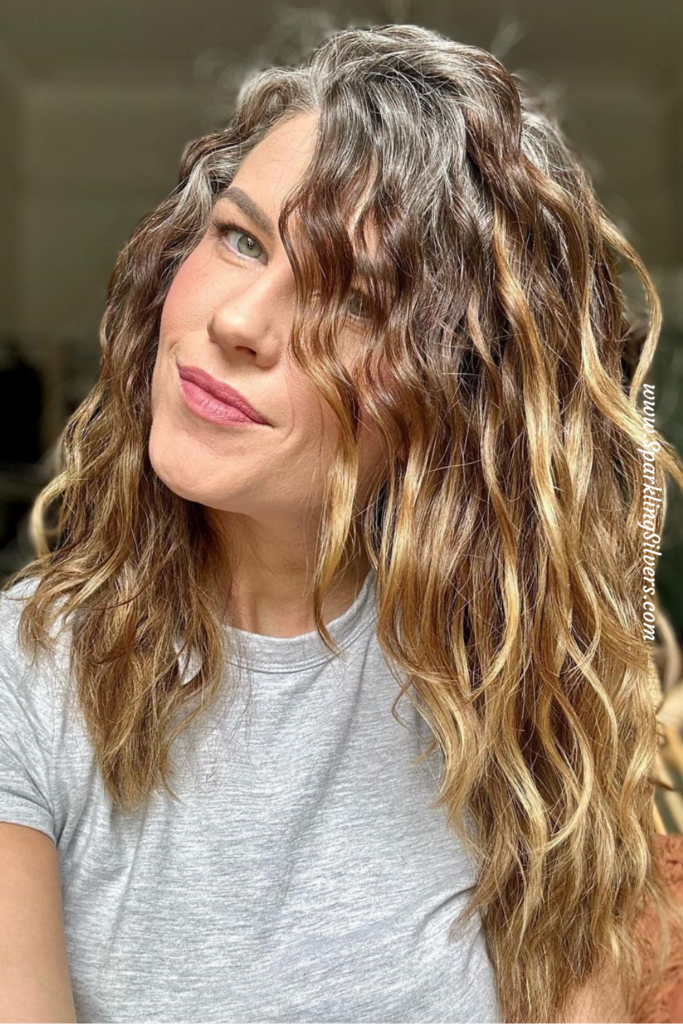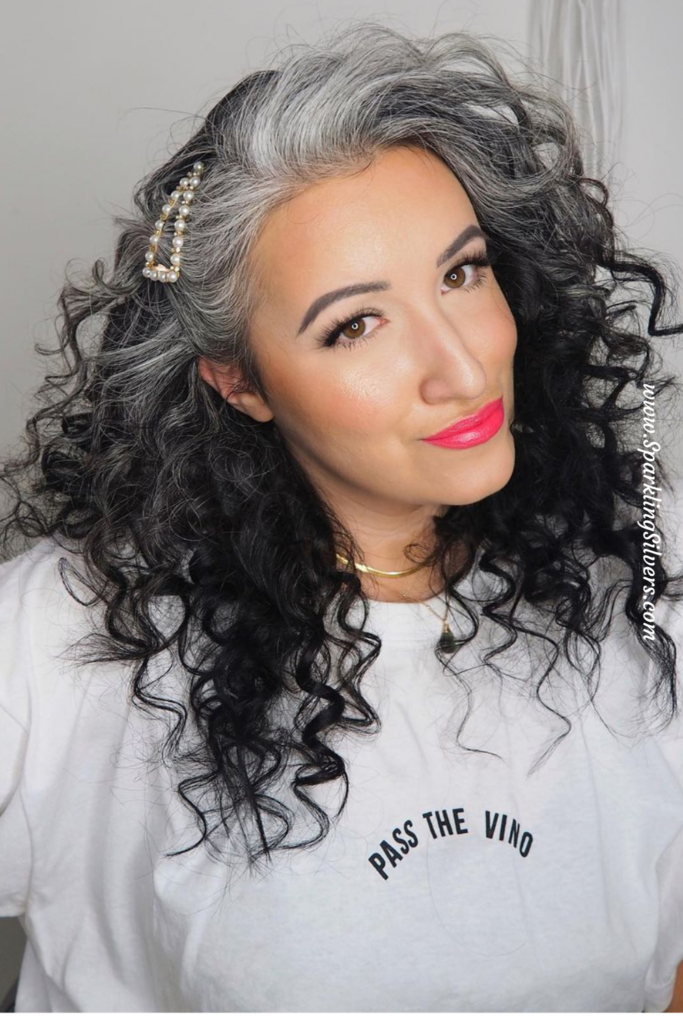 Layers in haircuts can help blend grey roots with coloured hair.
Layers soften the stark contrast, making the demarcation line less noticeable. See how a beautiful shag haircut can make a difference.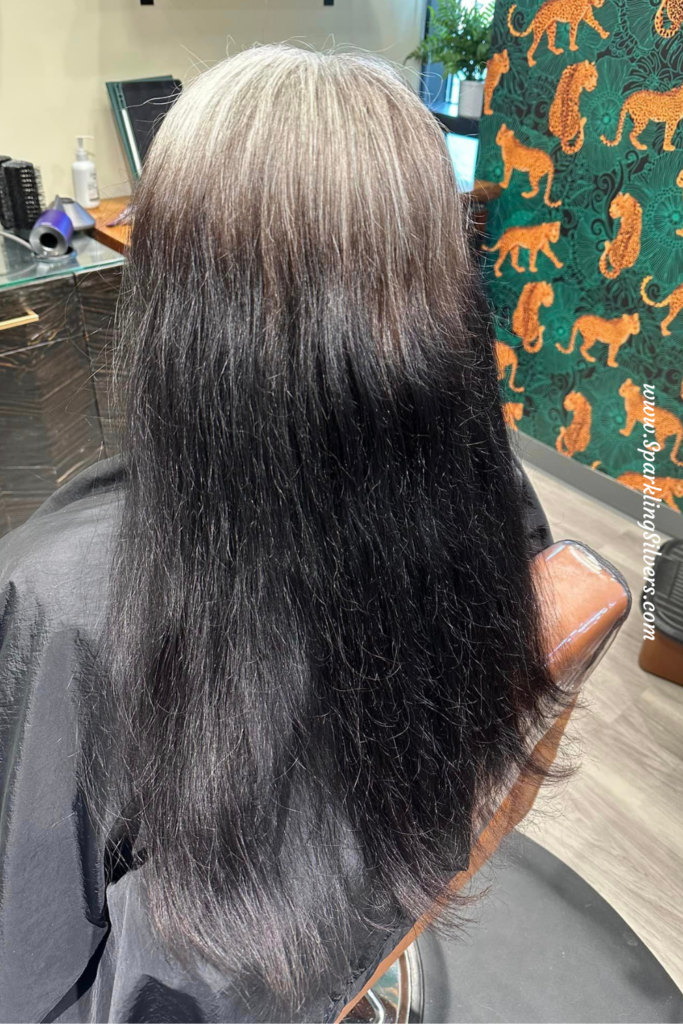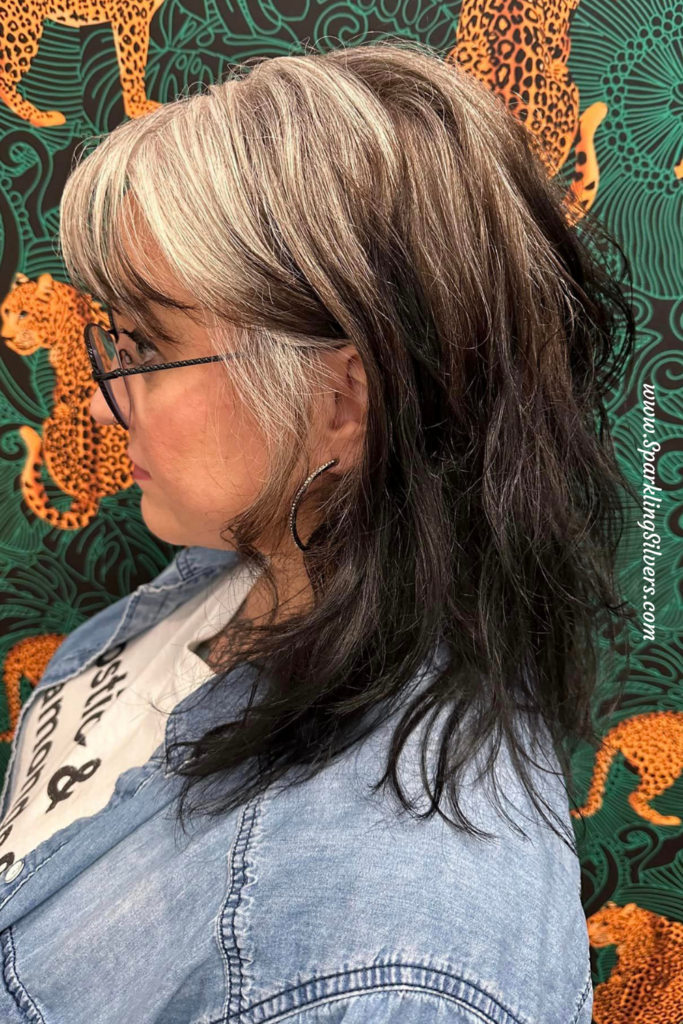 I hope you like this post.
Please share this post if you find it helpful, as it gives me hope to work hard and create quality content for you!
A huge shout-out to all the beautiful women featured in this post. Please give them a follow and support them!