Change is inevitable, which means it will happen whether we like it or not. So talking about hair, it's for sure going to lose its pigment someday. For some of us, it's going to be a bit earlier, like mine couldn't wait for my thirties to emerge. So as a part of the change, they demand a different caring culture.
For years we have been taking care of our dark-dyed mane with a regular shampoo as they have been formulated according to the need and nature of naturally pigmented hair.
Now when we are on the way to embracing our silver mane, why not embrace the change and give them the nourishment and care according to their need.
As we grow out grey hair, the dyed hair gets brassy/yellow as the colour fades.
Silver shampoos are specially formulated for getting rid of brassy tones from blonde/brunette hair and at the same time to brighten natural grey roots.
Now the question arises which shampoo to choose, Blue or Purple? Let's find the answer.
"This page contains affiliate links. If you click one of the product links, I'll receive a commission. No additional charges for you!"
After a few inches of growing out greys, you might notice that your dark brown or brunette-coloured hair starts to look a bit brassy or orangish as the colour starts fading. Here it would help if you started using the Blue shampoo.
Blue shampoo deposits blue-toned pigments on hair to offset brassy or red tones on brown/brunette hair.
Don't worry about the silver strands, as it will add shine to them.
Blue shampoo can be a lifesaver if you opt to go cold turkey or get your brunette hair add lowlights or highlights/balayage. If you're a virgin-haired brunette, you can also benefit from using a blue shampoo every once in a while.
Now, what is a Purple Shampoo?
Without melanin, your natural hair colour turns white and becomes more porous. External nasties like chemicals, pollution, smoke, etc., enter the hair cuticles, resulting in discolouration and dullness.
Also, if you are a Blonde with lightened or highlighted hair, the colour starts fading in a few months of growing out greys.
Here the regular shampoo won't work as it will be ineffective on the faded blonde colour turning it yellow. You will need a purple shampoo to tone down the brassiness.
Purple shampoo combats unwanted warm or brassy yellow tones from blonde hair.
So if you are a blonde growing out the greys and want to keep your growing blondes safe from discolouration and at the same time want your natural silvers to sparkle, start using a purple shampoo!
Related Post: Grey Hair Friendly Shampoos
In short Blue shampoo is for Brunettes, while Purple shampoo is for Blondes. And both can be used on fully transitioned silver hair.
How to use a Blue/Purple shampoo?
For starters, it is advisable to leave the shampoo for maximum 3 minutes as the effect of these shampoos varies with different users. Of course, you can always increase the leave in time to achieve your desired tone, but it is better than regretting it the first time.
Things to keep in mind before using Blue/Purple shampoo:
1# As blue stains more than purple, so if you don't want blue-tinged hands, put on gloves before using the blue shampoo.
2# I would advise you to read the instructions thoroughly before applying the shampoo.
3# Never use the shampoo twice simultaneously, even if you don't get the desired tone, as it may leave the hair dry. Always keep a gap of at least a week between two consecutive washes.
4# Avoid using purple shampoos that have direct dyes in them, as they can end up dyeing your hair purple instead of toning it.
5# Don't think your purple/silver shampoo can be replaced with your everyday shampoo. Overuse will colour your hair purple and cause dryness.
6# It's better to choose a Blue/Purple shampoo that is hydrating and nourishing as these shampoos tend to dry hair. If not, try using good hydrators and conditioners after each purple shampoo wash.
7# Give your hair a leave-in-treatment to bring back the life to your dry hair.
8# Silver shampoos cover the brassiness but may leave some residue behind. To remove the residue from hair, a good clarifying shampoo must be used once a week or twice a month.
Is it necessary to use a Purple/Blue shampoo on Grey Hair?
Well, to be practical, I never felt the need to use any of the silver shampoos, and the reasons are-
1# I don't use too many styling products on my hair, so there is no chance of any product accumulation on my hair that turns hair yellow.
2# I don't use heat styling products or tools on my hair which causes damage and needs colour correction.
3# The water in our locality is not hard, so the chances of mineral deposits on my hair are nil or much less. Mineral deposition on hair results in dull and strange colour deposition on grey hair that needs further treatment.
One confession is to be made at this point. During the last month, I have been using L'oreal Paris 6 Oil- nourish shampoo on my grey hair, which contains a translucent yellow colour. Without being aware that grey hair is prone to colour pigmented products, I used it for about a month, and it kept my hair looking yellowish. However, my sparkles are bright and shinier after switching to Pantene shampoo. So the lesson I learned is to use clear styling products!!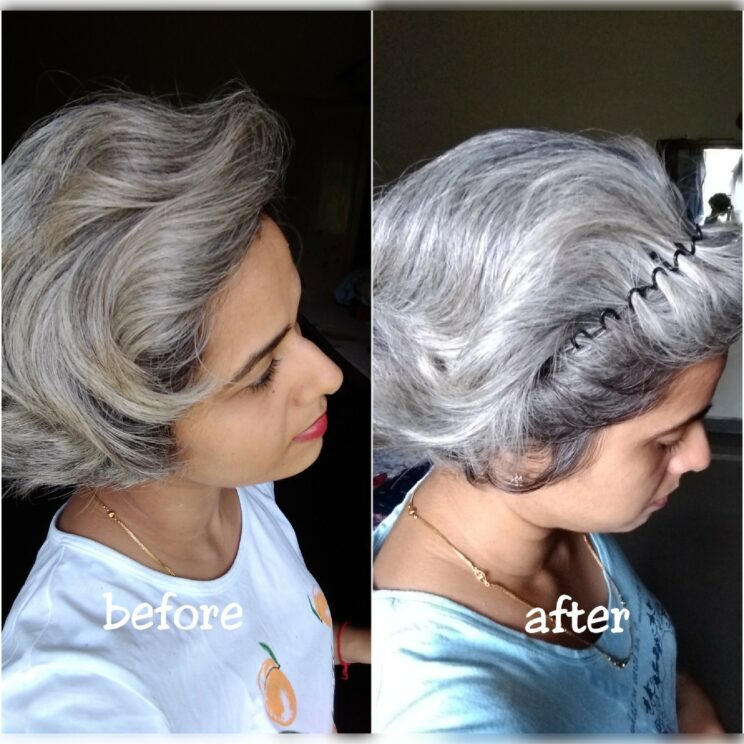 I was curious, so I took an opinion poll from my Instagram silver sisters community and was glad I was not alone. There are others too who are regular shampoo users even after the transition.
"I still use regular shampoo. (I think because of the water we have here and I don't use a flat iron, I don't need to use a purple shampoo). Acure is natural, organic and cruelty-free. Since my hair is on the dryer side, I use their hydrating shampoo and conditioner. I like it. It works well on my hair. Also, I wash my hair just twice a week typically."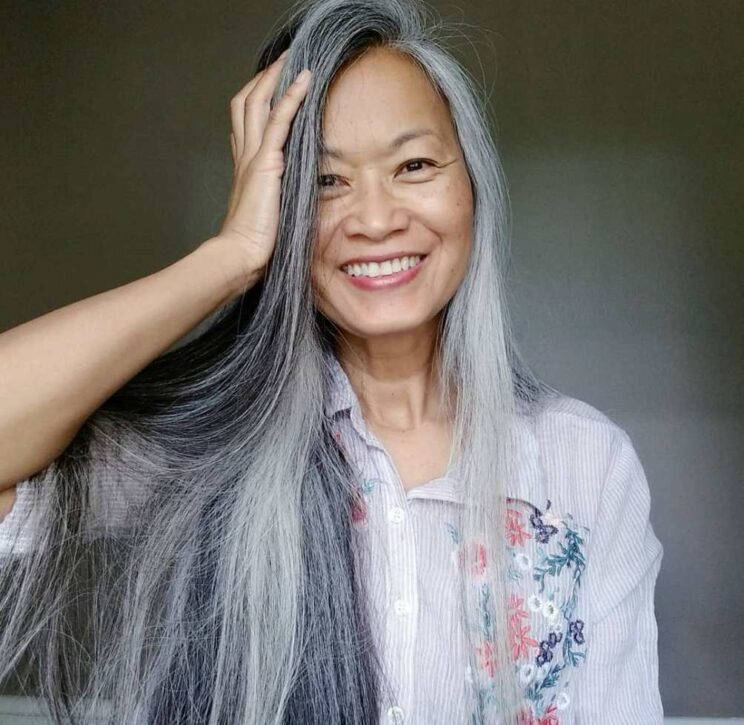 "I'm using Maui shampoo currently! I love it! In addition to other NOs, it also has no Silicone. It makes the hair feels so soft and looks so shiny, especially on the second day."
Hope this post might help you to know about Blue and Purple shampoo. If you find this post informative please share it!!