After the transition, the real challenge in front of me was to keep my natural silver hair shiny and keep the brassiness away without compromising the health of my hair.
I have been using GoodBye Yellow Purple shampoo twice a month. It is doing its job of neutralizing the yellow undertones, but the effort to remove product build-up and keep away frizz remained unsolved.
I knew about and heard of ACV rinse in the silver sisters community, so I thought of giving it a try.
I must say it solved all of the gray hair problems giving my hair a new life with more shine and lustre than I ever imagined.
Also, I learned about hair pH and how to keep the pH balance for hair health.
No products can compete with this natural way of keeping natural silver hair smooth, healthy, shiny and frizz-free.
Give it a try!
"This page contains affiliate links. If you click one of the product links, I'll receive a commission. No additional charges for you!"
Apple Cider Vinegar, also known as ACV, is known for various health benefits and has been used for various natural health remedies.
It contains natural proteins, enzymes, healthy bacteria and acetic acid.
High Alkaline products and hard water types are higher on the pH scale, which causes the hair cuticle to open. This causes hair to become brittle and dry, which in turn causes split ends, breakage and the dreaded frizz.
ACV is a fantastic natural hair tonic.
By closing the hair cuticles, ACV is known to help retain moisture, decrease frizz, add shine, increase softness, and help remove product build-up, which is said to help to go longer between washes.
It unclogs the hair follicles, which may help with excess shedding, stimulates your scalp, helps with dandruff, helps soothe an itchy scalp and can treat scalp infections.
It is also believed that it can promote hair growth and prevent hair loss too.
Its clarifying and unclogging effect, as well as its ability to stimulate the scalp, is what leads people to believe that it could put your hair in a better position to grow and shed.
Due to the low pH level of around 3 in apple cider vinegar, it can be used to help close the hair cuticle by lowering the pH in our hair. Healthy hair is slightly more acidic, with a pH of around 4.5 to 5.5.
According to this article, the alkaline pH may increase the negative electrical charge of the hair fiber surface. It's a reality and not a myth that lower shampoo pH may cause less frizzing for generating less negative static electricity on the fiber surface.
Facts to know before ACV Rinse:
As ACV is highly acidic, it is essential not to overuse it, and it must be diluted with water to bring the pH up to around 4 for hair answers.
Use distilled or filtered water in your rinse.
Filtered water will neutralize hard water, which tends to be more alkaline.
So this will minimize the effect the rinse has on closing the cuticles.
And distilled water is actually acidic because it has no dissolved solids, so if you get your hands on distilled water, that's probably the best thing to use in your rinse.
A final rinse with cold water. It is known to help close the cuticles and add shine, which will maximize the rinse benefits.
Getting the perfect ratio:
1-4 tablespoons of ACV and 1-2 cups of water seem to be the most agreed amount, but to be safe, the main rule is to make sure your rinse is brought up to a pH of 4.
Dry hair needs less ACV, and greasy hair needs more. So I went with around 5-tab spoon ACV in one cup of water. This measures around one ounce of water, so it's about a 1 to 8 ratio.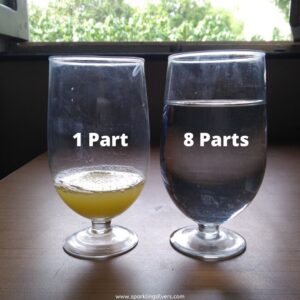 How to use it? The correct way:
After shampooing and conditioning, pour the ACV rinse over the scalp and soak all of the hair.
Pour the concoction slowly all over the scalp and hair. Then, go for a cold rinse because this is said to help close cuticles and add shine.
It smells pretty strong but is less noticeable when it dries.
Let the ACV leave in for 2-3 min. Then rinse and shower off vinegar from hair and body to avoid the smell.
You can use a conditioner after the rinse if you wish.
Instead of vigorously drying your hair with a towel, wrap your hair with a t-shirt or a microfiber towel to reduce the frizz on the hair.
Gently comb your hair and do absolutely nothing else.
Then leave it to air dry completely naturally.
If you wish to brush your hair, gently detangle it with a comb while it is wet.
To help with the smell, add a few drops of essential oil like lavender, rosemary, or peppermint.
1-2 drops will be sufficient to surpass the vinegar smell.
Make sure to do an allergy test before using any essential oil for the first time.
Use filtered water before the ACV rinse to eliminate any hard water left in your hair.
I sleep with a silk cap on the same day. Hair feels sleek, glossy, and bouncy, and the individual strands feel stronger. It is soft and not tangly at all.
Cutting down heat tools on hair or just avoiding will help control damage and hair frizz.
Aftercare plays a huge factor in the outcome.
ACV is a natural way to strip hair color:
If you are in the middle of your grey hair transition, then ACV can help in softening the grey hair demarcation line by stripping the hair dye from the hair.
ACV rinse can strip off the dyed colour from the colour-treated hair because of the acetic acid in the rinse, which is a strong clarifier.
I would count it another benefit for a silver sister going grey cold turkey.
It can act as a natural way of removing the hair dye from the hair, softening the demarcation line.
How often to use the rinse?
There is no scientific advice on how often to use it, but it is suggested to use it twice a week to twice a month, depending on how your hair reacts to it.
If you are going to use it as much as twice a week, I recommend just using a smaller ratio, maybe 1-2 tsp per one cup of filtered water and for short hair, half of it.
Remember, it's worth experimenting.
I wanted to give some friendly insight into your struggle to find the perfect ACV-to-water ratio balance.
Everybody's locality water has a different pH, which is why the ratios may differ from person to person.
So, considering that there's a universal, nominal pH we want the ACV rinse to be, we would have to dilute ACV with water to be that pH (and everybody's ratios would be different since our taps give us different pHs of water).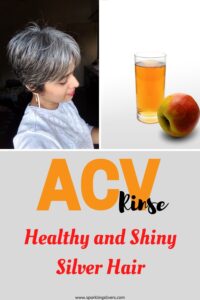 If you want an easy scientific way to do this at home, you can get some pH test strips and start with a small ratio of water to ACV and test the pH little by little, adding more water every time to make the pH go up.
Obviously, this would only need to be done once, and you would need to keep track of how much water to ACV you're making for future reference.
It's recommended that you use a bit less for dry hair, and for greasy hair, use a bit more. But it's worth experimenting with because everyone's hair is different.
Although it's a natural remedy, it is recommended to do a patch test before use. This is because it may cause skin irritation and reactions to some skin types.
It must never be overused and must be DILUTED every time before use.
Shop for the Products Stated in the Post:
A few brands of good ACV Shampoos are also available for hassle-free and quick hair treatment. Acure is my favourite.
I hope this helps.
Feel free to share your hair discoveries in the comments. Start a conversation. Maybe you can help somebody out. We are all on this hair journey together. We can do it.