Giving up hair dye means a new journey towards healthy hair and scalp. But the real struggle is to maintain the health and beauty of hair.
Ageing is not just about our body and skin, but it equally affects the health of hair.
Gray hair is different from pigmented hair. They are more fragile and don't have that strength and elasticity. Heat and chemical styling may strip away the protein present on the surface of the hair.
Protein treatments bind the lost protein on hair cuticles that stripes away due to damage caused by over-styling grey hair.
Keratin Treatment is one of them. Let us know more about this treatment and its benefits for natural gray hair.
Keratin is a protein in our body that makes up our hair, and that's what makes it shiny, healthy and beautiful.
It's a kind of protective shield around the hair to keep its elasticity and strength.
But with today's lifestyle, due to the use of chemicals in the hair, over-styling, use of heat and other chemical processes, the keratin gets depleted, and hair becomes dull and dry.
2. What is Keratin Treatment?
Keratin Treatment is a chemical procedure that temporarily infuses the lost keratin into each strand of hair filling in the gaps in the outer layer of hair.
This treatment leaves your hair a lot more shiny, smooth and manageable.
It eliminates frizz and protects hair from humidity and harmful UV rays.
The whole process takes about 2-3 hours in the salon, which starts with a hair wash using a clarifying shampoo to remove all the dirt and buildup from the hair.
Then with about 80% dry hair, the treatment is applied to the hair and let it sit for about 30 min.
Then a blow dry and flat ironing to seal in the treatment.
4. What is the difference between a Keratin Treatment and a Brazilian Blowout?
All though both are much similar, as both are chemical treatments that bond protein to the outer layer of the hair but still quite different-
A significant difference between the two is a Brazilian Blowout changes the texture or the finish of the hair. It will be more towards the straight side versus a Keratin Treatment maintains the hair's natural texture.
Another difference is that Brazilian Blowout releases more formaldehyde into the air versus a Keratin Treatment.
Most Keratin Treatments use formaldehyde, a chemical that makes hair super straight. Unfortunately, this is a carcinogen and can have health side effects when inhaled.
When inhaled, formaldehyde can cause throat and eye irritation, runny nose, nausea, and skin sensitivity.
6. How long does Keratin Treatment stay on hair?
The Keratin Treatment is semi-permanent. It washes out gradually with every hair wash. It lasts for about 4-6 months.
7. What is aftercare regimen?
Aftercare after a Keratin Treatment is crucial, and the stability of the treatment depends on how you take care of your hair after the treatment.
When you get a Keratin Treatment, you are supposed to make sure that you use sulfate-free and sodium chloride-free hair products for the results to be long-lasting.
Also,
-You cannot touch your hair often.
-You cannot wash your hair for the next 48hrs to let the product sit in.
-You cannot use a bobby pin on your hair.
–You cannot put it behind your ears.
-You cannot tie it.
So you have to be careful not to put any dents in your hair for the next three days.
8. Does this treatment cause cancer?
The serum used in the Keratin Hair Straightening Treatment can contain formaldehyde.
Formaldehyde can irritate the skin, eyes, nose, and throat. High levels of exposure may cause some types of cancers.
'Too much of anything is bad.' Getting this treatment done once or twice a year won't harm. But make sure the place of getting the treatment must be well ventilated, and don't forget to wear a good mask.
9. Who must have Keratin Treatment?
Keratin Treatment must be done on hair that actually needs it.
It is best to treat hair that is frizzy, dry, damaged or lacks protein.
This treatment is for anyone who wants to cut out blow-dry time, straighten their hair regularly, reduce frizz and get the shine on their hair.
10. How to check if my hair lack protein?
There's a very common elasticity test to determine if your hair needs protein or not. Take a hair strand and stretch it. If the hair stretches but doesn't return back, breaks, feels mushy or gummy-like, your hair lacks protein.
11. I have gray hair, can I get a Keratin Treatment?
Once you have your gray/silver strands, they often come in coarse or with a less smooth texture that you might be not used to.
Gray hair is naturally dry and frizzy due to a lack of moisture and melanin. As the hair loses its pigment, the tiny oil glands in the follicle become less active, making hair more dry, fragile, and without shine.
Besides this, colour treated hair may also lack protein as the chemicals used while colouring hair alter and damage the hair bonds, especially bleached hair.
Keratin Treatment works great on frizzy hair. It restores lustre and shine in gray hair, eliminating frizz.
12. I have curly gray hair. Can I have this Treatment?
It's being said if you do have naturally curly hair, it will relax your curls for sure, so that's something to keep in mind if you love your curls.
But the good thing about it is, it's not permanent. Your curls will come back to their form once the treatment fades.
13. What is the cost of getting Keratin Treatment?
The average price range of getting Keratin Treatment is between $300-$800, depending upon the length of your hair and the salon's reputation you choose to get the treatment.
Also, you have to purchase the aftercare products from the salon itself that may cost around $150.
14. Who must avoid this Treatment?
The formaldehyde released in Keratin Treatment is less compared to Brazilian blowout still; people with sensitivity to the fumes caused due to formaldehyde must avoid it.
Also, people with respiratory problems and pregnant ladies shouldn't go for this treatment.
15. I have thin hair, should I get a Keratin Treatment?
People with thin hair must avoid this treatment as it may make the hair appear flat, leaving them volumeless.
16. Is there a Keratin Treatment without formaldehyde?
Yes, Keratin Treatments without formaldehyde exist, but they are mild and may not give you a super straight look.
Keratin Complex Treatment and Micro Keratin Treatment are formaldehyde-free. These treatments smooth out curls and make them more like waves.
The formula used in these treatments won't make hair pin-straight but will get rid of frizz and make hair shiny and easier to work with.
A few more names are Cezanne Perfect Finish Keratin Smoothing Treatment, KeraGreen Keratin and Protein Hair System.
17. What about three or four months from the Treatment, the new growth of my hair gonna be like frizzy and wavy and the rest of it is gonna be straight?
One of the great things about a Keratin Treatment is every time you wash your hair; it comes out a little bit because it coats outside of the hair; it doesn't really enter inside of the hair structure.
So it comes out gradually, and it's not going to have like crazy grow then straight.
18. Will I be able to heat style my hair after getting Keratin Treatment?
Yes, you can heat-style your hair.
Keratin Treatment eliminates frizz and works well on all types of hair. After getting this treatment, you won't feel the need to use a flat iron every day.
It is highly recommended for people who want to cut out blow-drying and straightening hair regularly.
19. What are the benefits of Keratin Treatment?
Keratin Treatment is great for anyone who has frizzy hair.
The chemicals used in keratin treatment are less harmful than those used in other treatments. The benefits are as follows:
Cuts dryness and frizz.
Smoother hair.
Cut down blow dry time to half.
Wash and go hair that saves you time getting ready in the morning.
Gives shine to hair.
20. Does Keratin Treatment turn gray hair yellow?
Excessive heat used in Keratin Treatment can cause yellowing on gray/silver hair.
It's the heat of the iron 450°F, if not done properly, it singes the hair and will discolour it.
If the person doing your Keratin Treatment remembers to keep the heat on the flat iron on the safest level, it should be fine.
21. Is it possible to get Keratin Treatment at home?
Yes, Keratin Treatment kits are available to be done at home. But keep in mind with some treatments, you may need help to apply the solution or flat iron your hair at home.
Keratin Treatment at Home Kits
I am not going to give a massive list of products but the best five highly rated and trusted products that provide results. Click on the product link to know more about it.
A formaldehyde-free formula that temporary straightening treatment for frizzy hair, it strengthens your hair for up to 5 months. Amazing results, one of the best in the world. It eliminates frizz and curl, promotes hair healing, blocks the effects of humidity, and is great for all hair types.
This formaldehyde-free formula is excellent at taming and smoothing unruly, thick, coarse or unmanageable hair types. This product is also excellent at reducing frizz for all hair types semi-permanently.
Inverto 60 Keratin Treatment is Formaldehyde Free, removes frizz, curls and adds shine, silkiness and softness to your hair.
It is an oil containing an exceptional fusion of Next Generation Keratin Protein and the Phyto IV Complex to heal all damaged hair types effectively.
These luxurious formulas transform hair into beautiful, lustrous locks while delivering optimal strength and shine. The result is the healthiest hair possible, unmatched by any other luxury haircare collection.
It's a concentrated leave-in smoothing cream excellent for all hair types that strengthens, hydrates, moisturises and speeds up blow-dry times.
A Few Before and After Pictures: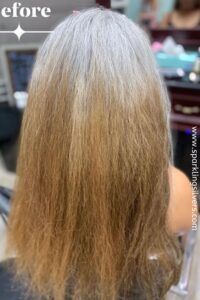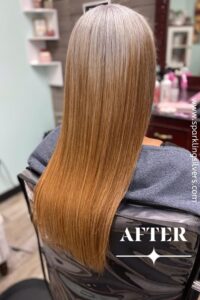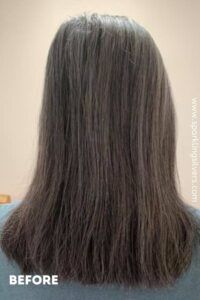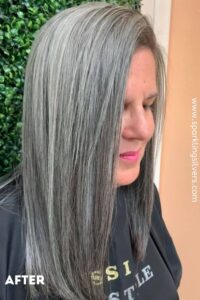 Things to keep in mind while getting Keratin Treatment on natural gray hair-
Keratin Treatment is a great way to calm down the frizz that grey hair has naturally, giving back the lost shine while reducing the volume of the hair.
This treatment can be done on all kinds of silver hair including curly and kinky, but not recommended on thin hair.
While growing out gray hair the dyed part of hair looks dull and damaged against the new growth. It can be smoothened with Keratin Treatment to look more presentable.
This treatment behaves differently on different hair. Especially talking about gray hair. We all have unique and different hair patterns and shades of grey. The outcome of the treatment varies in each case.
With natural white hair, the natural yellow pigment from carbocysteine protein and keratin may be absorbed into hair with intense heat. It is advisable to never iron gray hair above 190℃/375°F
If done well using the right formulation, there is a negligible amount of breakage and hair fall.
While looking in for a salon for the treatment, just do your research. There are so many salons that offer really inexpensive Keratin Treatments, it's always best to avoid it since they are probably using all the wrong formulations that can damage your hair in the long run. If you gonna have something done on your hair, you are going to need to do it right for you to get the results that you want.
I read so many posts and comments of silver sisters getting their precious silvers damaged, yellowed, sticky, heavy and hair shedding after getting Keratin Treatments while some of them were obsessed with it. It's really crucial to get this treatment from experienced professionals to get the best results as it is really expensive and your silvers are precious.
Once you get the treatment done on your hair, you gonna have to do aftercare and that also has a price to it. Invest in recommended products by the salon or you may end up your Keratin Treatment washed off very soon.
If done properly Keratin Treatment can cut down the use of heat on your hair for the next six months, so I think it ends up with less yellowness in gray hair. Also, it smoothes hair to be washed and go ready.
Keratin Treatments are gentle on hair and have less formaldehyde than the Brazilian Blowout Treatment.
Each treatment has its pros and cons. It's all a matter of preference. Some silver sisters prefer to get Brazilian Blowout and also hair straightening treatments on gray hair, but I think that Keratin Treatment is much gentle and safe to be done on Natural Gray hair than other smoothening treatments.
I hope this helps…
Feel free to share your hair discoveries in the comments. Start a conversation; maybe you can help somebody out. We are all on this hair journey together. We can do it.