I know Regi since 2020 when I was working on an article for my blog featuring the before and after pictures of women going grey. During that time Regi had a pixie cut after 2 months grey hair grow-out. She has been growing her grey hair since then and now owns beautiful long hair.
I am really glad to share her journey of embracing grey hair from dyed hair to pixie cut to beautiful long gray hair.
Follow her on Instagram @kosatka_regi
Sharing her incredible journey as she narrates it:
I'm a fifty-five year old freelance artist and writer from Kazakhstan – a country in Central Asia.
In 2006, I started getting white strands, and I didn't like how they mixed with my naturally dark brown hair.
So, after a few years of ignoring the fact that I had enough unwanted grey hair to start doing something about it, I found myself inside this sinkhole known as hair dyeing.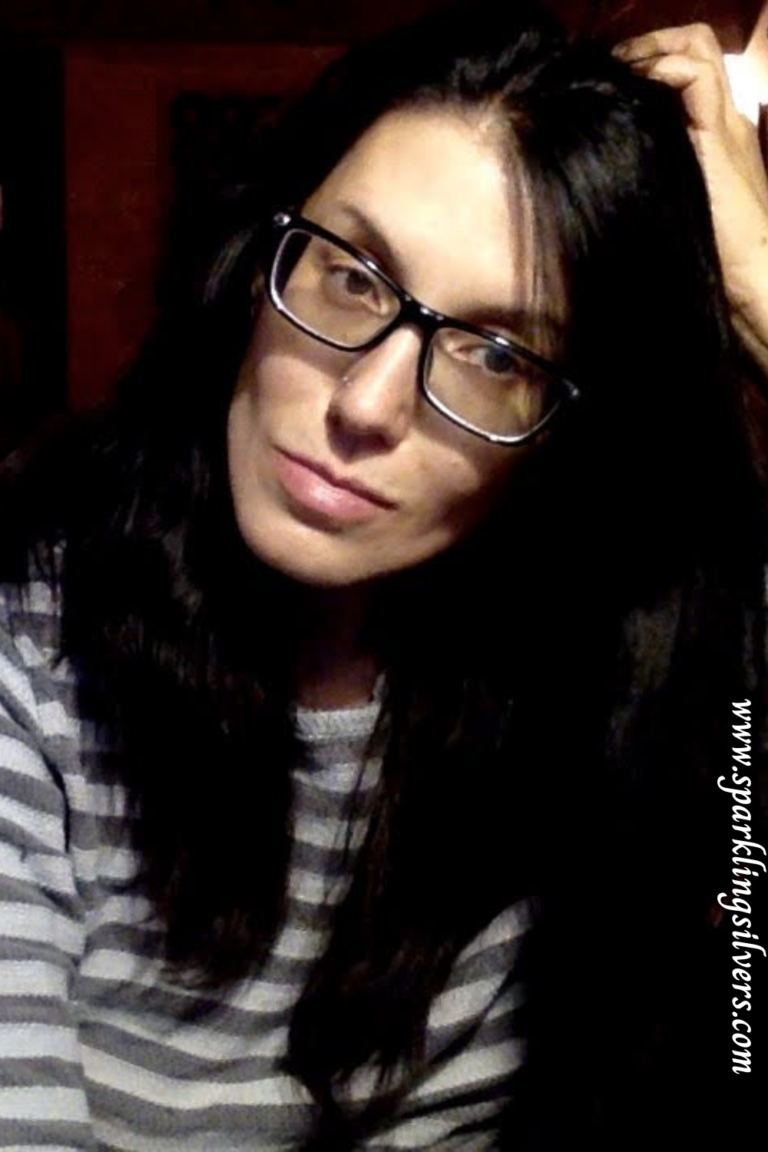 Every three to four weeks, I would buy the supposed foolproof at-home kit and dye my hair in the privacy of my own home.
Just like millions of middle-aged women around the globe, women who wanted to defy age and improve their confidence with the help of a billion-dollar industry.
As a lot of us are already aware, the hair-dye industry manages to make the major part of the entire population believe that artificial hair color is an essential routine – just like tooth brushing or showering, and for a decade or so I wasn't an exception.
At the same time, the idea of becoming openly grey in my fifties or sixties came to mind when I watched Devil Wears Prada. Striking Meryl Streep with her dazzling white hair was beyond perfection.
Keeping this image in my head, I kept maintaining my artificial hair with some inexpensive brunette hair dye from a convenience store. My hair was getting weaker, thinner, and dull week by week, year by year.
Finally, I realized that if I want to keep the rest of my hair on my head, I should start looking for a healthier alternatives to this convenient but harmful routine.
The answer became chemical-free hair care products, natural hair dyes, and eco-friendly plant oils like coconut and amaranth.
For about a year, I had been treating my grey strands with a mix of henna and bhasma, and I must admit that it helped a lot with restoring my hair to its normal healthy state.
You might like reading: 5 Ways to Brighten Grey Hair Naturally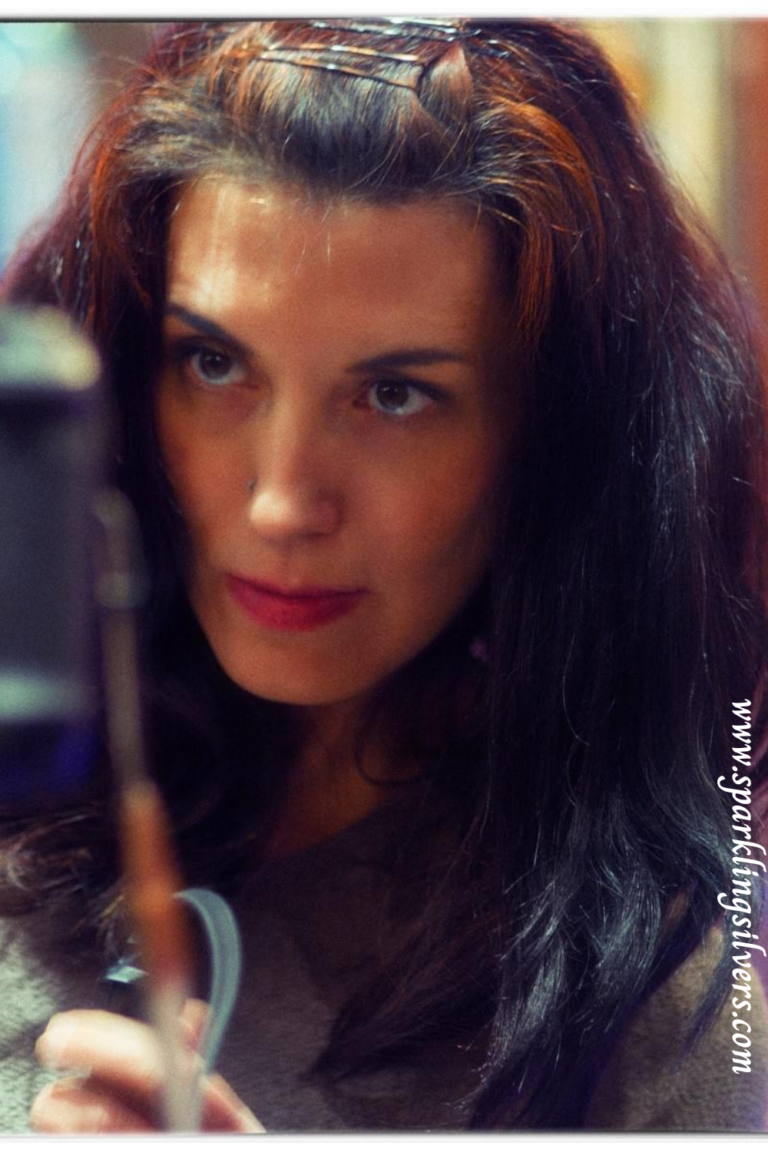 But the dyeing process itself was very tiring. It required up to eight hours, starting with a mixture preparation and ending with washing the coloring substance off after a six hour long application.
At some point, I decided to stop coloring my hair completely and see where it would take me.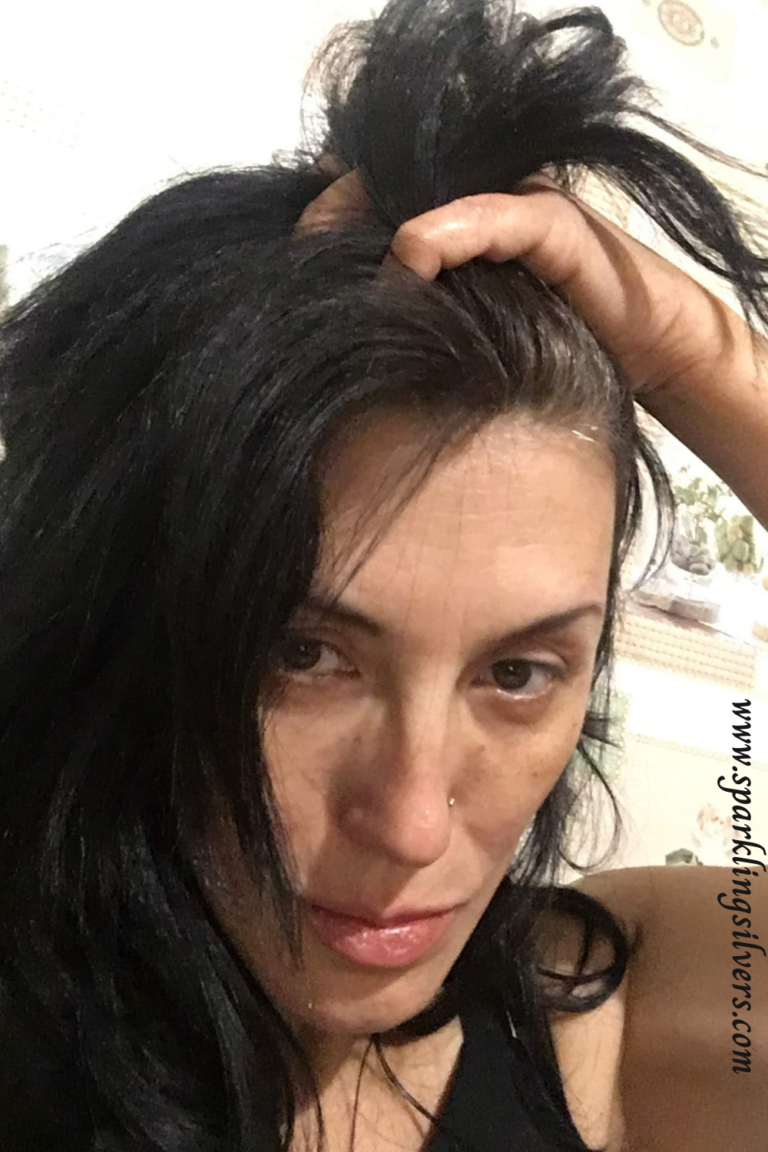 I hated what I saw in the mirror – something opposite to fabulous Meryl Streep's look and the look of many other gorgeous women with outstanding grey or white hair who would hashtag their images with 'goinggreygracefully' on Instagram.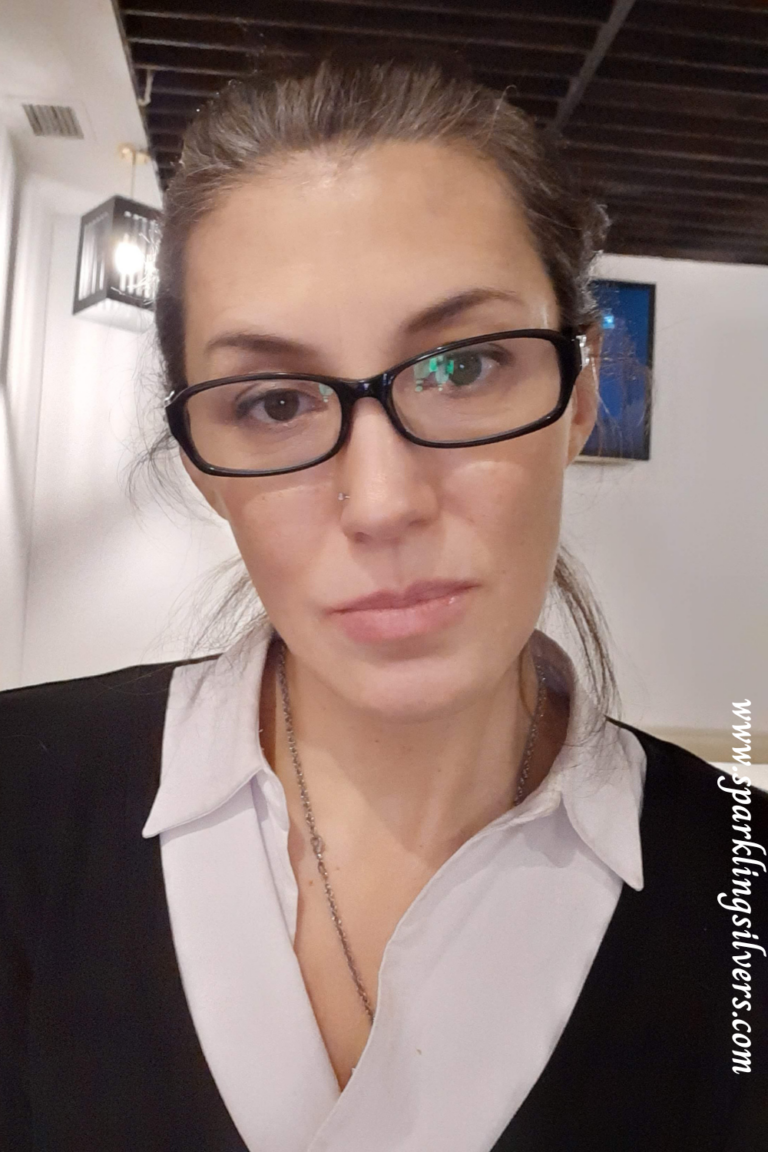 So… I just backed out, grabbed a coloring kit, and voluntarily returned to the problem-solving comfort of hair dyeing, locking myself into a miserable pattern of touch-up routine.
My hair didn't like it.
I could feel how rapidly its healthy state was changing into a lifeless one.
I panicked, telling myself, 'I'll give it another chance, whatever it takes'. So, I ditched the dye again – back in December 2019.
When my new grey roots grew by one and a half inches, I got a pixie cut on the first of March 2020. Going Cold Turkey wasn't an option because I wanted to achieve full grey as fast as possible.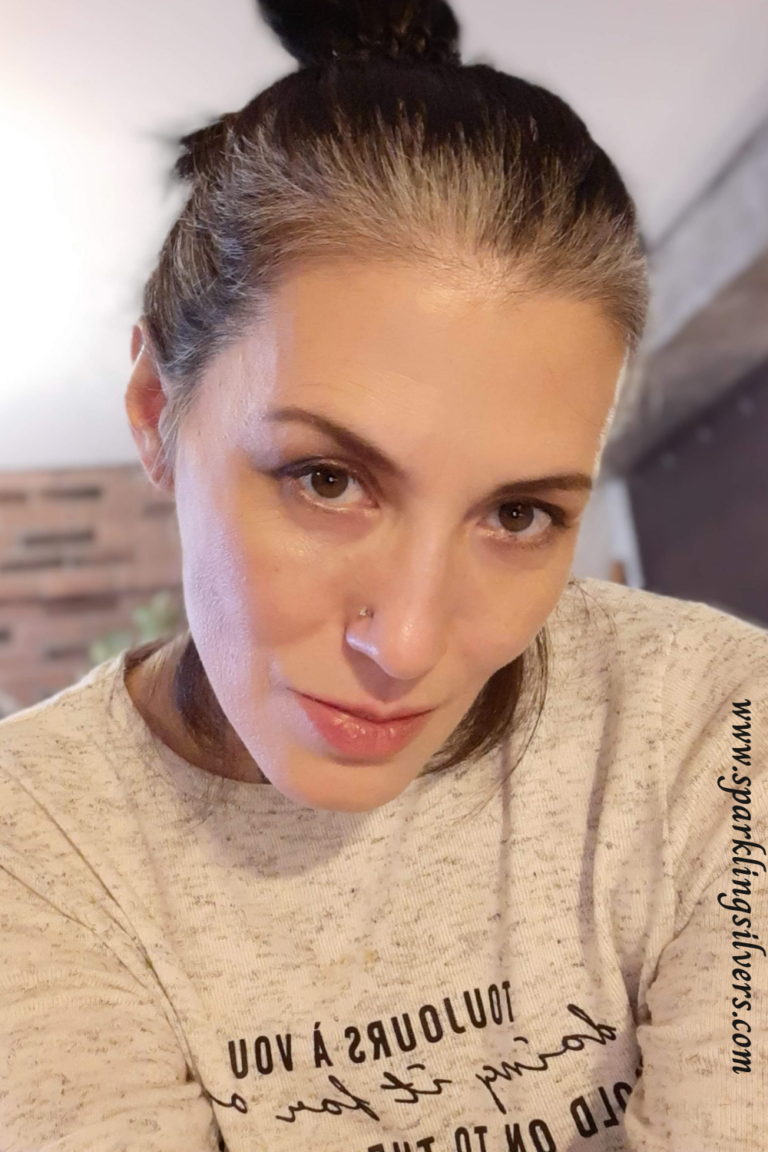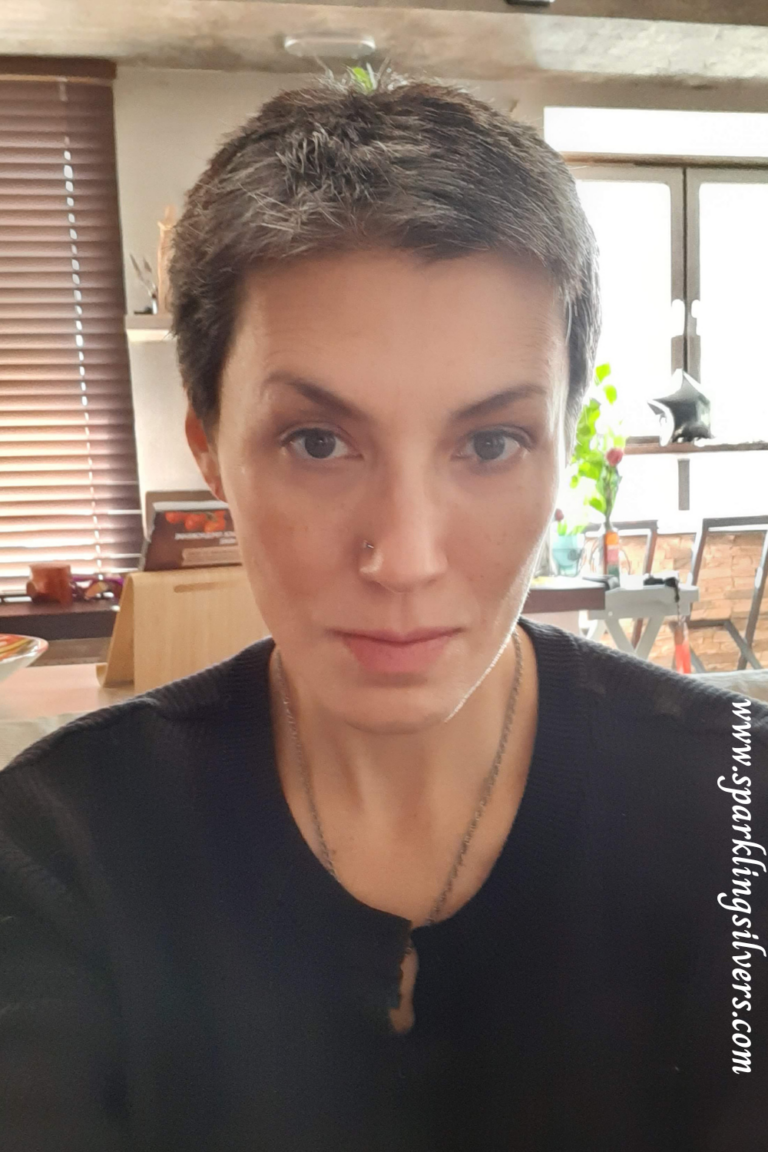 And the fact that I am a freelancer working from home helped me a lot with adjusting to a new style. I was used to having long hair but liked my new haircut and my original coveted salt and pepper shade.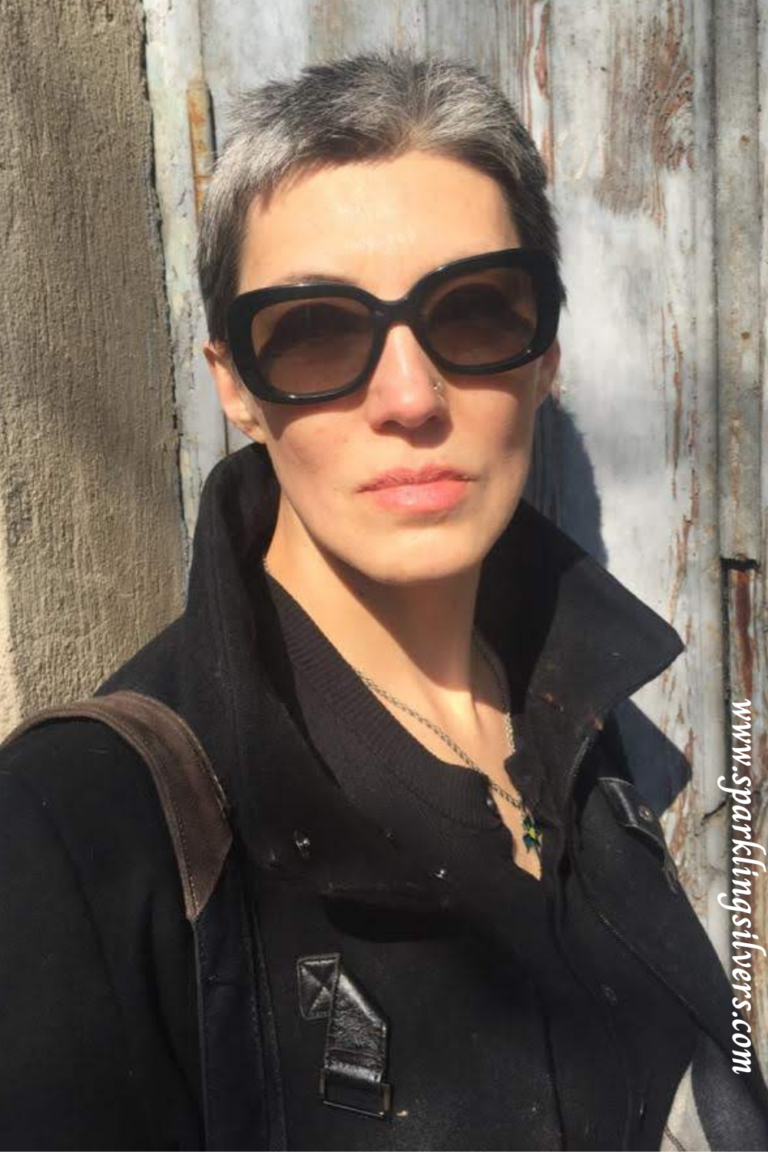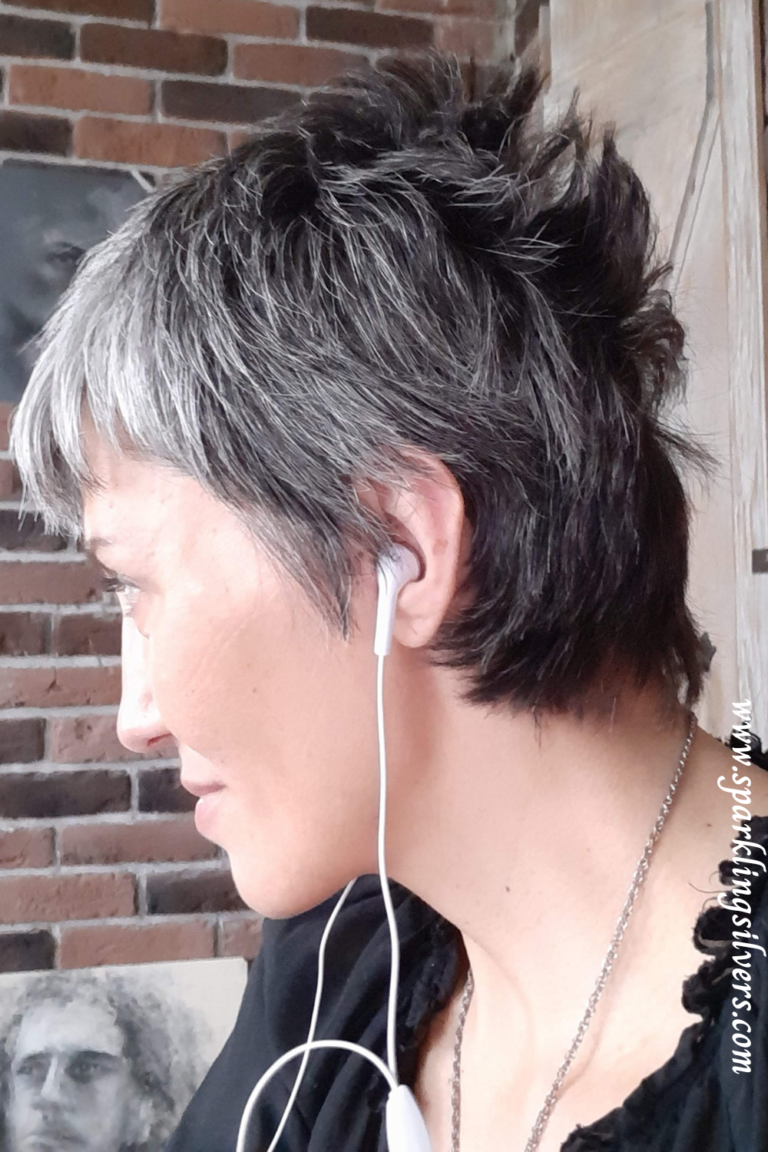 I finally experienced the liberation of going grey naturally.
It's been almost three years since then, and as I can see, women with grey hair still get judged differently than men with grey hair. And here, in Kazakhstan, the situation is worse than in Europe or America.
While my family members fully supported me with my decision and keep reassuring me that I look cool and distinguished, I constantly receive negative comments from my acquaintances or even strangers, both men and women, who say things like, 'It's time to dye your hair', 'Gray ages you', 'You would look much younger if you start taking care of your hair', 'Come on, get rid of this ridiculous granny color of yours', etc.
You might like reading: Go Gray with Online and Offline Support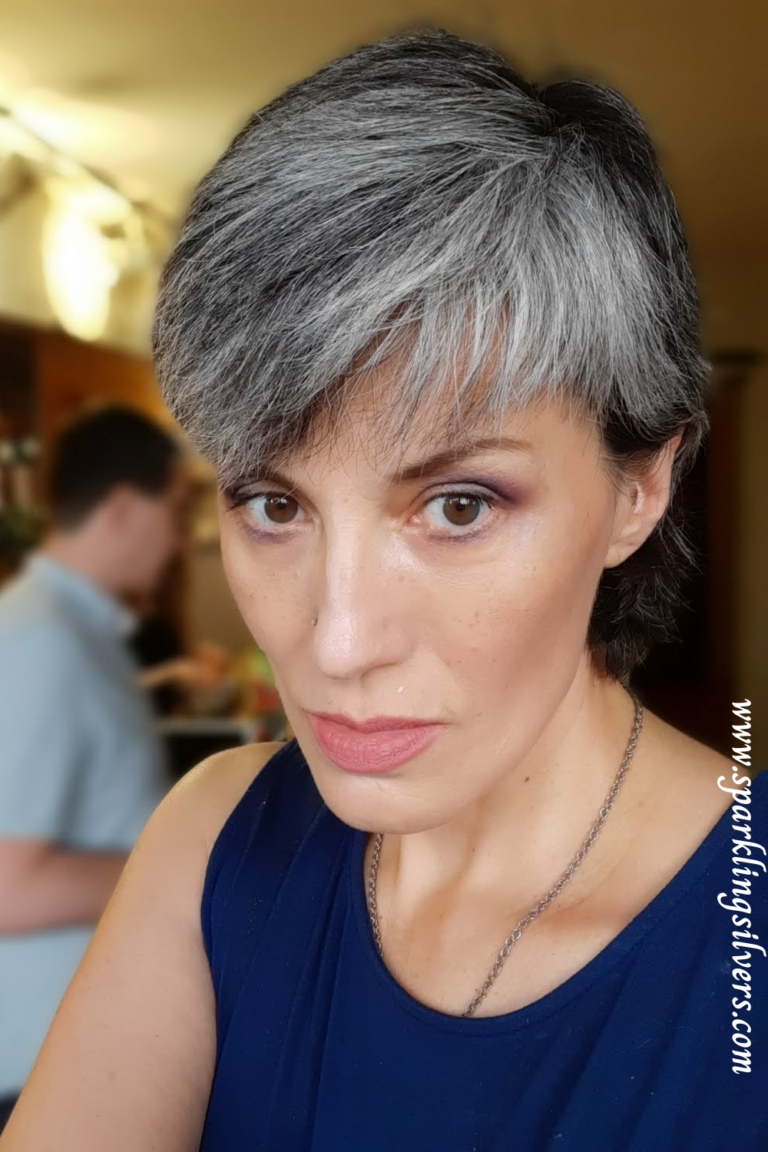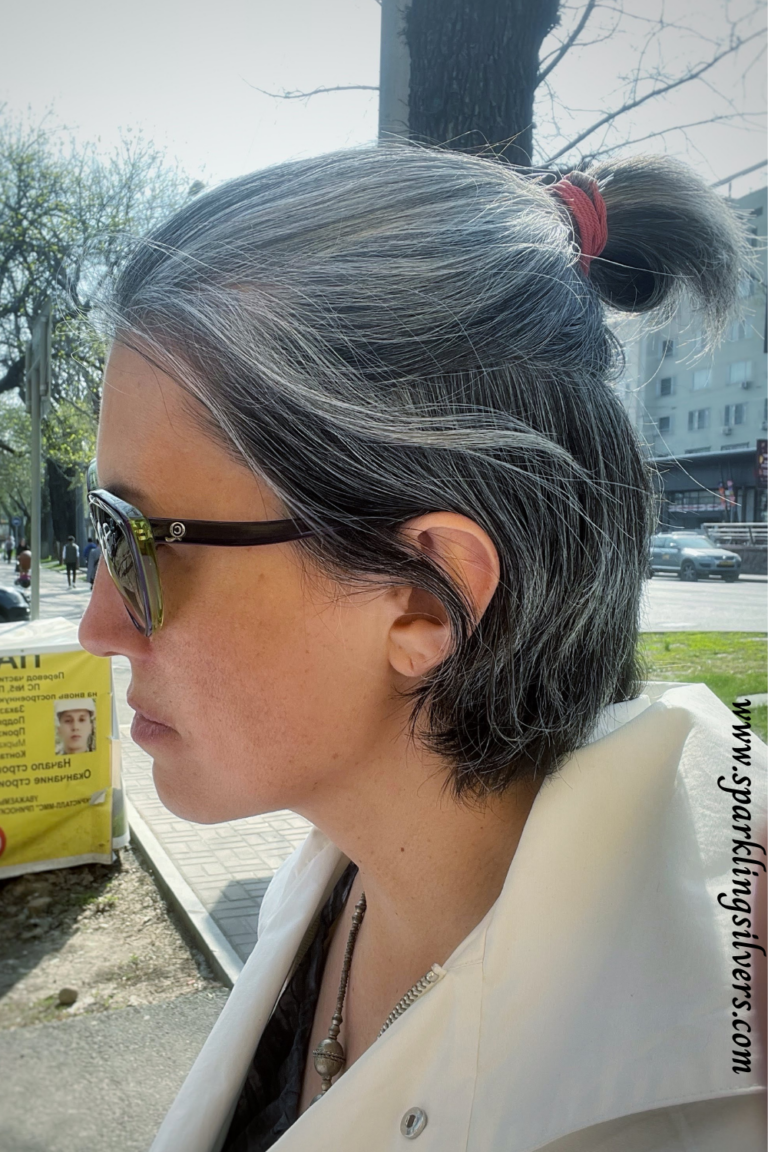 You might like reading: 11 Grey Pixie Accounts on Instagram to Follow
And the longer my hair got, the more people just stared at me, which means that – from their perception – it's OK if you are an older woman with very short grey hair – somehow it doesn't hurt anyone's feelings, but it is NOT OK if you are an older woman with long grey unfastened hair. For some reason, most people find it inappropriate, and it will take a while until this look is destigmatized.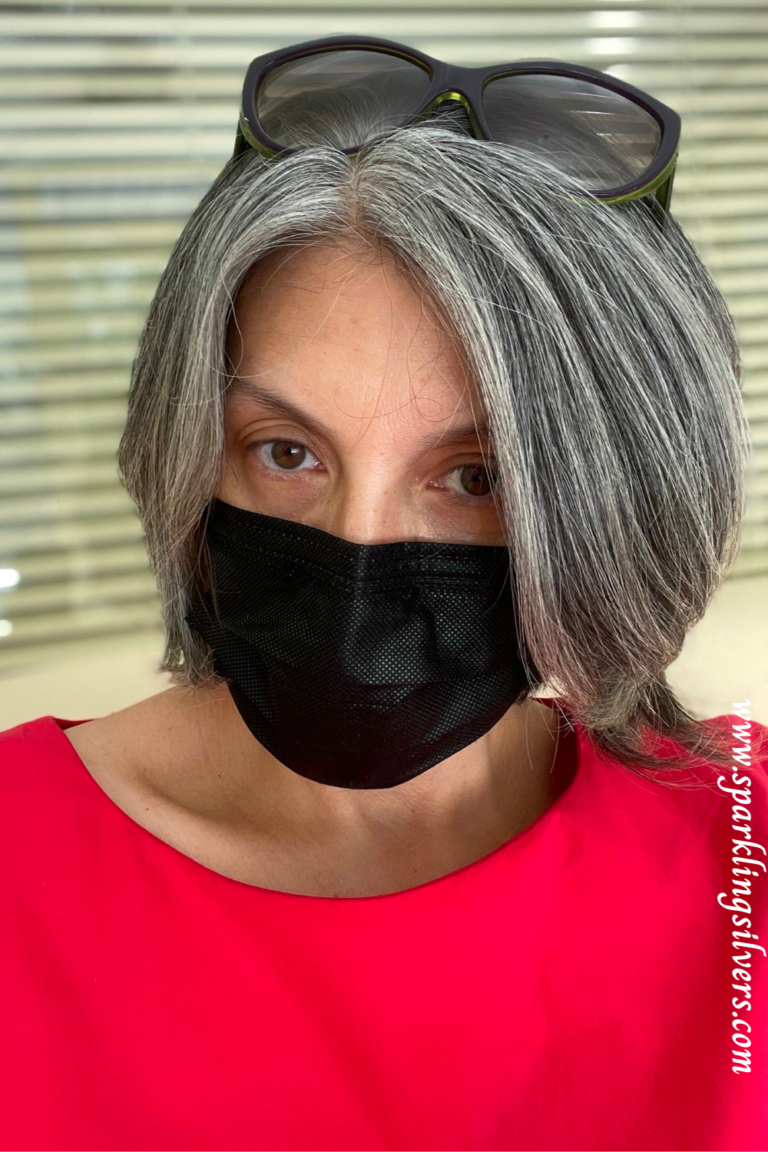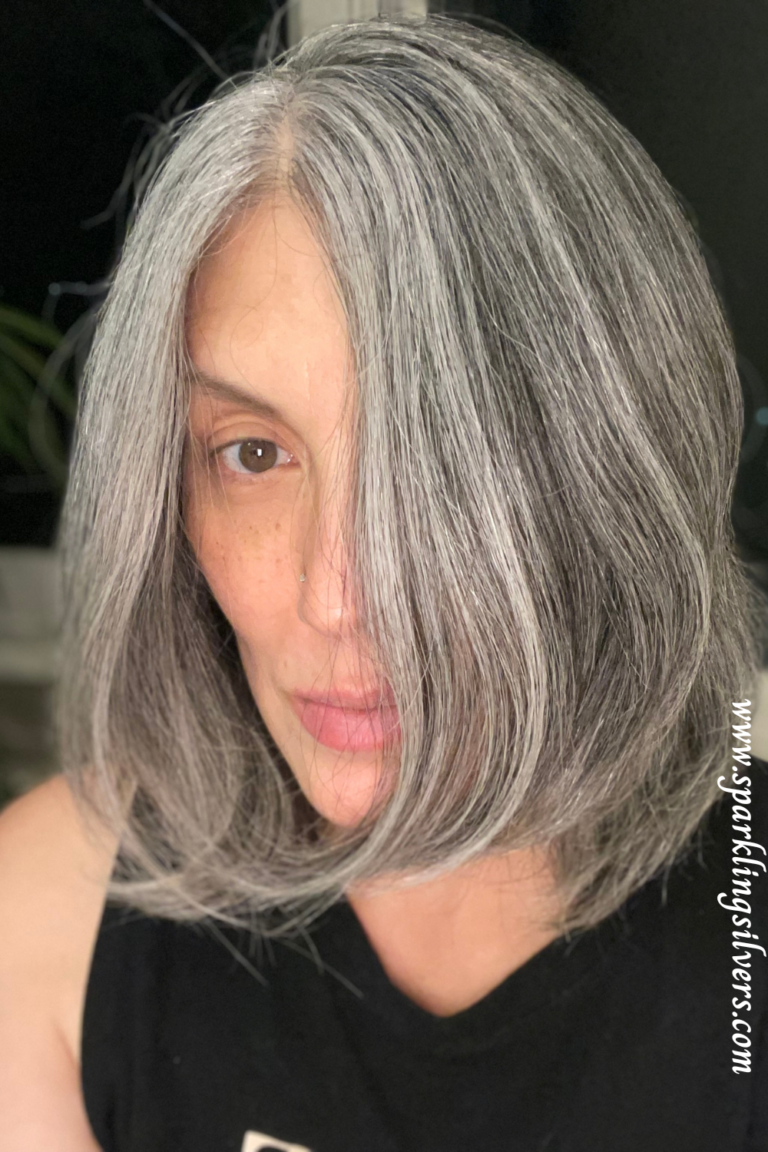 However, I have learned to ignore negativity since I was a kid – I was bullied a lot for being chubby, for my glasses, for wearing outdated clothes after my elder siblings, and for staying independent.
So, I don't pay any attention to these remarks and gazes regarding my appearance, and I do not try to excuse myself by explaining my choice to go grey to those with negative reactions.
I may be the only person in my relatively large and advanced city with its 20,00,000 plus population who purposely has such long, naturally grey hair. If not, that'd make me very happy!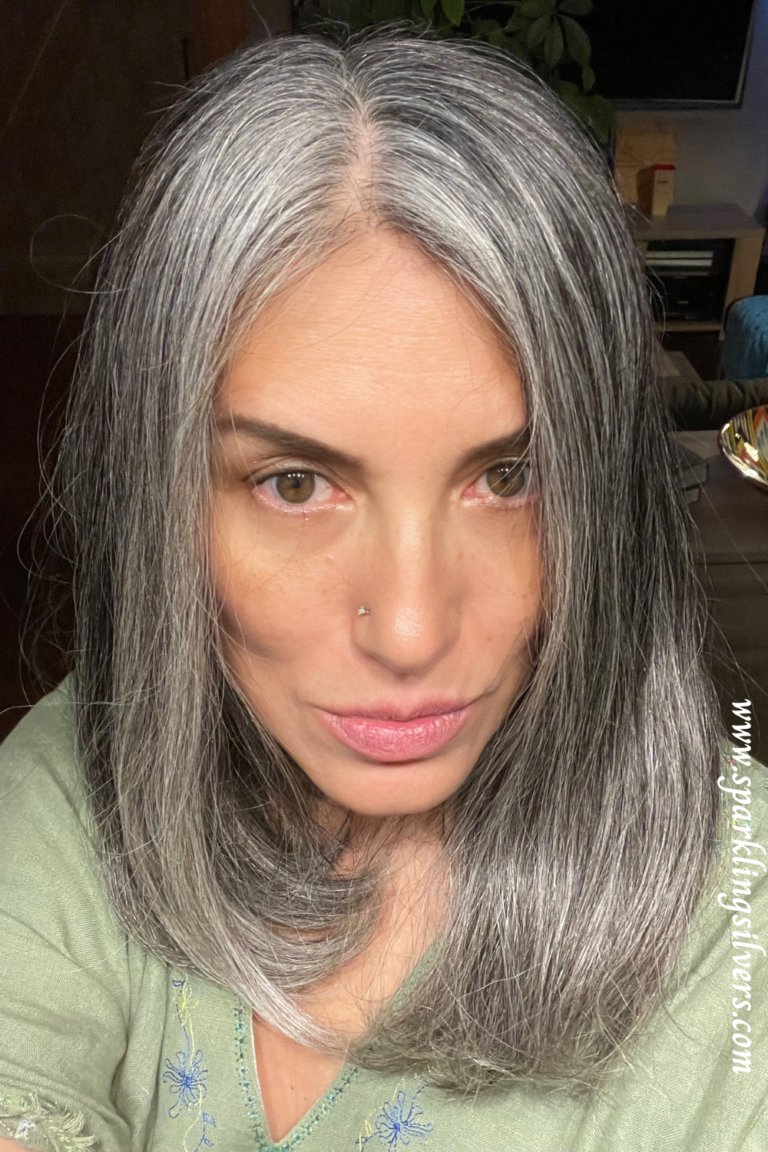 I use sulphate-free shampoo and conditioner by Natura Siberica – they offer a wide range of hair care products, including organic hair masks and conditioners for neutralizing yellow tones and lightweight leave-in oils to tame frizz.
Related article: Grey Hair Friendly Shampoos
Also, I fully avoid using hot tools and let my hair air dry after washing it. I don't wash my hair very often – once a week in summer and once in ten days in colder seasons – a regime I find most adequate for keeping my hair and scalp microbiome in perfect condition.
Related Helpful Article: Heat Styling Grey Hair
"Going grey three years ago was the right decision for me. I don't have any regrets and I wish I'd done it sooner. I couldn't be happier with not having to hide my real hair color and I wish more women out there realize that hair dye isn't the answer and let their beautiful grey or white hair grow out."
Gray hair transition stories have inspired many ladies going gray as they give hope and encouragement to stick on our journey. I hope you find Regi's story inspiring.
Read more Gray Hair Transition Stories here.