You ask, Why?
I am a Pinterest lover. And you know what? I have come to a fantastic Pinterest statistic that says "Short Grey Hair" is the top hair-related search that is trending.
It's not just on Pinterest; I am a member of several Gray Hair Groups on Facebook, and it's a matter of surprise how the number of women embracing their natural grey hair is getting rid of their dyed hair by cutting off the coloured ends is getting popular. Pixie is becoming the first choice of women of all ages getting an all-natural look.
Here are the reasons why more and more women are getting short hair to embrace their silver crown.
Grey Hair Demarcation Line
Demarcation line/skunk stripe is one of the most challenging things for some women about growing out their grey hair. As the hair grows from the roots, the demarcation line keeps widening as the months pass. Not all women have the guts to carry the two-toned hair for 15-20 months. It's a matter of confidence and comfort too.
Quickest Way of Grey Hair Transition
When I ditched the dye, I knew I didn't have the patience to carry on with the process for months, and I was ready for a pixie. It's quicker than going cold turkey for months or getting the demarcation line blended in a salon with highlights or lowlights. A few months of grow-out (2-3 months) is sufficient for a short pixie cut.
Pixie cuts are easier to manage as washing hair in the shower requires less time.
Also, you won't have to deal with using various products on your hair every day. All you need is some hair spray or wax, and you are good to go! I don't even use any spray or wax, all I do is brush through it with my fingers, and then I am all set for the day.
Trendy or Never out of Fashion
Pixie was and will be in trend forever as it is a combination of boldness, courage, and femininity for a woman. It's never going to go out of fashion. Apart from that, women are always looking for big changes.
No More Chemicals and Damage
Women who have been a victim of dye and got their hair damaged so badly that they can't bare further chemical processes (grey blending) to keep the length, find it easier to get rid of the damaged ends than to carry it further through the growing-out months.
Also, grey blending or full coverage hair colouring treatment requires quite a lot of upkeep. Additionally, you are using chemicals, which means more damage.
Pixie Makes You Look Younger
Pixies can make you look younger by bringing out your features, whatever age you are. The rule is to get a perfect haircut that suits your face and features.
Short hair draws extra attention to your face, so you should consider what features you'd like to accentuate with your short haircut.
Extra short pixie, for instance, flatters girls and women with delicate facial features and big eyes.
Celebrities like Helen Mirren, Jane Fonda, and Sharon Osbourne got attention for their big change.
Famous ageless style icon and model Deborah is a pixie inspiration for thousands.
It's Just Hair, Grows back
Either way, going cold turkey or growing out a pixie takes around the equal time to complete the transition.
Some women find pixie less painful than carrying a skunk line for months.
Pixie gives the liberty of staying with the current style or growing it back.
Many a woman so loved the freedom that they never went back. They still are pixie girls.
A pixie haircut can start to grow out faster than we might think, so if you want to change it, it won't take too much patience. But to maintain your look, you'll need to schedule regular appointments and get trims every few weeks.
There is a pixie style for every woman and girl, every unique hair colour, and every season.
There are many variations of the pixie cut that can be styled in several different ways. Pixie haircuts work well for any hair type—from fine and thin to thick, wavy, curly, or coarse hair.
A pixie can be customized to your hair texture and density.
Add a punch of colour to your new pixie cut with a temporary fun colour. The vibrant shades of purple, lilac and blue with silver pixies blend beautifully.
It's much easier and safer to try new hues in shorter lengths. A cool shortcut plus a stunning hair colour is a winning combo and an excellent way to change your appearance drastically.
Aren't these silver pixies cute?
You ask How?
No regular salon visits for hair toning, trims, and upkeep of the dyed hair for months.
A pixie cut is relatively low maintenance, as it just needs to get a trim every 3-4 weeks. Also, it seems like shampoo, conditioner, and other hair products last forever 😊.
You can jazz up your pixie cut or add a touch of elegance to your short haircut. I've compiled a list of accessories for short hair. From decorative headbands to quirky hair clips. Make your short hair look pretty cool. Have a look!
As I was working on this post, I asked some of my silver sisters to share their before and after pixie pictures, and they were kind enough to share their transformation images…
Regina is a 52 years old sci-fi writer and an amateur artist from Almaty, Kazakhstan.
"I decided to go grey a while ago, and my first attempt was taken in March 2019. I ditched dyeing for four months, but I wasn't happy about how my new color was coming. So, I went back to black and stopped dyeing my hair again in November 2019. Finally, after four months, I did something that should have been done during the first attempt. I got a pretty short pixie and am very happy with the result. I feel more stylish, more attractive and more accomplished. I have started feeling like a fresher version of myself. No regrets. Transition is over, and now I'm just enjoying my new look and rocking my silver."
Regi is now a long grey hair silver sister. Read her interesting and inspiring grey hair transition story here.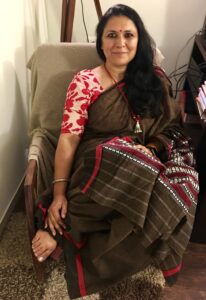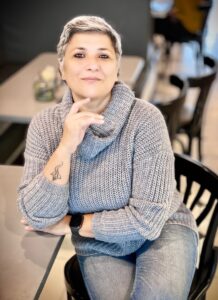 "I found colouring my hair a tedious chore. I felt like I had become a slave to the colour, hiding behind a veil. I had been thinking of ditching the colour for many years and finally decided that I was done and wanted to age gracefully. I was 46 yrs old and wanted to see the confident, strong woman in the mirror that I have always been. I didn't need hair colour to tell me that. It's been 2 yrs, and I am in love with my glitter of wisdom."
"In October 2018, I stopped colouring my hair to embrace the beautiful grey hair I was blessed with fully. Then, in February 2019, my dad passed away, and I felt lost. I sped up my transition to grey when I decided to chop all of my hair into a pixie cut. Cutting my hair off, I felt free and like myself again. My transition to grey helped me through a difficult time, and I wouldn't trade it for anything."
As I always say, it's all about being comfortable and confident.
Growing-out grey can be emotionally exhausting, but the right haircut or style can make things much easier. Whatever way you embrace your natural silver hair, your decision must be based on your personality and comfort. If long hair is what you love and make you feel like go for cold turkey or opt for any of the grey blending ways.
"This page contains affiliate links. If you click one of the product links, I'll receive a commission. No additional charges for you!"