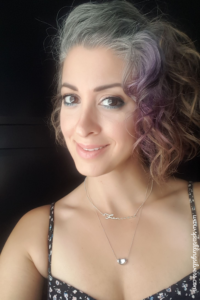 My name is Frankie. I am 35 years old, and I live in Canada.
I am married and have two young children (5 and 3). I enjoy my free time and spending it with my family. I have a full-time job which I love, but I will always say I work to live, I do not live to work; my family is my priority.  For me, this mentality helps me be present and live a happy life.
I began the journey to my natural hair colour in July 2018. I made the decision after being tired of colouring my hair for over 20 years and the desire to see what was hiding under that permanent brown/blonde dye.  
One thing I enjoyed doing with my hair throughout this transition was to colour my dyed ends with temporary colours. There was little commitment since they would wash out within a few shampoos. I've tried a variety of colours, but my favourite was purple. My favourite brand to use has been Arctic Fox, specifically the Purple Rain Colour.  
I have also used their Virgin Pink and Sunset Orange. These colours are premixed, and you apply them to your hair for a short time, then wash out. They are vibrant and gradually fade away each time you wash them, typically lasting between 10-20 washes.
Two other brands that I have had some experience with are Overtone and Manic Panic.  One tip I have is to begin by only changing the colour of a small area of your head rather than all of your hair at first. If you feel comfortable and love it, then go for it.
Another way to go is with waxes and hair makeup. I have used a blue wax by Mofajang, which I ordered online through Amazon. I have also used L'oreal Colorista Hair Makeup which I was able to purchase at a local store. They both worked well and are intended for one-day use; they're gone with one wash. These types of products cause your hair to feel like a different texture, some sticky, others dry and extra textured. If you are ok with that, I would say use these first to see if you like the colours before using a semi-permanent. Even with these one-day use products, there is always a chance for staining, so use with caution.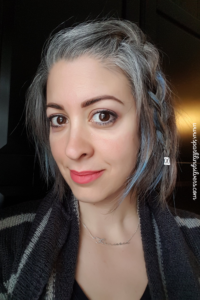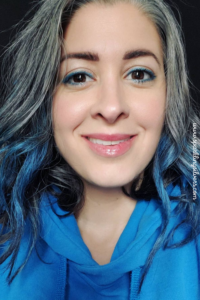 There are many brands on the market, but make sure to use only semi-permanent and keep in mind that there is always a chance that it could stain your hair, and the colour may not completely fade away. For that reason, I always would do a small piece as a test and wait weeks to make sure it completely fades. I would use this process, especially if you plan to use colours directly on your natural colour.
I am almost at the end of my transition, with the tips of my hair having the remaining dyed colour. I think my next cut will do it!  That will mean it has taken me 16 months of growing my hair to achieve this, with my hair reaching just past my chin. It feels like it takes an eternity waiting for hair to grow, and the funny part is how fast it seems to grow when trying to keep the roots hidden! Throughout my transition, I have found it very helpful to make connections over Instagram and also to post my personal journey there. My Instagram handle is @naturally_silver; feel free to follow me there to see more photos of my transition from dyed blonde to natural silver.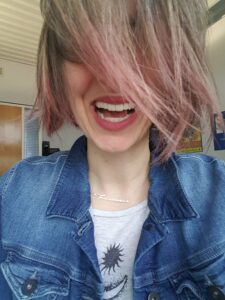 "There is no age limit on having fun, so why not express yourself! Maybe that means throwing in a hot pink streak through your silver mane. Or maybe you are getting tired of your dyed ends and want to add a pop of colour as I did.  Adding the colour to your dyed ends has an ombre effect, with silver at your roots and the colour at the bottom. Life is too short to be serious all the time, have fun with it, and you do you!"
This blog has been created to give voice to women worldwide, embracing their natural grey hair. You can be one to boost their thoughts and experiences by sharing this post. Thanks!
Like it?  Share it to your favourite Grey Hair Board on Pinterest!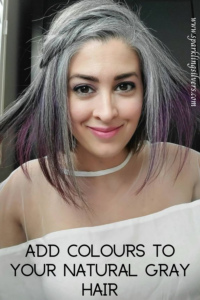 Disclaimer:  The views and opinions expressed in this article are those of the authors and do not necessarily reflect the official policy of the website.