If you are willing to go gray, you have been using permanent hair colour for years and now wish to ditch it but also want a smooth transition to grey hair without a skunk line.
Don't worry. I am here to help.
There are several semi-permanent colours and hair rinses that cover grey hair and are safe to be used on natural grey hair during the grey hair grow-out period.
These colours don't give full grey coverage and wash out in a few washes.
So how will it help in grey hair transition?
You will continue doing the grey root touch-ups as usual. The only difference will be that the permanent hair colour will be replaced by a semi-permanent hair colour similar to your natural hair colour or the permanent dye you are currently using.
As the hair will grow, the old dyed hair will be trimmed off from time to time. Gradually the dyed hair will be cut off completely in a few months left with the hair covered with semi-permanent colour which will gradually wash out leaving natural grey hair.
In this post I am going to share everything about how to go gray using semi-permanent colours including their pros and cons.
Also, I will be sharing some semi-permanent colours and hair rinses to cover gray hair during the awkward grow-out period.
So let us start,
You are familiar with names like permanent hair dyes, semi-permanent hair dyes, demi-permanent hair dyes and temporary hair dyes. Today let us understand the difference between them by classifying them into two categories:
Oxidative Hair dyes
Non-Oxidative Hair dyes
Basically, this classification is based on the oxidation behaviour of the dyes. I.e., dyes that need an oxidizing agent to deliver colour to hair are Oxidative hair dyes. These dyes use Hydrogen peroxide for colour development, which helps open up hair cuticles to absorb dye. Permanent hair dye and demi-permanent hair dye fall into this category.
The oxidative hair dye consists of two bottles,
The hair dye (both base and coupler)
The oxidizing agent or the developer
These two are mixed before application to the hair. So any of the hair dyes that come with these two bottles are oxidative hair dyes. Oxidative hair dyes provide 100% white hair coverage as they penetrate deep into the hair cortex and can never be washed out.
Non-oxidative hair dye:
The hair colours that directly deliver the colour without any oxidizing agent are the non-oxidative hair colours. These dyes don't penetrate deep into the hair. Such dyes fade gradually with each wash and wash out completely.
What category is semi-permanent hair dye?
Semi-permanent hair dyes are non-oxidative hair dyes. These dyes don't need a developer to be activated. These dyes are best for people with sensitive scalps and allergic to ingredients in permanent hair dye. They're also the best choice if you decide to change your hair colour for a short time. Let's learn more about semi-permanent dyes under these points:
A gentle blend free from ammonia and hydrogen peroxide.
Also referred to as a direct dyes, these dyes deposit hair colour on the surface of hair strands without penetrating the cuticles.
Semi-permanent dyes last for about 4-12 washes and wash out completely gradually.
Does semi-permanent hair colour cover my gray hair to 100%?
Semi-permanent hair colour doesn't offer full coverage on grey hair. It can only blend grey hair, functioning as a sheer coating on hair. But in some cases where hair is very fine and porous, it can give full coverage. The coverage will not be as intense as the permanent hair dyes with peroxide and ammonia, but enough to cover them.
Below pictures show the intensity of gray coverage semi-permanent hair colour gives on one usage. It can be around 60-70% but can't cover gray hair as a permanent hair dye does.
Still, the outcome of coverage may depend on hair quality, porosity and other factors.
Some more pictures to get a better idea: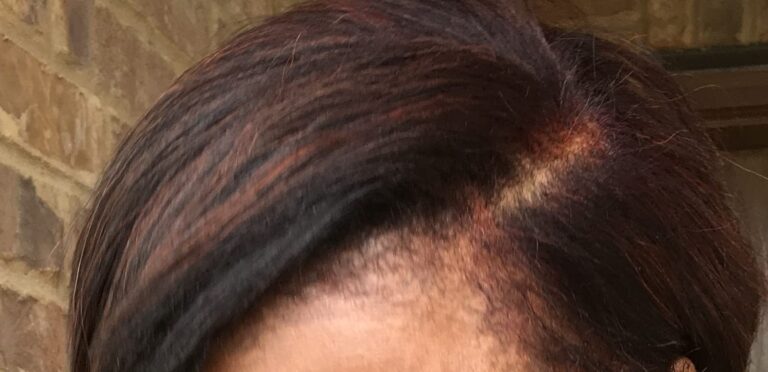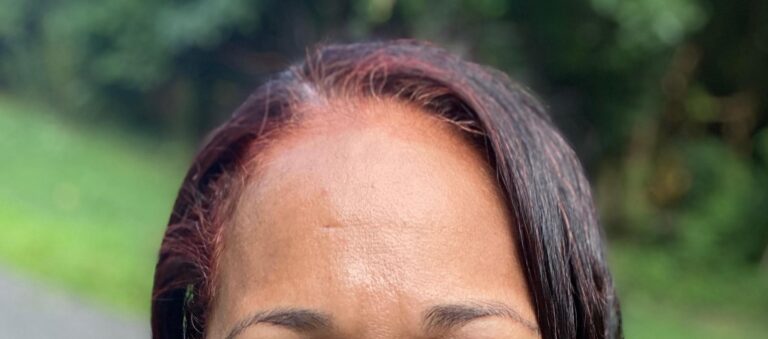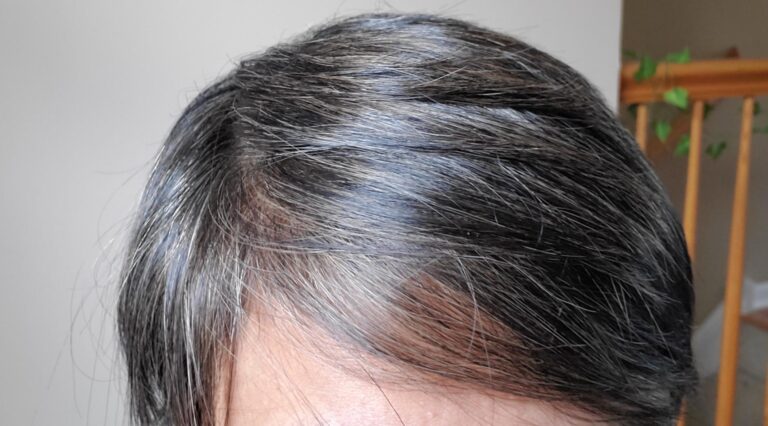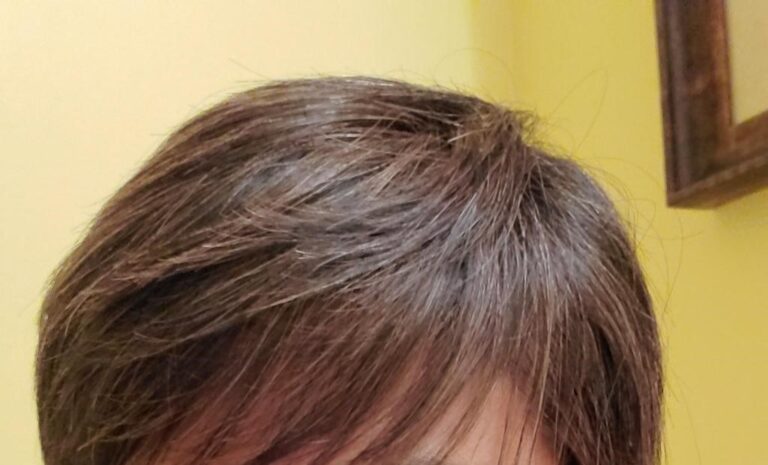 Will it give an even colour to my grey hair?
The results may be patchy if the hair is unevenly porous.
Also, avoid applying color to the split ends. Trim them from time to time to prevent uneven color that can ruin the look of your hair.
How long will it last on my grey hair?
Semi-permanent dyes last on hair for around 4 to 12 shampoos.
How can I identify if colour is a semi-permanent hair colour?
Look on the dye box for these words to know if it is a semi-permanent colour:
It should say it is a semi-permanent hair colour.
It should say no ammonia and no peroxide.
It shouldn't have to be mixed with an activator or developer.
Can I use it over other Semi, Demi-permanent or permanent hair colours or even on pre-lightened hair?
Yes, it can deepen and enrich the present hair colour of the same shade, so if your permanent dyed ends have faded to orange or brassy, semi-permanent colour can tone or refresh your faded hair colour on using the similar shade.
Apply it on shampooed hair without conditioner. The hair must be clean without any layer of products on it.
It is used on damp hair or as instructed on the product packaging for best results.
Wear gloves to apply the colour before rinsing to protect your hands from straining.
Apply petroleum jelly along hair and skin hairline.
Rinse it with cool running water.
What is the best colour application technique for grey hair?
Always start from the roots so that they may give an intense colour to your roots and then to the rest of your hair.
Try to avoid colour overlapping, it might intensify the colour and might be difficult to washout.
You can leave it on your hair for the recommended time or as long as you want, as there is no damage or lift.
Can I use it immediately after a relaxer or chemically treated hair?
Generally, you wait for two weeks after a relaxer to get a permanent colour, but you can use semi-permanent colour after a relaxer or chemically treated service on grey hair to tone your hair without any damage.
How to choose the perfect shade of colour?
It is always recommended to get a shade closer or darker to naturally pigmented hair or the shade you have been using while colouring your hair with permanent hair colour, as eventually, the colour will fade and lighten with every wash.
You can mix two or more shades to get a shade closer to your natural hair colour. (Take the help of a salon expert to get a perfect shade)
Will it give a harsh demarcation line when the colour grows out?
Semi-permanent dye fades more gracefully than permanent dye. It washes out more evenly than the permanent dyes and doesn't give a weird harsh root line.
Does semi-permanent hair dye wash out completely?
Depending on the condition, the colour of your hair and how porous your hair is affects how long the colour will stay. On average semi-permanent dyes stay on hair for up to 28 washes or 6-12 washes.
Semi-permanent dyes last longer on post-bleached or damaged hair, can stain highly porous hair and may take much longer to fade and wash out completely.
What if my stubborn grey hair does not take colour?
It may take some experimentation to figure out the time your hair may take to absorb the dye.
Dyeing grey hair may take longer. You may let the dye stay on your hair for longer. Although, like, the standard time for colour processing is 25 minutes, it can be increased to an extra 10 to 15 minutes long to cover grey hair.
Does semi-permanent causes dryness in hair?
No, but it actually conditions hair. It has not ammonia and peroxide like what is present in permanent colours to damage.
Will it affect the natural tones of my hair?
No, as it covers the outer layer of hair, it keeps the natural tones of hair as it fades.
What are aftercare suggestions to help semi-permanent colour last longer?
1 – Shampoo your colored hair with a colour-safe shampoo. It doesn't use any colour stripping agents.
2– Shampoo your hair with lukewarm or cold water because it causes the hair colour to bleed and fade much quicker.
4 – Minimise heat styling your hair because the heat opens up cuticles and flushes out the colour much faster.
5 – Use alcohol-free products.
6 – Do not wash hair with shampoo immediately after rinsing the colour. Instead, just rinse the colour with lukewarm or cold water, followed by a conditioner.
7 – Use a DRY shampoo to extend the stay of colour on hair.
8 – FOLLOW the instructions of the brand accordingly.
9 – Don't be in a hurry for the first shampoo after colouring; wait for at least three days and let the colour settle on the hair. Also, reduce the frequency of washing and protect hair from fading quickly.
10 – Protect your hair from sunlight by using sun protection sprays, hats and scarves.
11 – Avoid swimming; the chlorine in pool water may cause discolouration and even fade the colour. To minimize the effect of chlorine, saturate hair with clean water and or conditioner before swimming. Also, make sure you rinse your hair with clean water thoroughly after swimming.
What if the colour does not come out?
Some colours hang on longer than others. So to wash them out you can try these DIY ideas:
Increase the frequency of washing hair. Like if you were washing your hair twice a week, start washing it 5-6 times a week.
Try using dish wash detergent and baking soda.

Use clarifying and anti-dandruff shampoo. These slowly lift colour without causing damage.
But these techniques dry out hair, so always deep moisturize hair after such washes. If nothing works, seek the help of a professional.
Important points to consider:
Always do a test section underneath. For example, apply colour, and observe how the colour behaves after several washes.
You can hide your grow-out with semi-permanent brown/black/blonde. It will not look exactly like the permanent colour but more translucent. It will be an excellent camouflage.
Semi-permanent colours never lift or lighten your existing hair color.
If you put light colour on dark hair, you will see no change in colour. But if you have more white hair, every colour will show but eventually will wash off because there is no peroxide in colour to make permanent changes to the hair.
Semi-permanent colour, when used on wet/damp hair, washes out quickly and does not even give an intense colour. But when used on dry hair may stay on the hair for long.
Ensure you buy a semi-permanent colour, safe to be used on gray hair. Colours without a developer are safe.
The intensity and fading of colour also depend on brands, as some are stronger than others.
Semi-Permanent Hair Dyes Available in Natural Shades:
Clairol Professional AGS has O2 Technology, that provides gray coverage and refreshes your permanent hair color without the use of developer. Gives intense gray coverage upto 50%.
Easy application directly from bottle. Apply the colour to towel-dried hair in sections. Processing time is for 25 minutes.
Gentle formula that moisturizes as it colors, leaving hair soft and silky.
Available in nine shades. Two or more shades can be mixed to get your desired natural colour.
Cruelty free and vegan formula. These semi-permanent colours are PPD And Ammonia Free; Paraben Free; Gluten Free; Resorcinol Free; Phthalate Free and PETA Accredited.
Ready to use cream based colour. No Developer Required.
Available in 11 shades. Hydrating ingredients that leave hair soft, shiny and illuminated. No peroxide or ammonia.
All shades can be mixed with Sheer to dilute or can be mixed with other pigmented Gloss+ products to create a ideal hair colour.
A cream based colour depositing conditioner. Safe to be used on all hair textures and types.
Lasts for 2-20 washes. Possible to create custom colours by mixing two or more colours.
Has nourishing ingredients like coconut oil, shea butter, avocado oil that hydrate hair while adding intense color and shine.
No alcohol, no peroxide, no ammonia.
Gives a long lasting colour. Contains aloe vera. Upto 12 months life span of the product after opening.
Two or more colours can be mixed to make custom shades.
Iroiro makes 100% vegan and cruelty free products. This semi-permanent color gives a vibrant and long lasting colour that lasts longer.
This product is free from PEGs, Paraben, Methylisothiazolinone, Methylchloroisothiazolinone, Synthetic fragrances, Peroxide, Ammonia, PPD and Alcohol so safe for natural gray hair.
The main ingredient of this product is coconut and it's a cream based colour.
This product is available in more than 8 natural shades of hair.
That's all but I repeat,
Always do a strand test before the whole head application as different colours behave differently on different hair.
The highest risk attached on going gray with this route are:
The colour may stay on gray hair for a longer period of time in some cases. But eventually it comes out.
The colour may sometimes leave a green, blue or red coloured tinge while fading. Again it depends on several factors like water you use, your previous coloured hair, the products you use etc.
Read the instructions and about the product thoroughly before use.
Consult your hair expert to know more.