You must have been covering the gap between the coloured hair and the growing out greys with a dye or hair colour. It has been a permanent root touch-up, which was an endless cycle.
If you have decided to let your gray roots grow and embrace your natural colour, you must know that going gray is a process and may take time, depending on the path you choose to embrace your natural colour.
Some of you may look forward to growing out a few inches and getting a pixie cut as a transition, while others may go cold turkey with long hair.
During the growing-it-out phase, you may try different hairstyles to blend in the demarcation line or use headbands, hats, scarfs, and bandannas to hide the gray roots.
But these options won't work during some emergency hair colour needs like a photo shoot, a zoom meeting or any public appearance.
Temporary root touch-ups can be a solution to cover up the new growth for such special occasions.
Root touch-ups seamlessly blend your gray roots into your coloured hair. These products can be in the form of sprays, powders, pencils and pastes. They are easy to apply and last till the next hair wash.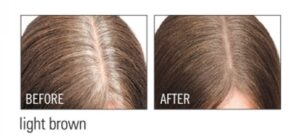 You can use these temporary solutions to hide the new growth without damaging your virgin gray hair growth.
Tips on selecting the correct type of product that will work for you:
Picking the right kind of root touch-up can be tricky. There are a few things that have to be kept in mind before purchasing the appropriate product. Let us check out:
Sprays: Sprays can be used on any length of grown roots and hair. In fact, they can be used for complete hair coverage.
Powders: Ladies with just a few inches of roots grown, between 1-2 inches, may go for root touch-up powders. Covering the roots wider may need an application of the product in quantity.
Pencils: Best to be used on salt and peppery hair. It can conceal the gray roots and hair along with the hairline easily. In addition, the creamy formula acts as the best tool for a grip on hair, depositing colour exactly where it is required.
Pastes: Pastes are the usual creamy formulas similar to permanent hair colours. These pastes are available in various vibrant colours and basic natural colours. But they are not single wash-out colours and may stay on hair between 10-30 washes. Ideal for complete hair coverage.
Prepare yourself for root touch-ups:
Detangle and comb your hair properly before using the product.
Dividing hair into sections and applying the product can make things easier and less messy, avoiding missed spots.
It is advisable to apply them to dry hair.
Avoid using products on the scalp as some of these may stain the scalp.
While applying a spray, avoid using too much spray at a time. Sprays take time to dry and may show the actual colour after drying.
Temporary root touch-up products are available in different colours and shades. Most products have a shade card or a colour guide for what hair colours the shade works with. Pick the correct shade to match your current colour.
One shade darker than your hair colour works well.
Always read the usage instructions properly before applying the product.
Though it's a temporary colour, still it's suggested to use gloves and cover your shoulders and neck with a towel to be safe from staining.
Always keep a wet cloth or wipes to wipe off extra colour.
Here's the list of the best products based on their pros and cons, reviews and recommendation from silver sisters:
If you find this post helpful please share!! Thank You!
"This page contains affiliate links. If you click one of the product links, I'll receive a commission. No additional charges for you!"