Grey hair at any age can be terrifying.
But ageing is inevitable and a natural thing for everyone. With age come signs of ageing like wrinkles and grey hair. Anyone who is in their 30s and starts getting grey hair is absolutely fine. but if you start getting grey hair earlier, the reasons could be genetics or deficiencies like vitamin B12, Biotin, Vitamin D, Vitamin E, etc. Also, hormonal changes caused by the thyroid can be a major cause of premature greying in hair.
Premature greying due to deficiencies can be reversed. But if it is because of your genes, then, unfortunately, it cannot be reversed. Then you have only two options: either to cover your grey hair with a semi-permanent or a permanent hair dye or to embrace it and own it.
If you are someone who is on your journey to embrace your natural grey hair and looking for products to take care of your silver mane, this post is for you. After struggling for a few years and trying several grey hair care products available in India, I have curated a list of the best products that can help care for your hair during the grey hair transition period and enhance the beauty of grey hair after the transition.
Related: Tried and Tested Gray Hair Care Products
All the products are Amazon finds and can be purchased at Amazon India. Please share if you find products that work wonders for you on a platform other than Amazon.
"This page contains affiliate links. If you click one of the product links, I'll receive a commission. No additional charges for you!" 
So, let us start!
Root Touch-up Products:
The first step in transitioning to grey hair is using a root concealer or touch-up product to temporarily hide any grey hair that grows in. This is the quickest way to conceal grey roots for special occasions during the grow-out period. These products are designed to hide grey roots that have grown out a few inches.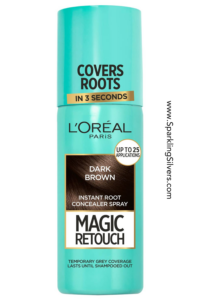 This spray is available in different colours, including those best suitable for Indian hair, i.e., brown, dark brown and black. Find a close match to your own hair colour. Here are a few points to consider before purchasing this product:
Quick and easy application.
Quick drying.
It works well for some, but its effectiveness varies depending on hair texture.
It may cause build-up on hair and scalp if used frequently.
The application of the spray can be messy initially, and you might end up having uneven coverage. Achieving optimal results may require some practice.
It can be sticky if overused.
On warm days, it may get messy.
This product comes in a powdered form with a puff applicator. It is designed to conceal hair loss and touch up grey roots. Available in various shades. I recommend dark brown and black shades for Indian hair. However, these are a few things to be considered about this product.
The powder blends seamlessly with the existing hair colour.
It doesn't make hair feel sticky and greasy like a hairspray.
Though stain-proof, it can be messy during rain or excessive sweating and might need retouching.
As it is a hair loss concealer, it might stain the scalp too.
You can also try Clairol Temporary Root Touch-Up Concealing Powder – Dark Brown. What I like about this product is the Dual-ended applicator brush, which is easy to use and gives precise application.
All of the root concealers mentioned are effective but have limitations. Start with a small package and purchase a larger one if the product works for you. Remember, these are all temporary hair cover-up solutions, so don't expect full grey coverage from any of these.
Shampoos For Grey Hair:
When your hair grows out for a few months, the grey roots become noticeable, and the hair dye starts to fade. At this stage, it's time to add blue or purple shampoo to your hair care routine. Now the question arises: what shampoo will be suitable for Brown or Black dyed hair, a purple shampoo or a blue shampoo? First, let's understand the difference between the two types of shampoo to determine which is best for your hair.
Purple Shampoo for Grey Hair-
Purple shampoo is a purple/violet pigmented shampoo that is used to neutralise the brassy tones on dyed blonde and grey/white hair. Purple shampoos are basically for people with naturally fair-toned hair who have yellow undertones on pre-lightened or bleached hair.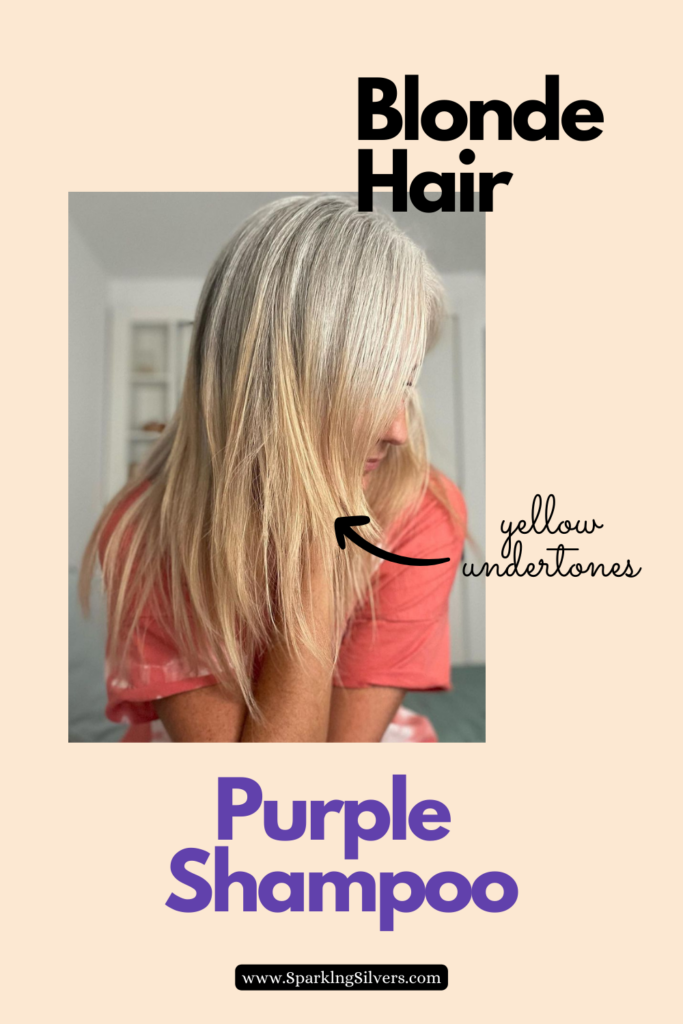 Purple Shampoo recommendations:
After the grey hair transition, if the majority of your hair is white, you will need a purple shampoo to brighten it, as white/silver hair has cool undertones.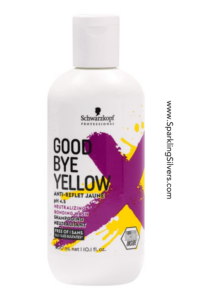 I have been using this shampoo for the last four years, and I must say it never disappointed me. This shampoo gives a decent fragrance and doesn't make my grey hair feel frizzy or dry. Its sulfate-free formula is gentle and effective in cleansing hair and scalp and restores the shine in hair by neutralising dullness. The best part is that it is pH balanced to 4.5, which causes less friction, resulting in less frizz in hair.
If you are looking for high-end purple shampoos, these can be the best pick:
Blue Shampoo for Grey Hair-
A blue shampoo is a blue/violet pigmented shampoo. Blue shampoo neutralises warm red-to-orangish tones in dark brown hair. So, purple shampoo won't work effectively if you have a full head of dark brown hair. The same goes for black hair, whether naturally dark or dark-dyed; the purple shampoo will not do anything other than wash your hair.
Indians are basically warm undertoned, both in skin and hair. Our natural hair colour varies from dark brown to black. So, as our dark brown or black dyed hair colour fades during the transition, it can develop orange undertones. Using a blue shampoo can help tone down the orange and restore the colour.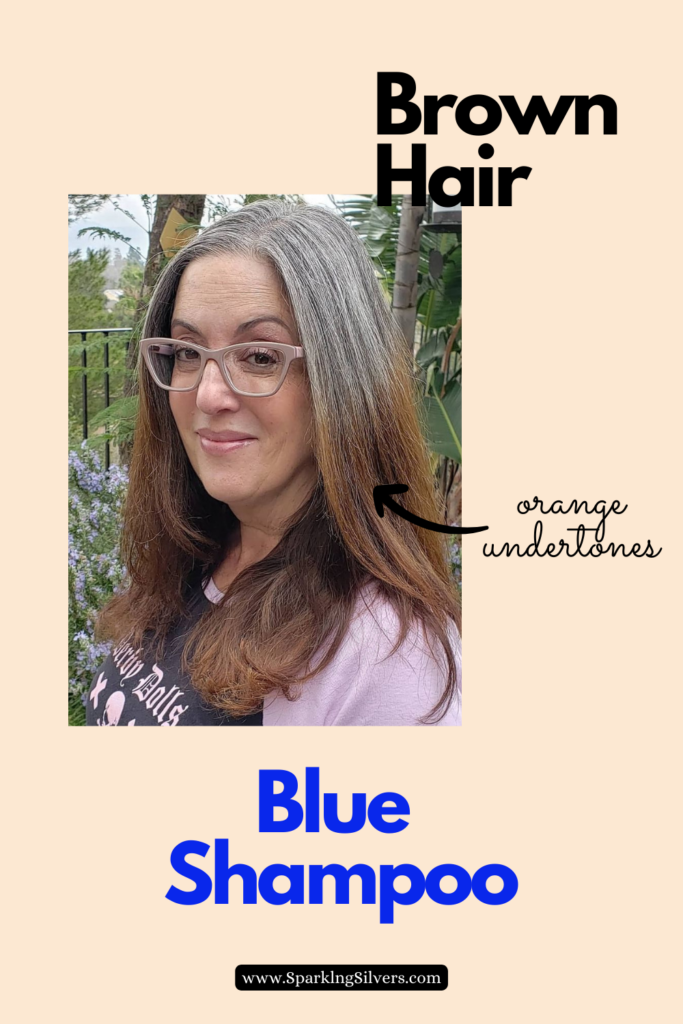 Blue Shampoo recommendations: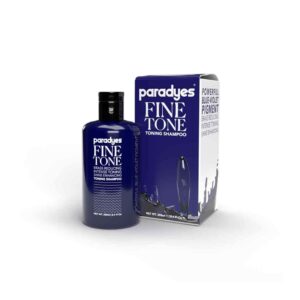 This is a vegan and cruelty-free product manufactured in India. It has no harmful chemicals that can be damaging to our fragile natural grey hair. Its blue-violet pigments evens out orange undertones. It is also enriched with herbal ingredients like aloe vera, hibiscus and amla, which keep hair healthy and strong.
Another high-end blue shampoo is Fanola No Orange Shampoo
Talking about regular shampoo, if your current one works well for grey hair, there is no need to switch. Otherwise, use sulfate-free shampoo.
To know more about purple and blue shampoos, read this article: Blue Shampoo Purple Shampoo or None?
Hair Oils for Grey Hair:
Ok, now this is my favourite part of hair care. Never underestimate the power of a good hair oil and massage. Oiling hair before each hair wash is crucial, even more necessary if you have grey hair because grey hair lacks natural moisture and is dry in nature. Oils are really useful in adding moisture back to hair, taming frizz and boosting shine. Applying hair oil before hair washing can significantly reduce damage to hair as our hair is most vulnerable while wet.
 Make sure to use virgin hair oils, as they are completely safe and free from preservatives and harmful chemical combinations.
Now, the question is, which oil is best for grey hair?
Olive Oil-
I have been using olive oil for the last 6-7 years. My grey hair loves it. It's a nourishing and hydrating oil that protects hair from damage. It conditions hair and makes it smooth. Application of olive oil 30 min. prior to a hair wash, followed by a head massage, can work wonders.
This is the virgin olive oil I use and is best recommended: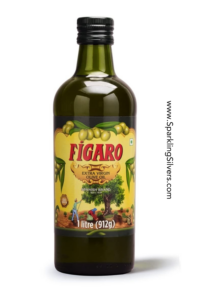 Coconut Oil-
We know grey hair is dry in nature as it produces less sebum that protects hair from drying out. So, grey hair needs extra nourishment and hydration.
Coconut oil is an excellent moisturising oil for grey hair. It gives grey hair elasticity and smoothness, making it more manageable. If you have fine hair, use it in a small amount, as it can weigh down your hair. Also, if you have an oily scalp, try to avoid the application on the scalp and apply it on the hair strands only.
The one I use is Coco Soul Cold Pressed Natural Virgin Coconut Oil. It is 100% Pure, Vegan, Preservative Free, Gluten Free.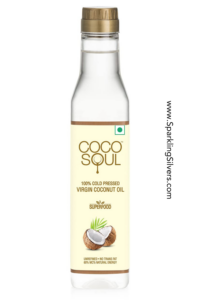 If you are looking for a combination hair oils, these are worth considering:
Conditioners for Grey Hair:
For those who use purple/blue shampoo, a regular conditioner may effectively seal the cuticles with the colour pigments in the shampoo. However, some people experience dryness in their hair when using purple/blue shampoo. In such cases, a purple conditioner can be used as an alternative. But make sure not to overuse it. It can coat hair cuticles purple in the long run.
You might like reading 8 Non-drying Purple Shampoos for Grey Hair
Regular Conditioner for Grey Hair :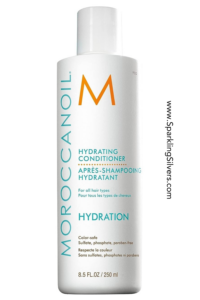 This is the best conditioner overall for all hair types, from normal to dry. It contains antioxidant-rich argan oil, vitamin A, vitamin E and moisture-attracting red algae for optimal hydration for hair. It is sulfate-free, phosphate-free and paraben-free.
Purple Conditioner for Grey Hair: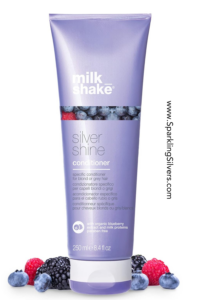 It's a paraben-free product. It's gentle on grey hair. Contains milk proteins, organic fruit extracts and Integrity 41® to condition while maintaining the hair's moisture balance. Removes unwanted brassy tones and leaves hair soft and shiny.
Clarifying Shampoo for Grey Hair:
Why does grey hair need clarifying shampoo?
The reasons are numerous. Grey hair is non-pigmented and porous. So, it is prone to dust, chemicals, and mineral deposits. A layer of these buildups can make grey hair turn brassy/yellow. To keep our silver hair bright and shiny, this residue has to be removed from the hair from time to time.
Clarifying shampoos remove residues, minerals and oils from the hair and scalp. But they must not be used often as the surfactants used in the shampoo can make hair dry and dull. The one clarifying shampoo I am recommending here is a mild one and great for grey hair.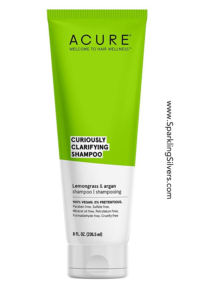 This shampoo is vegan and certified cruelty-free. Also, it is paraben-free, sulfate-free, mineral oil-free, petrolatum-free, and formaldehyde-free, so it is completely safe for grey hair. It also gives shine to hair.
I use Apple Cider Vinegar rinse to remove buildup from my hair. ACV works miracles on grey hair. It not only removes product build-ups but also adds shine, making hair smooth and healthy from root to tip. If you want to know more about ACV rinse, read this post: ACV Rinse for Healthy and Shiny Silver Hair. This single product can be a substitute for a number of grey hair care products.
For easy and hassle-free usage one can also use Apple cider vinegar shampoo: WOW Skin Science Apple Cider Vinegar Shampoo
UV Protection for Grey Hair:
Melanin in hair is responsible not only for the pigmentation in hair but also acts as a protective shield against exposure to the sun. Harmful ultraviolet radiation from the sun makes hair dry and brittle. This is the reason grey hair is drier and lacks shine due to the damage from the sun. So, it's more important to protect grey hair from the sun's rays.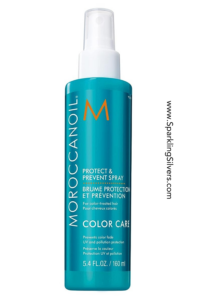 Moroccanoil Protect and Prevent Spray is an amazing spray that not only shields hair from UV rays but also environmental factors that weaken the hair. It has great reviews all over the web. This product also provides thermal protection against heat so a win-win deal.
Shine Boosting Products for Grey Hair:
Grey Hair does not reflect light as dark hair, and this is the reason that grey hair lacks shine. There are several products that can boost the shine of grey hair. Shine products coat the hair shaft with reflective agents that reflect light off from hair and make it look shiny and vibrant. These products can be in the form of oils, serums, sprays, conditioners, etc.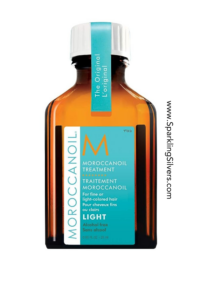 This oil is literally magical. It is a bit pricey, but considering its multiple benefits, it's worth each penny. This oil is lightweight and residue-free, which is good for fine hair, too. Smooths hair and boosts shine up to 118%. It absorbs instantly to fill gaps in hair created by heat, styling and environmental damage. If applied on dry hair, it also tames flyaways.
It is an amazing shine-boosting product and a fantastic product to revitalise dull and lifeless strands.
It is an amazing heat protectant too. SO count it as a recommendation for a product good for protection against heat styling too. but if you are still looking for one separately, you can choose one out of these:
 Schwarzkopf Professional OSIS+ Flatliner Heat Protection Spray
Bare Anatomy Heat Protection Spray Serum
If you find yourself short on time or simply don't want to spend too much of it styling your hair on a daily basis, consider opting for a keratin smoothing treatment. This treatment can smooth out your hair, add shine, and reduce the amount of time you spend styling it – especially if you have grey hair. Know more about Keratin treatment on grey hair in this post: Keratin Treatment on Frizzy Grey Hair
Our grey hair is precious. We must invest in products that nourish, enhance, and celebrate this unique journey.
Choosing products for our hair is a process. We have to try several products and go with the products that work best for our hair type.
In India, we are a small community of amazing silver sisters and have only a few options to go with in selecting the perfect grey hair care products. If you come across some amazing products other than those shared in this post, please share your experience with the product with us.
Feel free to share your hair discoveries in the comments. Start a conversation. Maybe you can help somebody out. We are all on this hair journey together. We can do it.