I have been a very creative, silent and happy kind of girl. I am a nature lover. Whenever I find myself in an indecisive situation, it's the best companion and a guide!
After ten years of a successful marriage and a lovely daughter, it just clicked to me one day that I could start my blog. So giving one year to my embracing grey journey kicked me to empower the grey hair movement by creating my blog sharing all the wisdom I gained on this path.
Relationship between me and my hair
I had light brown hair in my childhood. However, after puberty, at about 12-13 years old, I started noticing changes in the texture and colour of my hair. First, it started becoming a bit coarser, and its colour changed to a darker brown shade. Also, soon, I could see some silver strands starting popping up. Since then, I have never liked my hair as it made me feel inferior. But now, I hold a healthy and lovely relationship with my silvers.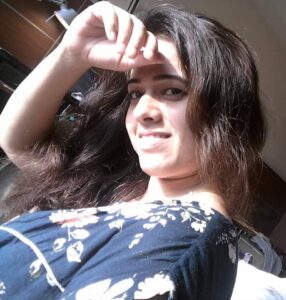 My thoughts on women dyeing their hair?
In my opinion, it's all about feeling good from the inside. When I saw greys on my head peeking through the dark brown hair, I felt as if I lacked something as I compared myself to other women with beautiful dark hair. Dyeing my hair gave me an illusion of being perfect to fit into society. It's all in how we feel and think about ourselves. We all tend to do what makes us feel happy. The dye makes us feel good.
When I dyed my hair for the first time...
As a teenager, you can't bypass the feeling of looking awesome and perfect. That's what happened to me as I saw some pesky silver strands peeping out of my dark brown hair. I was so disappointed and discouraged. A feeling of low self-esteem as I thought something was wrong with me. So I started covering those few silver strands with Heena.
After a few years, it was difficult for me to cover the stubborn greys with Heena as their number increased. Then at the age of 23 came the hair dye. Dyeing hair gave me the power of 'hiding' the silvers and made me feel better than Heena, so I continued colouring my hair for about 14 years. For years I kept searching for how to cover the greys naturally, as the hair dye damage was visible in my dry, brittle and lifeless hair. Then, while scrolling on the internet, I saw a beautiful young girl with natural grey hair. It provoked the urge to give up dye in my mind. Then I started digging for more 'stuff' on the internet as I was in a dilemma to go grey at such a young age. And I come across some FB groups with a lot of inspiration and encouragement for women giving up the dye. Everyday inspiration from those groups and positive consent from my husband gave me the courage to take the decision.
36, I found it the best age to embrace my natural colour, and I ditched the hair colour.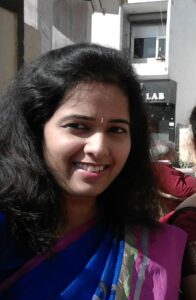 What do I think people think when they look at my hair without color..
I see more shocked faces as it's unbelievable for them to see so many silvers sparkling on a young-faced girl.
Reactions of family members
Every woman in my family dyes their hair except two or three ladies above 70. When I was growing out my greys, I had the least support from my family, but my husband supported me fully. He was my first admirer.  My family reacted according to the old belief that says 'grey means old', and they looked worried for me. I always used to hear, 'This is not the age'. 'You must colour your hair; you look bad'. And the most significant opposition was from the elderly members of the family, saying,' Why are you in a hurry? Look, we are still dyeing our hair.'
I was always ready for the pixie cut. So as I started this journey, I gave myself the space and choice of selecting paths, either a pixie or cold turkey (If I had the patience to carry the skunk line for a year or more). But my instinct was more towards a pixie cut, and that's what happened. After three months grow out (around a 3 inches growth), I got it cut.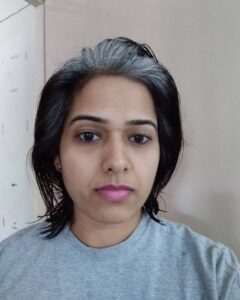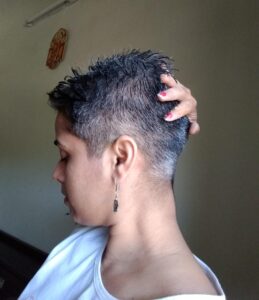 The idea was to get a pixie and grow the silvers to shoulder length. That's what I always have been comfortable with. And I tried and grew my hair almost a bob length but couldn't resist getting it cut again as I find pixie is flattering on me, also easy to maintain and can be worn casually or dressed up for special occasions too.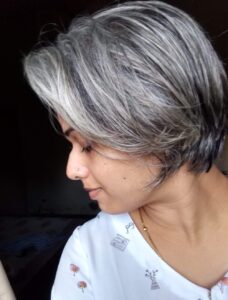 What my friends have to say...
It's such a topic that you will always get mixed reactions from the people around you. All of my female friends dye their hair. They say they are not comfortable showing their grey hair. They either use henna or hair colour to cover their greys. Talking about men, again, mixed reactions. But after I got my hair cut, I saw positive responses from the younger ones. They appreciate my new look indicating that I don't look old.😊
My husband, my real-life supporter of my decision, says, 'You look terrific'.
People don't like it much. Why?
Saree in India represents the ethnicity of Indian women. Women of all ages wear this traditional outfit in India. People think it to be a mistake to see a young Indian woman with grey hair in a traditional look. However, the scenario has changed a lot in metro cities where so many young women can be seen flaunting their silver hair with different drapes, but it's still taboo in small towns in India.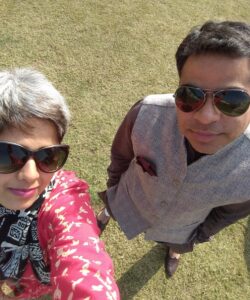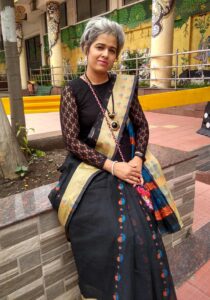 And the ones who liked it said...
When the transition is done, and I have a single natural colour, the compliments are all around, 'you look awesome'. 'The haircut and your natural hair suit you' 'you must try modelling'. Well, more than verbal compliments, I read the acceptance in the eyes of my near and dear ones!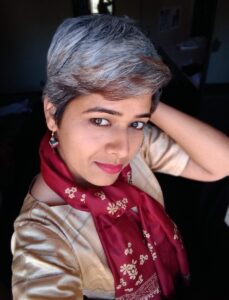 Do men and women have different approach to dyeing hair?
Women love dyeing their hair than showing their grey hair. It's still their state of comfort, according to their definition of beauty. Mindsets and beliefs change, but it takes time to change.
It's still unacceptable in various communities around the world. If a young woman is seen with her silver mane, staring and making faces is quite a sure. They take it as a 'mistake'.
Men don't see any pressure dyeing their hair.
And the best part of the story is
Self-discovery! I was never this confident and self-contented before. I love myself more than I did while dyeing my hair.
The hardest part was the growing out stage. For the three months, I was like what to wear and how to style and look presentable with the skunk line. What helped me was looking in the mirror and saying, ' This too shall pass.'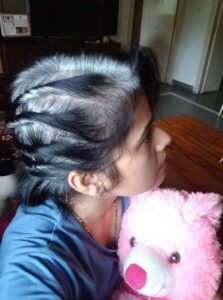 The Grey communities around the world
Social media is a great platform and can bring change to society. It's been more than a year since I created my Instagram account @sparklingsilvers, where I documented my hair journey. Recently I created a Facebook page, SparklingSilvers, to cheer up the companions sailing in the same boat! And also a closed Facebook group SparklingSilvers India, exclusively for support and encouragement for women going grey in India. Gone is the time when this movement was just virtual. 
This journey brought me close to many ladies who took the plunge and created their own unique stories. I am inspired by every woman I came across on this journey, as each of us has something unique to share, inspire and influence.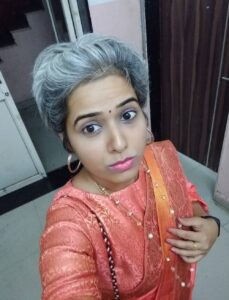 Going grey on different media
It's a hot topic of discussion in media these days. They highlight the 'Grey hair movement' by featuring the success stories of women who embraced their natural hair. The matter of surprise is the participation of more and more women joining the movement. A year back, when I started, I had least or no inspiration for women going grey at a young age. But now, I see several young women (even younger than me) inspiring others. Thanks to the media!
The beauty industry and grey hair products
Silver-haired women worldwide keep digging for various grey hair friendly products in the market. Therefore, the beauty and hair care industry needs to reach out to different corners of the world and create more specific products.
Anyone can "pull off" or otherwise look great with grey hair. There is no better colourist expert than Mother Nature. Hear your inner voice. If it says you are ready to embrace the greys, do it. Regardless of its positive and negative effects, change can be stressful. If you have already chosen the path of accepting your silvers, 'Be positive'. If we have a reserved positive attitude, we can overcome the negative. I am 38 and look not more than it. I break the belief of Grey=Old. For me, GREY=BOLD!!!
This blog has been created to give voice to women worldwide, embracing their natural grey hair. You can be one to boost their thoughts and experiences by sharing this post. Thanks!