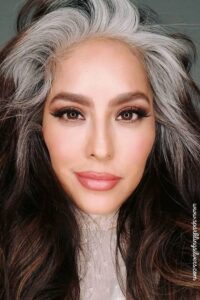 My name is Claudia Fabian. I'm 53 and live in Las Vegas, Nevada, United States.
My interests: Art and Music – life would be dull without them. I love thinking about shopping for and using Makeup and Skincare. I love my dogs. I have two long hair dachshunds, Fonzi and Ludo. I also enjoy watching movies, especially true crime documentaries.
When I'm not working, I love spa days! But, on a deeper note, I love mentoring and helping others feel good about themselves, which is the rewarding part of what I do for a living, working in beauty.
I always loved makeup, and in my early 20s, I decided to ditch my corporate sales job and pursue my dream. I never looked back. I have been a makeup artist for over 29 years and a licensed esthetician for over 20 years.
I remember getting my first grey hair in my early 30s and working in the beauty industry. It was not even something I thought about. I never even considered letting the grey come in. Instead, I was colouring and highlighting my hair as one does when they work in a salon.
As I have gotten older, having to colour the roots every two weeks has become a bit too much even for me, and I am all about the glam, and I would classify myself as high maintenance.
But I said to myself, 'screw it.' I have embraced my grey, and I love it! Nature's highlights!
But I will not give up my makeup and fake eyelashes. I must draw the line somewhere. LOL
I am almost ten months into my grey hair transition, and the response has been great – from both men and women.
I get occasional rude comments on Instagram, but who cares. I would still be doing it even if people did not like it. I have always been the kind of person who does what she wants – others' opinions hardly matter.
Having worked in the beauty industry my whole career, I'm here
to shake up the beauty standards. I'm happy to show other women that grey hair doesn't mean you gave up. It means you've gained more self-acceptance, self-love and overall badass vibes!
My initial inspiration was Ali McGraw. Rebelling against Hollywood standards, she aged naturally and gracefully and looked smashing in her silver hair. I was always in awe of her.
I also am so happy to have connected with all the amazing #SilverSisters on Instagram. I love that women of all generations come together to support each other.
"My grey hair doesn't make me feel old. It makes me feel rebellious. It's like a big middle finger to the unrealistic and ageist views we have about women. Grey is truly the new black!"
My style mantra is "what would Madonna do?" she has pushed against ageism and male chauvinistic ideals her whole career and has always been an inspiration to me. She wears whatever she wants, and she looks fabulous.
I do the same. I wear what makes me feel beautiful, and I don't think twice about whether it's "age-appropriate".
Going grey has not changed my style at all. Although I find pinks look good on me, and I've never really had a lot of pink clothes, I've been adding more colour to my wardrobe.
I do my makeup for whatever mood I'm in; the same goes for my skincare. I live and breathe skincare and makeup.
I am always trying new trends and new products. For example, I have started using Ultraceuticals to help treat my melasma that popped up due to menopause. I love their brightening system – it's magic, and my melasma is almost completely gone.
I have women who always ask me about their makeup when they are going grey. You won't have to change much if you don't want to. The beauty of makeup is that it enhances and is an accessory; no matter what size you are, it always fits!
You may want to use a different brow pencil or brow powder in a more taupe-coloured shade and if you feel washed out, try adding a brighter lipstick.
I think wearing red lipstick looks fantastic with grey hair. The great thing about makeup is that you can wash it off if you don't like it. Try something new. You never know until you try.
The advice I would give to anyone thinking about going grey is that you should not do it if you are on the fence. It is perfectly ok to colour your hair forever! I am not trying to convert others.
You will know if it is right for you. You will get to a point where you feel there is no other option, and you will take the plunge.
The first few months are the hardest and but after 6 months, it gets easier.
Remember, it is just hair. If you hate it, you can always colour it again. But I bet you will love it – you will feel so free and more beautiful than ever!
I hope you like this post.
Please share this post if you find it helpful. As it gives me hope to work hard and create quality content for you!