It's been about a year that Kerotin approached me to try their Purple hair care products. They send me their Purple Shampoo and Conditioner to know what I think.
Since then I have been using these products and thought now it's time to give an honest review of these products.
If you have been a regular visitor to my blog, you might be knowing that after going gray how much I am concerned about what I am putting on my head.
I take extra care in this regard and ensure that I use the  products with the least harmful chemicals.
Disclosure: A sample product was gifted from Kerotin Hair Care. Opinions expressed here are my own. This post may contain affiliate links, which means we may receive a commission if you click a link and purchase something that we have recommended. While clicking these links won't cost you any extra money, they will help us keep this site up and running! Thank you for your support!
Kerotin is a brand that specifies in hair care solutions.They describe themselves as a self-care brand.
According to them, they offer the best products for women undergoing various hair transitions like embracing natural hair by giving up dye or change of hair texture due to ageing.
Based in the US, this company make 100% drug-free hair care solutions that are also cruelty-free. Also, they have products for all hair types.  
If you are new to purple products, let me introduce you to what purple shampoo is and how it works?
What is a Purple Shampoo?
Purple Shampoos are purple pigmented shampoos formulated to neutralize the brassiness/yellow in grey hair caused by various factors such as the use of hard water, exposure to sunlight, heat damage, product build-up, etc.
To preserve and maintain the true colour of gray hair, it is recommended that purple shampoo should be used once a week to keep the hair brighter and healthier.
How to use a Purple Shampoo?
Basically, purple shampoos are not used as a regular shampoo.
Purple shampoos are used after washing hair with a regular shampoo.
Regular shampoo removes all the dirt from the hair and prepare the hair to absorb the goodies of the purple shampoo nicely.
The purple shampoo has to be left in on hair for about 3-5 minutes or the specific time your hair needs.
You need to try to find out what works best for you.
When I started using purple shampoo, I kept it for 2-3 minutes as indicated on the bottle but later I realized leaving it for 5-7 minutes worked for me.
What is a Purple Conditioner and how to use it?
As the name suggests Purple conditioners are also purple pigmented conditioners to give a smooth texture and brightness to silver hair.
It is suggested to use a purple conditioner after every purple shampoo wash for the best results.
Before starting I must also share with you what my hair type is.
My hair is normal with a wavy texture. I don't need to make much effort to keep up my hair. But sometimes hormonal imbalances and changing weather conditions demands special nourishment and care.
The first thing I loved about Kerotin Purple Shampoo and Conditioner is that they are cruelty-free.
I found the shampoo to be gentle on hair and it doesn't strip the hair of its natural oils leaving my hair frizz free, as it is doesn't contain chemicals like sulfates and alcohol.
It doesn't leave the unwanted film on hair strands as it has no silicones and parabens.
It is a point to be considered as any kind of chemical coating on silvers causes discolouration and also weighs down the hair.
Kerotin Purple Shampoo doesn't dry out my hair but rather moisturizes it. Sometimes even I used this shampoo twice a week and the results were never disappointing.
One thing that I would like to caution you about is that the purple shampoos should not be used frequently as they can turn your hair a bit darker or can be drying.
Kerotin Purple Shampoo is highly pigmented and is not required to use in quantity.
Kerotin conditioner is moisturizing and free from sulfates and sodium chloride. Using Kerotin conditioner after each purple shampoo application gave my hair extra softness.
Kerotin conditioner even after using a regular shampoo toned my hair perfectly.
I found using the purple conditioner once a week works best for my hair using more than that weighs down my hair.
Both the shampoo and the conditioner have a mild fragrance.
Here are the before and after pics of my hair. Both were taken the same day and in the natural light.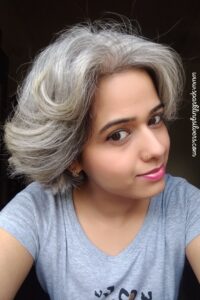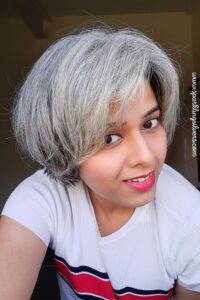 In the before pic I curled my hair with the help of a flat iron. Look how brassy it looked due to the use of heat protectant and heat on my hair.
The after picture is freshly washed hair and treated with Kerotin Purple Shampoo and Conditioner and air dried.
I never felt the need to use moisturising hair masks after using Kerotin purple shampoo. It left my hair soft and moisturised. (Generally purple shampoos dry out hair.)
I found this combo works great on gray hair.
After throwing harmful chemicals on my hair for about 16 years, I am really concerned about what I am putting on my head now.
Being a cruelty-free product without harmful chemicals, Kerotin is safe to be used on all types of hair.
It's an affordable combo of complete care for natural gray, white and blonde hair.
Give it a try!
You can purchase Kerotin Shampoo and Conditioner from their official website.