It started in 2018 when Nicole found two lumps in her breast, though the lumps came out to be cysts. This was a big wake-up call for her to dig deep and examine her lifestyle choices.
During the healing process, she realised the effect of harmful chemicals on our body, including hair dye and decided to give up colouring her hair. At the same time, she created a Facebook group Gorgeous Grey Movement to inspire others and join her in the movement. She also created a Facebook page Nicole Scott- Own Your Sparkle. You can also follow her on Instagram at @nicolemaureenscott
Nicole is an author too. She got her book published in 2020, "Get Naked With Your Natural Hair Colour" in which she shares her experiences embracing a healthier life over her hair and also stories of eighteen other women, who found a sense of bravery and confidence to go grey gracefully.
"I noticed grey hair in my twenties, and it started to show up in my thirties. I wanted to stop dyeing by my mid-thirties after I took a course on nutrition.
This was when I learned of the dangers of toxins in our beauty products. I got the nudge to stop dyeing from Spirit and to write a book about it, but I wasn't ready!
I continued to dye my hair until October 2018, when I finally made a decision after a health scare woke me up."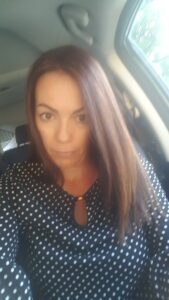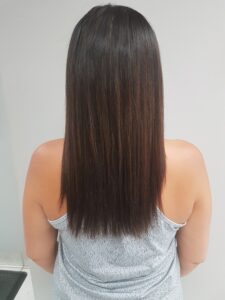 Nicole's Way of Going Grey!
"How was I going to transition to grey? First, I did a lot of research to figure out what felt right for me, and I decided to highlight and eventually bleach out my dark hair for a better blending experience.
I was clear that I was done with root touch-ups forever, so the rule was: don't touch my roots, let them grow out naturally.
I found an organic salon to help me with the transition to reduce the toxic load, which made a big difference in my symptoms.
Looking back now, if I were to do it all over, I would have shaved it off and donated my hair to cancer, but I was too afraid."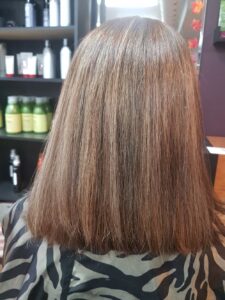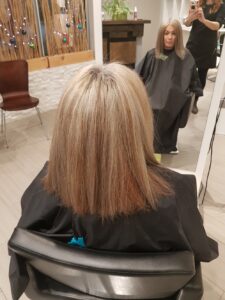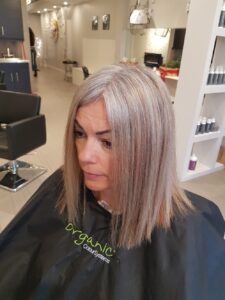 Nicole had dark hair, and her skunk line was noticeable at week two. After two months, she got highlights to start blending it better.
It took many trips to the salon and was expensive.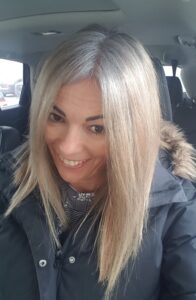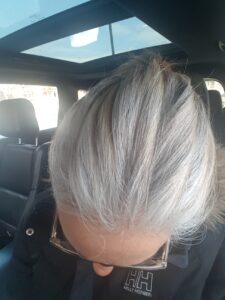 "The first four months were hard—I'm not going to lie. After it started blending better, I started to get excited. It gave me hope that I could do this."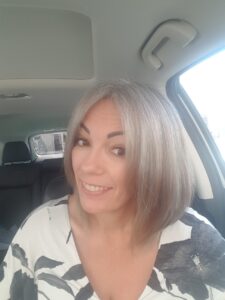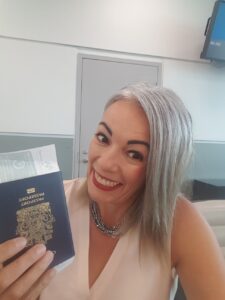 "I did get a negative comment from a guy about three months in, asking, "Are you letting yourself go?" My response was, "F*** you. If you can do it, why can't I?" I was pissed. This happened at a Christmas party, and it got to me, so I left.
What pissed me the most was that he was grey, and a double standard was going on. I let it go and made it my motivation not to give in to one person making a negative comment.
I needed to be strong to break this stereotype that has existed for far too long. I wanted to be part of the solution and an inspiration to others and not give in."
Nicole's words of wisdom:
"My advice, listen to your inner nudge and know your 'why'? My why was for my health. I didn't want the constant chemicals on my head. Lumps in my breast woke me up, and even though they turned out to be cysts, it still scared me.
Enough was enough. I was going to do what it took to feel awesome from the inside out.
I recommend you join a group to get support and help you through the tough days.
Letting my sparkle come through aligns now with my top value, health. What are your top values? Are you aligned with them?"
This blog has been created to give voice to women worldwide, embracing their natural grey hair. You can be one to boost their thoughts and experiences by sharing this post. Thanks!
If you like Nicole's Grey Hair Transition Story Please share it on your favourite Pinterest Board!