"Six years into early menopause was enough of a challenge without the bi-monthly time and energy spent in the hairdresser's chair. Despite their best efforts, I always left the salon feeling unhappy and low. The glint of what lay underneath the mask of dye was still visible, and I began to wonder again, how much worse could my 'real' hair colour look? "
Sarah was not happy colouring her hair as the permanent dye made her scalp sore. She tried switching to semi-permanent dye, which could not cover the grays.
" I went home and looked on Pinterest at grey-haired women. Up popped Annika Von Holdt and ​Yazemeenah, and I felt a glimmer of hope for the first time in years. Here were two amazingly fit and gorgeous natural classic silver-haired beauties, and I realised now was the time!"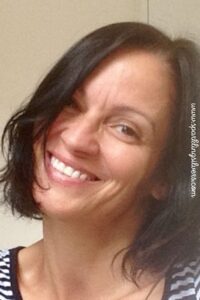 "I remember considering ditching the dye when I was around 35-40, but I was single then and then believed I might stay so if I were to stop colouring! )
So, on my next visit to the hairdresser, I discussed my desire to go 'natural'. She felt it was not the right time to stop colouring, along with my friends and family, who voiced concerns that it would 'age' me.
But, I persisted, and my hairdresser agreed to strip the dark brown hair colour I had used for over 20 years! As you can imagine, it was not an easy task, and I spent a few weeks with patchy blorange and finally had the colour lifted with a bleach bath and dyed the lightest ash blonde (which again I hated). In the weeks and months that followed, my hair was frazzled and broke off."
In 2016, while heading towards her new job in the city where Sarah would be meeting clients daily. She got her hair cut into a short bob, but work stress and hormone imbalances soon created further hair loss and the daily wash worsened the situation.
"I decided to stop everything and wore my hair in a ponytail, washing only once every four days, and within six weeks, I began to see an improvement in the condition. Three months into the transition, my (male) manager came to the office and said loudly, "So, Sarah…what's going on with your hair?"  I blushed and felt humiliated but joked defensively, "I'm not letting myself go… I'm doing this on purpose!"
"Looking back, I suppose this was a turning point, and I started to feel empowered by my decision; that's when I decided to document the transition on Instagram.  At first, I was embarrassed to post selfies but very quickly, the support I received from others on the same path spurred me on to stick with it. The silver community has been incredibly encouraging on the bad as well as the good days, and I feel I've made genuine friendships through this process."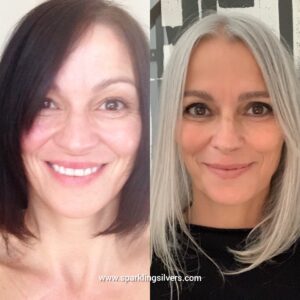 "I recently went to a fiftieth birthday party where many old friends I'd not seen for a few years. Some commented on how well I looked, others mentioned I looked younger, but I'm not concerned with that.
I am happy that my reflection finally mirrors how I feel inside. It's like I've returned to myself, and it's a nice feeling."
Sarah's Hair Care Routine:
Words of Wisdom from Sarah to others starting out or thinking of ditching the dye-
This blog has been created to give voice to women worldwide, embracing their natural grey hair. You can be one to boost their thoughts and experiences by sharing this post. Thanks!
Like it?  Pin it!  to your favourite Grey Hair Board!