Dee is one of the youngest silver-haired girls I have known on Instagram in the past year. This 28-year-old girl, also known as @naturallyplatinum on Instagram, is from North Carolina.
She discovered her first grey hair when she was around 15 and started dyeing her hair in various colours at 19. After colouring her hair for seven years, she decided to put down the colour and let her grey hair grow.
"When I was 24, I joined the military. My time away from home was busy, so I had no time to think about my grey. I had been gone from home for about a year with no colour treatments, so I could see the silvers poking through my black hair. But I still wasn't sold (I was 25 at the time) & the whole "grey hair trend" is a big reason why I continued to dye my hair… I didn't want to do it BECAUSE everyone else was doing it…"
In December 2016, Dee decided to embrace her sparkles, tired of being afraid of her hair. So she got her hair highlighted to help her colour blend and cut her hair.
"I loved my hair for two days, then my impatience set in, and I went and bought a colour lightener and put it on my already bleached hair. I ended up with a brassy orange/brown colour all over with little blonde pieces. (not to mention all of the hair that fell out because of over-processing). So I decided to leave my hair alone until it grew out."
"After about seven months in, I decided to start an Instagram page to document my journey to encourage other young women like myself to embrace themselves naturally. Then I found the silver hair community. So I looked for women around my age with silver hair and found Rhiannon (@silver30s) and Nina (@Naturally_graysful). I was inspired & I grew to live my grey hair and would intentionally part my hair in a certain way to show it."
When Dee found that continuous use of flat iron on her curls started damaging her natural curl pattern, she decided to stop using heat and embrace her curls.
"Two years into my silver hair transition, I officially became dye-free. I am almost at my year mark without heat, and I can tell that my hair is healthier for it. I love my hair and couldn't even imagine it any other way. My husband was my biggest support, as well as other women in my life who have told me that I inspired them to embrace their grey."
My biggest takeaway from all of this is to understand yourself. Find out what you want and take it from there. Please do it for you! Love yourself and give yourself time and grace. Being impatient on a journey like this will only cause frustration and negativity. Don't compare yourself to others and focus on being a better you than you were yesterday. You're naturally a diamond. Show the world your shine!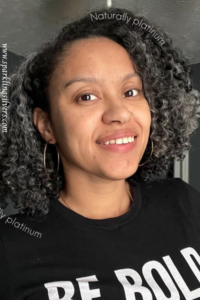 Dee also has a Youtube channel. You can follow her at Naturally Platinum. She started this channel to talk all about grey hair.
This blog has been created to give voice to women around the world embracing their natural grey hair. You can be one to boost their thoughts and experiences by sharing this post. Thanks!