From natural Dark Brunette to Golden Blonde, Annie coloured her hair for about 43 years and gave up dying 11 months ago. Annie holds an Instagram handle @annie_and_molly_m. Annie chose a path of bleached highlights for her hair transformation. 
Annie's SparklingSilvers Story as She narrates:
I'm Annie. I'm 57, married, and live in Scotland.
I first noticed silver in amongst my dark brunette hair when I was still in my teens, and I remember being absolutely horrified!
Premature greying is a genetic thing in my family, and by the time I was in my late 20s, I was dyeing it lighter and lighter to try to blend with the grey.
I continued dyeing my hair in every shade of blonde under the sun for the next 30 years, warm golden and strawberry tones being my preference.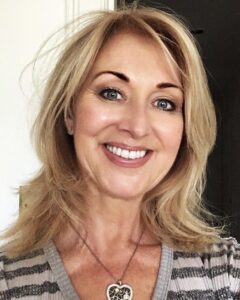 By the time I reached my 40s, it needed retouching every three weeks, and the silvers were visible after ten days. I was spending half of my life with bright white roots!
I assumed that I'd be dyeing it forever more, and if anyone had told me five years ago that I'd grow the silver while still in my 50s, I would not have believed them.
A few years ago, while browsing on Pinterest, I noticed some lovely inspirational images of silver-haired women. Cindy Joseph was the first, then Yazemeenah, Simone Jacob and Annika Von Holdt, queen of cool.
I thought these women looked gorgeous and different and stood out from the crowd. And I loved that they challenged society's perceptions of what grey-haired women 'should' look like.
Until then, I'd seen no positive role models of how I'd want to look with long (preferably) silver hair, and I just thought, 'Wow! How fabulous!' 
I guess the seed was planted, and I started to consider that I might stop dyeing when I got to a 'certain age'…my 60's probably!
This must have all been working on my subconscious. I honestly had no idea when I dyed my hair last March that it would be my last. But somewhere along the line, I felt that, although I loved my dyed golden blonde colour, something compelled me to let my silver grow in.
It became an instinctive thing, something I felt I needed to do. I'd also started to suspect that the colour I was hiding was rather lovely. So I decided when the next time dye came round that I didn't want to do it again.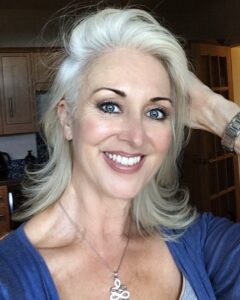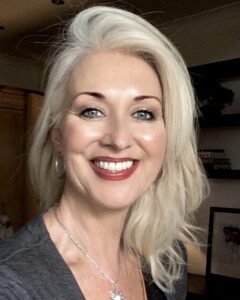 My hair was quite long. I didn't want to cut it and also didn't feel I was brave enough to go the cold turkey route for the two years plus it would take to grow out.
So my hairdresser, who is also my friend, and has been very supportive, gave me two rounds of bleached highlights to a very light white blonde.
She also advised me to regularly use a toning mask on my hair to cut out any yellow tones.
This route is not for everyone. It depends on the colour of your dyed hair to start and the colour of your natural hair growing in, but it has worked for me and made the transition relatively easy.
I already look fully transitioned in certain lights, but I'm only about halfway there if I want to hang on to the length.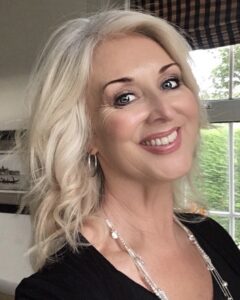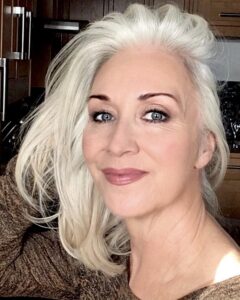 Apart from the actual transition, my main concerns were that it would age me and that I wouldn't suit the cool tones of the silver. I'd had ash-toned highlights in the past that had made me look awful, and I was convinced that warm tones were what I suited.
I think I was wrong on both counts! What I once viewed as a curse, I now see as a blessing!
I've had no negative comments, only compliments so far, from men and women, and I love my silvers and think it flatters my complexion more.
An unexpected bonus has been that I can now wear shades of lipstick and clothing that I felt didn't suit me before. I love that, and I'm busy experimenting.
I also love the support of the #silversisters movement on social media platforms such as FB, Instagram and Internet blogs. This has been invaluable. It's a wonderful time to be doing this, and I know that I couldn't have done it a few years back without all the inspiration and support.
Important to me is helping to inspire other women and challenge society's stereotypes by showing that women can still look vital, attractive, vibrant, stylish, and sexy with grey hair.
I'm seeing small changes in mainstream media here in the UK and hope that continues. I believe the more people get accustomed to seeing silver hair on women of all ages, the more 'normal' it will become.
And I'm proud to be part of that. I only regret that I didn't embrace my silvers earlier and kept them hidden for so long.
Annie's Hair Care Regime:
Annie's advice to anyone planning to transition to gray hair by bleaching:
Get a stylist who knows exactly what they are doing to do the colour blend.
Use Olaplex products on the bleached areas to keep them in tip-top condition.
Find a toning product, shampoo, conditioner etc., that works for you and that you can use at home regularly to keep the bleach from yellowing.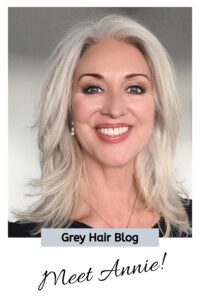 This blog has been created to give voice to women worldwide, embracing their natural grey hair. You can be one to boost their thoughts and experiences by sharing this post. Thanks!